Pandora's (Pink) Box
You have a beautiful box, my dear, if you've decided to buy it yet. Whether it's pink, purple, or black, you have an absolutely wonderful choice for small sex toy or other storage. I'm proud of you for reading this review and deciding to finally buy it!
Published:
Pros:
Pink. Pleather interior. Beautiful exterior design. Classy and discreet. Sturdy.
Cons:
Frustrating Directions. Do not submerge in water. Isn't very big.
First of all I wanted to do an extended review for this storage box. But it wasn't an option for it. Apparently because it doesn't have vibration settings or allergy concerns or lube compatibility issues I don't need an extended review for it. But anyway.

Pandora's Box (aka this lockable pink sex toy case) isn't very big. It's literally a foot long, and I have pictures to prove it! But it makes for good storage for any dorm/college room or even just a regular bedroom. And you don't have to use it for just sex toys either. You can put your money in it. Your handgun. Your battery collection. Your life savings. Your paraphenalia. Jewelry. Something extremely valuable that is a foot long and will fit inside it. You don't have to just use one thing either. Use it as a box for an assortment of special small objects.

My favourite quality of this box is its leather-like interior. It is sewn on, at looks like hard plastic in the photos but when you touch it, it feels like leather. This makes the box feel like it was made for something high quality and will protect it with its life. Also, I love the colours it is available in. Though I wish black was in stock when I decided to use my points to buy this box, I love the pink very much. It's so pretty and the metallic plastic butterfly design is lovely.

Let me describe how you initially get this box open and set its combination. It comes set on 000. To get it open you don't have to break it like I read about several reviewers doing out of frustration! Please resist the temptation to break it and just be patient and pace yourself until you've thoroughly read the directions and understand what you are doing. And/or, get backup help so you will have a second opinion. Sometimes when we get excited about something we don't actually think much about how to use it and we just jump in and regret our rash decision later. So do what I did if you're an impatient person. Even though I yelled at Cody, "What the hell are you doing? What did you just do???" he was patient with me and helped me discover the process to getting this open and set.

We both read the directions and as the one who has more experience with locks and lock picking, he knew just what to do immediately. He says it works like this with a lot of locks and combination codes he's dealt with. There is no combination needed to get it open, because none has been set yet. All you have to do is hold the button down and sort of push it while holding it down, make sure to push it to the right. I was very frustrated because you have to push it inward to RESET it. It is two different things. Let me say it simply, as Cody told me.

To initially OPEN, make sure it is on 000. Push the button down and inward, to the left. It should open. (If it doesn't, you have my permission to break it! Just kidding. ;) ) If it doesn't, try pushing it to the right, outward. Cody got it open for me this way. I was pushing it only one direction and was frustrated and he did it in two seconds and I was so mad because I WANTED TO DO IT! Damn man! He's so much smarter than me! I hate locks!

Okay. To SET it to your combination, wait til it is open. While it is OPEN, after you have first gotten it open, READ THE FURTHUR DIRECTIONS INSIDE. (Do not eat the silicone gel inside! Haha. (When I was a baby I used to eat it!)) Now, push the dials down (you can't push them up or down both, only down, so keep pushing down until you have the # combo you want) until you have the combo you want. I chose 777. Cody suggested 666 like the real Pandora's Box but my lucky number is 7. I use it for everything. My phone passcode has basically all sevens! So anyway. Choose your number. Now push the button down and to the right, towards the outside.

You should now have an open box with the passcode set. Scramble the numbers. "Dial" your three digit combination back in. Press the button to the outside. Presto openo! You've opened Pandora's Box!

Great job! Make sure to be patient, and enjoy your box.
Experience
It is easy to clean. If you spill lube in it you can wipe it down with baby wipes, makeup remover wipes, soap and water on a damp cloth, or just a wet damp cloth. Do not submerge the box in water, ever, because the combo lock could rust from inside and the faux leather could be severely damaged.
You have a beautiful box, my dear, if you've decided to buy it yet. Whether it's pink, purple, or black, you have an absolutely wonderful choice for small sex toy or other storage. I'm proud of you for reading this review and deciding to finally buy it!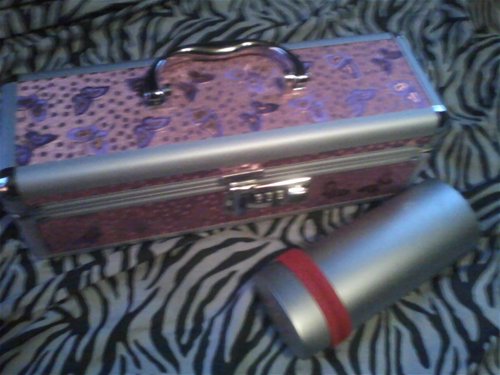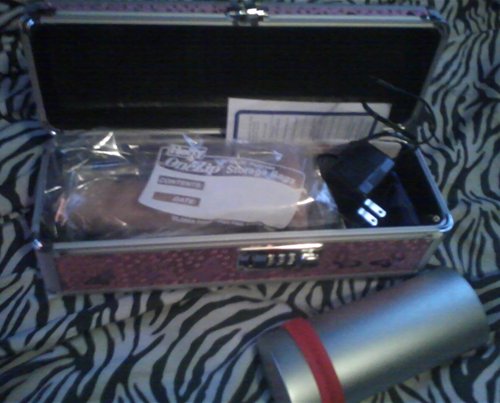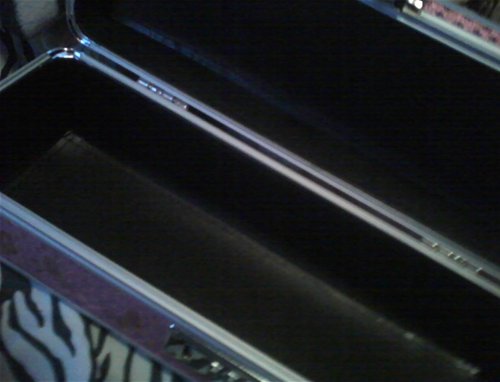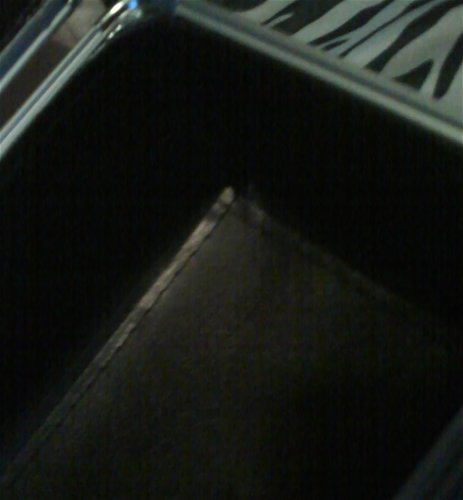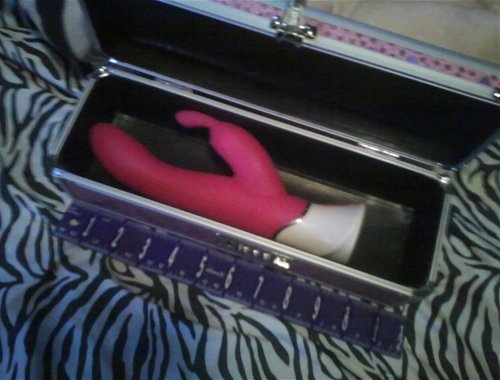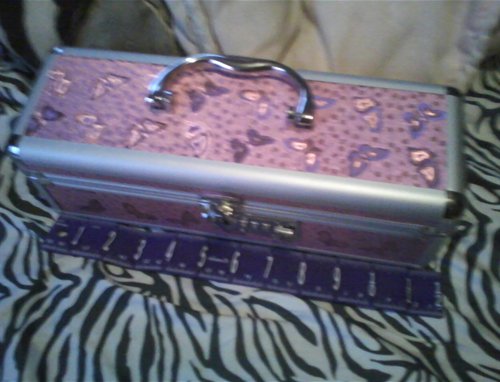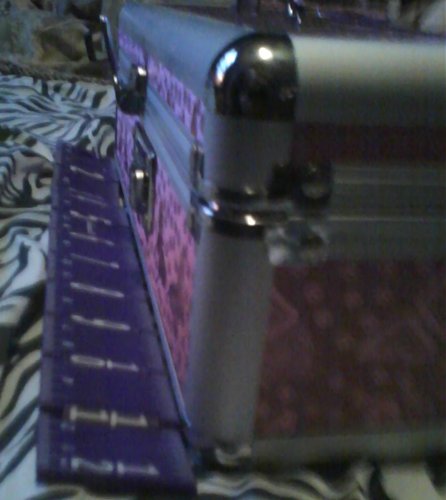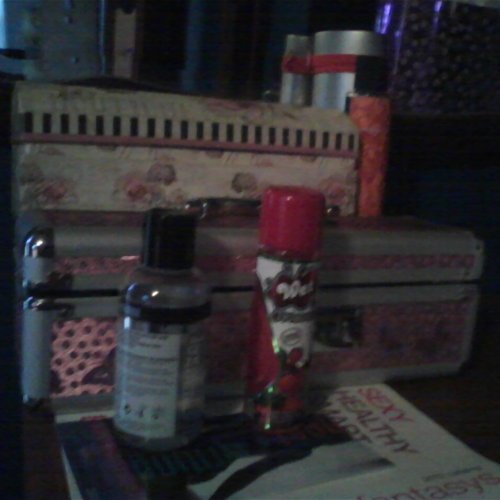 Follow-up commentary
8 months after original review
It's been almost 9 months since the breakup. This I got like a month before, so it's been a long time since I've had this! It's still doing great. It still locks to the same password, I havent changed it from "77." I love this. Right now I'm keeping most of my nail polish collection in it. I can keep up to 26 assorted nail polishes in there comfortably, plus I've stuffed a few on top and in between. I love this box. It's still called Pandora's Box, or at least that's what I call it. Sometimes I keep it for sex toys, lubes, or just nail polishes, perfumes, et cetera. It's great for anything and everything, really.
This product was provided at a discounted price in exchange for an unbiased review. This review is in compliance with the FTC guidelines.

Thank you for viewing
Lockable sex toy case
– storage container review page!