It's simply not worth $99
I'd recommend it if you truly have a real need for something like this, but I'd caution you to wait for a sale or coupon code. Be careful what you intend to store inside and have a "break in" option should the lock ever fail on you.
Published:
Pros:
Can blend in with things if not opened; Innovative locking mechanism
Cons:
Overpriced, a little small inside, some very cheap-looking materials used
The premise of the Toibocks is that you have an ordinary looking "wood" box that appears to be a simple jewelry box, thanks to the tray you see when you open it. No one would expect that it has a secret compartment, right?

Sure, from the outside. But as soon as any snoopy person opens it they'll know there's more to the box than just that tray. They'll try to lift it and find that it's stuck, they'll look at the box and realize it's pretty heavy and frankly if someone with any intelligence notices the ugly, plastic "emblem" in the lid that is the magnetic key they'll poke at that and quickly find that it's a magnet.

I guess it's just not all that "stealthy" is all. The tissue version could be, but that one isn't very big on storage. The Toibocks gives you more space inside and perhaps for the average person it provides enough space for their modest collection (because let's be honest, the average sex toy buyer doesn't hoarde toys like us reviewers). It won't fit the bigger items. If your collection won't fit well enough and it interferes with the tray in any way at all please modify it, or you could find one day that you're unable to get the box opened.

This has happened to me numerous times and I don't even fill it up! More than a few times I've panicked and wondered what I could use to hack the box to bits to get to my items stored inside because the magnetic lock wasn't working properly. And please please pay attention when you shove the tray back in, because if you should manage to get it in backwards, you're screwed for getting it open again without incurring some kind of damage to the box.

The depth of the tray compartment is roughly 3/4". There is a little leeway with the lid so maybe you could fit something 1" or under. The inside portion is about 1 3/4" tall, a little over 9" wide and maybe 5.5" deep. The bottom feels like it's sturdy enough to withstand a good amount of weight - I put the Pure Wand in there along with the two Mystic Wands and had some space leftover. The Tantus O2 Flurry wouldn't fit because of its base - at 2.6" wide the tray won't fit.
Experience
For the list price I would expect more. I would expect that the magnetic key not look so out of place - imagine a child's play set that includes fake money (like for toddlers) and the "coins" are fat plastic discs. That's what this looks like to me, and it's obviously different from the rest of the box. If you want to try and keep the secret more, I'd suggest storing the key inside a little pouch and keeping it in the tray instead of the lid spot. The tray is lined with this cheap, flocked paper-type stuff that sticks on like contact paper, and there are pieces of cardboard covered in the stuff lining the bottom of each compartment. I've had department store jewelry boxes look more polished inside than this. The back of the "key" is also covered in this stuff for some unknown reason, and mine has started to peel off around the edges. The flocking also gets messed up easily if it gets scratched. Be sure not to store any lube, massage oil, or candles in this because you won't be able to clean the flocking since it's not fabric and it will stain.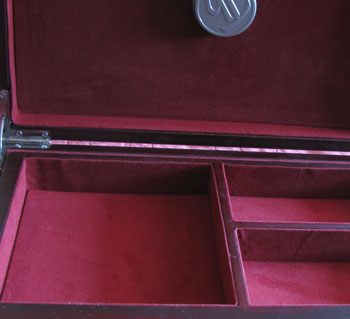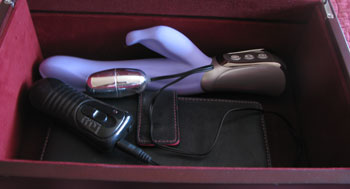 I got this back in March of 2010; I did not see any of the manufacturing defects that more recent reviewers have encountered like nails, scratches in the wood, etc. I liked the box a lot more initially but still thought it was overpriced. The longer I have it the more I see it for what it really is. I saw it mentioned somewhere that this currently is manufactured in another country and the company owner questioned whether people would pay more money for it to be made in the US. Since I have one without the defects, I'd have to say that no I wouldn't pay more for it unless there were changes made to the inside so that it doesn't look so cheap. I have to wonder what exactly causes this thing to cost so much - it's not real wood (but there is a valid reason for that, as real wood would shrink/swell with the humidity levels), the lining isn't real fabric and the Key looks obvious and fake.
Changes that should be made, in case the creator ever sees this:
~Since the box is made of MDF, I don't see why it's quite as thick as it is. Between the box and then the inside part made to hold up the tray the walls are each 1/2 inch thick. Changes could be made to the wall thickness and the bottom could be modified to actually be the base, adding some cubic space to the interior locked portion.
~The flocked paper stuff should be replaced with something higher quality - and think about the things people store in here which could include lube.
~The plastic key should be smaller, not made of plastic and blend in better to the metal logo it sticks to in the lid.
The idea overall is pretty neat, using magnets to create a "hidden" lock and key system. But the price and quality don't match up and too many people are reluctant to drop $100.
This content is the opinion of the submitting contributor and is not endorsed by EdenFantasys.com

Thank you for viewing
The original toibocks
– storage container review page!