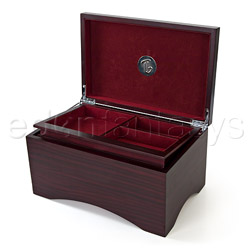 The original toibocks
Storage container
by ToiBocks
Toibocks = Love
The Toibocks is an amazing sex toy storage solution that will store the average person's sex toy collection without any problem. It's gorgeous, fits in with any decor, and keeps your sex toys safe and away from prying eyes. I can't recommend it enough.
Published:
Pros:
Discreet, hard to unlock unless you know the secret, good amount of storage, elegant
Cons:
Be careful not to lose the key and when storing lubes/condoms
Now, how things work in my apartment is that the vast majority of our sex toys end up in the bedroom - mostly in storage. The ones we like end out somewhere nearby the bedroom. The toys I'm waiting to review sit out in the living room in a corner - that's where the ToiBocks comes in. The boyfriend and I enjoy playing sometimes in the living room, but going into the bedroom and everything to fetch the condoms and lubricant can get to bit a bit of a hassle in the middle of our playing. I was looking for a cute, discreet way to keep some of those essentials (and a couple of our favorite toys) out in the living room.

As it stands, the case is sitting out on top of a bookshelf looking pretty awesome. We've had both my parents and his parents over, and neither of them have commented nor opened the box even though it's in plain sight, so it will fit in well with most places that you'd put it. Unlike some other sex toy storage options, the ToiBocks is intended to look completely discreet which is always a nice feature if I want to keep it in my living room.

The box itself is relatively large. It's about a foot long, is seven inches across, and six inches deep. The outside is made from a gorgeous, finished wood in dark brown that looks downright luxurious. The inside is coated with dark maroon-type red velvet that honestly makes this entire thing look like a real jewelry box. The only complaint I have with the appearances is that the top-hand tray does pull away from the sides a little bit which may make curious minds attempt to lift up the tray - but it will jar a bit because it's locked. This will giveaway that your box does have a secret compartment, but you can always shrug it away and say you keep jewelry cleaner or something else in there but are too lazy to go get the key.

The key is ingenious. I tossed the boyfriend the key to it when we first received it and told him to try and open it. It was hilarious. He started drawing random shapes on the lid thinking that was going to open it. Obviously, it didn't. The ToiBocks comes with a little circular magnet that releases the tray when placed on a certain part of the box. (Don't worry - the instructions will tell you where the magnet should be placed.) The tray can then just be pulled out to reveal extra storage space. When you are done, the tray can just be slid back in, the magnet moved, and the tray is locked again. For convenience, the manufacturer included a magnetic "storage spot" on the logo of the ToiBocks on the lid. (Carrie Ann has done a great video review on the ToiBocks here on EF if you want to go watch that.)

Our box fits quite a decent amount into it. We obviously could keep a lot more toys in here if we chose, but we choose not to. I'm much more fond of just keeping the essentials in there. However, just to give you an idea, the box is large enough to fit three or four Cleis Press erotica books (for bedside reading), four or five DVDs (to hide your collection, so many condoms that you will never need to purchase more (hundreds), twenty to thirty small bottles of lubricant (think three inch bottles). You could also choose to store sex toys in here, but it's a little hard for me to describe how many would fit in here. You could probably get at least four to six - depending on the size of your toy. I'm assuming you have 1 to 1/2 inch diameter toys that are about six or seven inches long. Remember to place those toys in individual bags to avoid having the toys melt together. Really though, while it won't store the Hitachi, it will store a vast majority of other relatively-normal sized toys, so this should, in theory, fit everything you like to use on a regular basis.

The box seems built for durability as well. None of the velvet seems to be pulling off, the entire product's wood is nice and softly finished, the magnetic piece seems to be pretty high-quality, and the tray pulls out easily and slides back in easily. It's amazing how much attention was paid to detail in the production of the ToiBocks.
Experience
So what would this work for? Honestly, it looks so "in-place" to a room that most adults won't bother to open the case. If they do open it, though, some adults may notice that something is up when the tray has the little "seam" around the outside of it and when the tray can be moved, but not removed. However, this will, for the most part, keep your sex toys away from prying eyes. Most adults won't bother to touch it, and if a child does touch it, they aren't going to be able to figure out there's a secret compartment.

I'm a little concerned about cleaning it though. I'm not sure how well lubricant would come out of the velvet if it was spilled onto it, so make sure that the lubricant you choose to store in here doesn't leak. If your condom leaks lubricant out of it, it may also cause a problem, so if you want to store those two things in here, keep them in plastic baggies like I do. The only other concern I have is to watch where you place the magnetic key - the company does sell spare keys if you have your proof of purchase (So keep that!), but it'd just be easier not to lose it. We keep ours on the magnetic lid, so it stays exactly where we want it.

So my final verdict: I'm in love. This makes me want to try the ToiTissue. This is high-quality, gorgeous, just looks elegant, and is probably one of the most elegant pieces of furniture that I, as a college student, own. It stores away all of my private items away from prying eyes and looks like it fits in the process. I honestly can't recommend this enough - it stores the average person's collection without any problem.
Follow-up commentary
3 months after original review
I love my ToiBocks. We found a resting place for it on a bookshelf in the living room. We use it for storage of some of our adult goodies that we like to keep in the living room for spontaneous play. We also use it to store some of our toys that we have to hide when the boyfriend's parents come over. Our parents have never bothered to look inside it after multiple visits, so it really does fit in right into our decor.

It holds a lot of different stuff. We keep some lubricant in here, a small masturbator, some sex toy cleaner, and a lot of other small items. It's holding up well, is easy to clean, and looks just as amazing as when we first received it.
This product was provided free of charge to the reviewer. This review is in compliance with the FTC guidelines.
Thank you for viewing
The original toibocks
– storage container review page!