The most magical bag in all the land!
$2.00 for a reusable bag is not only a great deal, but its perfect for so many different things. Whether you want to store it, carry it or just have a place to toss stuff, the Eden bag is for you.
Published:
Pros:
• Strong
• Great Size
• Many Uses
Cons:
• Not discreet
This is probably the best reusable bag ever. And I am talking, of all time. It's not only sporting the name that I love so much and just can't seem to get enough of, 'Eden Fantasys', But it's a decent size reusable bag at 15x15 and about 4.5 inches thick when open. One could use it for a beach bag, grocery back, or a million other uses.
Me, I use it as a male replacement! Now let me explain myself before you think I am a totally messed up individual, which, I probably am, but still, let me try.
Ok so what does every woman want? A partner that will make you feel good, and then fuck you stupid, right? Ok, well that's what I want anyway. Minus the partner. So what I do is put all my toys in the bags, and every time I am feeling a bit frisky, I grab a bag, which promptly tells me that I am "SEXY & SMART", grab out a toy, and enjoy it until my toes curl and my IQ is at an acceptable low, and then I am done. I clean up, put the toys and bags away, and go on about my day. Perfect right?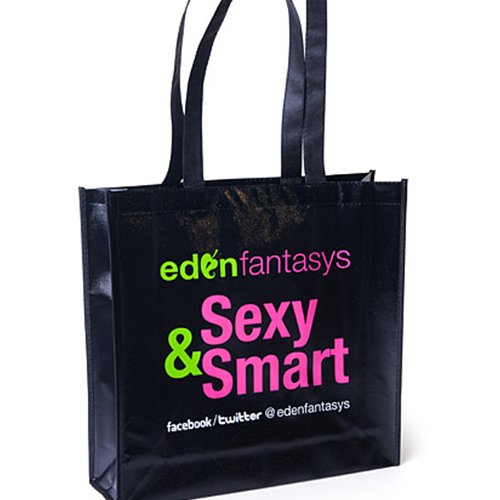 I have used them to take them out; No one that I know has recognized the name, unless I actually tell them where I got it. And if someone did, I would probably skip the blushing and just high five them and move on.
For $2.00 you can't beat it. It is stronger than the typical fabric bags because it is made with plastic and fabric. Not sure of the actual materials. There aren't any tags on it and I have not performed any scientific tests.
On the upside, I did spill a bottle of lube in the bag. *note to self, close the bottle next time. And I decided that a hand wash would just take far too long, so I threw it in the washing machine. It came out with a few small folds on it and I just hung it open to dry and then laid a box over it to flatten it back out and it is good as new. So even though it doesn't come with wash instructions, I know that it is easy to just wipe down with a damp cloth for regular care and then toss it in the wash when you do something incredibly stupid to it.
All in all, great deal, great bag.
Experience
I have quite a few of these bags kicking around now. I use them to store things in, in my car and house. To use when I am out and about. And to store my toys in. Great bag. I might even get more if I can come up with a few more uses for them.
Follow-up commentary
14 days after original review
I know I just wrote the review on this a short while ago and should wait a bit longer before I do a follow-up. But, I just had to do it now!

This morning I had taken up some bricks from one of the houses door to me and was helping them carry them inside, and the only thing I had right on hand to carry them in was one of the eden bags I had in my car. So I grabbed it and put about 8 bricks in it and carried it around the house.

The Eden back really kept up to its part of the deal! It held strong, did not rip or tear. I rinsed it off when I was done and it is as good as new! Now tell me, are there any other reusable tote bags that can hold up to bricks? I don't think so!

The Edenfantasys Tote Bag was, is and will always be totally badass! I love it!
This content is the opinion of the submitting contributor and is not endorsed by EdenFantasys.com

Thank you for viewing
Edenfantasys tote bag
– storage container review page!