It's Not A Bag- It's THE Bag!
I really love the EF tote bag. It's inexpensive and well made. It can be used for grocery shopping, an overnight bag, toy storage, gift giving, whatever! The bag is sturdy and can hold a lot. I've used it for a variety of purposes already. I think I may have to pick up a few more since I find them useful for basically everything!
Published:
Pros:
Price, sturdy, large, long handles, reusable, so many uses.
Cons:
not discreet enough for some people.
The Edenfantasys Tote Bag was once offered as a free gift with purchase but isn't any more. I didn't get the bag when it was free; I ordered it for its regular price of $2.00. I wasn't exactly sure what I wanted to use it for but I knew that for a measly $2.00, I could find a use for it. If you are placing an order and need to spend only a couple more dollars to become eligible for free shipping, I would absolutely recommend adding this item to your cart
The bag did not have any packaging to it when it had arrived. The EdenFantasys Tote Bag is made of non-woven fabric. The outside of the bag has a plastic feeling to it, similar in feeling to other reusable shopping bags. The material of the bag and handles are sturdy. The material of the bag is opaque so no one will know what you have in the bag (unless you show them). The outside of the bag is black (excluding the text and images) and the inside is white.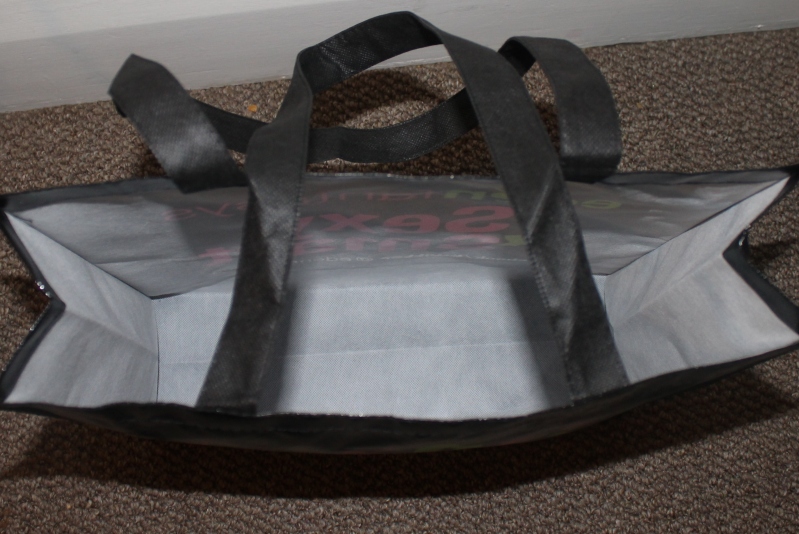 I've taken a few measurements of the bag but if you need any additional measurements, please send me a message and I'd be happy to get them for you.
Height: 15 inches
Width: 15 ½ inches
Depth: 4 ¼ inches
Handle length: 25 ½ inches each
Handle width: just a tad bit over 1 inch
Each side has different text/images on it. The one side of the bag has EdenFantasys name in neon green and hot pink, states the company's Facebook and Twitter handle in white, and says "Sexy & Smart" in the hot pink and green colour. The other side of the bag states the website address and has the Eden logo on it in the green and pink colours. There are 3 rows of the Eden logo with 6 logos in each row. You can see both sides in the photo below.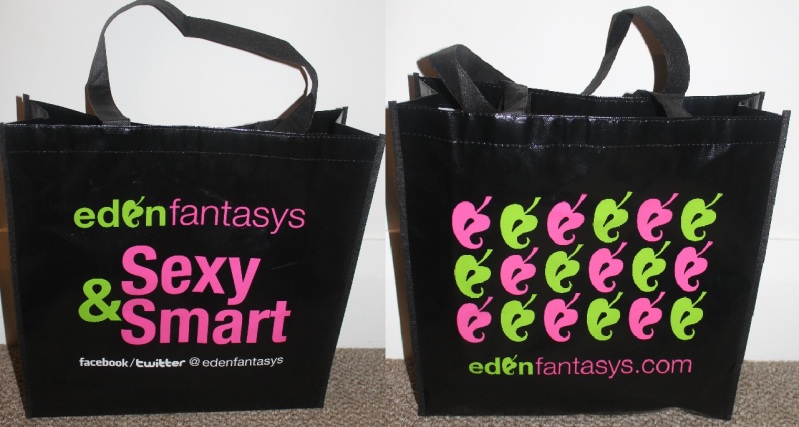 Some reusable bags come with a plastic insert that sits inside the bag to keep the bottom flat. The EF tote bag does not have this plastic piece. It would be easy enough to cut a piece of cardboard or plastic though if you really needed/wanted it.
I decided to pack the bag with some of my toys to see how much would fit. A lot of my toys have the original packaging to them, which you'll see in one of the photos below. With the toys being in rectangular cardboard packaging, it takes up more room in the bag than if you keep your toys in storage pouches or without any packaging at all. I didn't pack the bag to the brim. I could have fit a heck of a lot more in terms of lubricants, candles, etc.
The toys that are in the bag in the photos below are as follows:
Bedroom Kandi Happiness and Joy Rabbit Vibe
,
Elise 2
,
Black Label Jack Rabbit
,
Slimline Passion Wave Jack Rabbit
,
Diamond Dolphin
,
Sqweel 2 Oral Sex Simulator
,
Body and Soul Remote II
,
Body and Soul Embrace
,
Body and Soul Connection
,
The Slim
,
Colt Throbber
,
Smooth G-Spot Vibe
,
Dai-Do #6
,
Black Rose Budding Blinder
,
Black Rose Forbidden Flower Mouth Bit
, and finally, the
Diamond Whip
. All of the products had their original packaging except for the Dai-Do, which was in a storage pouch, and the Diamond Whip, Black Rose Budding Blinder, and the Black Rose Forbidden Flower Mouth Bit.

Experience
...continued
I understand that not everyone has the toys to make this size comparison. I decided to fill the bag with DVDs for another size comparison since most people know the size of a DVD. Again, I did not fill the bag past the brim. You could probably fit a few more DVD's than I did. I had 46 DVDS in the bag.

Since receiving the bag, I've used it for groceries, storing toys, and filling with stuff to bring over to a friend's house. You could use the bag for anything really. It isn't really discreet but it doesn't have any graphic images on it or anything like that. When I used the bag for grocery shopping, I kept the side with the Eden logo showing rather than the side that says "Smart and Sexy". It's nice that each side is different so that the wearer can choose which side sits outwards.
The bag is good quality and sturdy enough to hold heavier groceries (or whatever) in if you choose to use it for that purpose. The outside of the bag is really easy to clean since it is like plastic. If you get something on the outside of the bag you can just wipe it off with a damp cloth. The inside of the bag will need to be hand washed. Overall, I really love the bag! It's a great price and great quality. I'd definitely recommend it to others.
Follow-up commentary
5 months after original review
I still LOVE the EF tote bags! I have a few of them and use them often. They're durable and the price is excellent. I'd still highly recommend them.
This content is the opinion of the submitting contributor and is not endorsed by EdenFantasys.com

Thank you for viewing
Edenfantasys tote bag
– storage container review page!