Does it smell citrusy? No, wait, that was the tangerine.
If you are looking for a lubricant that's going to feel like your natural lube, this certainly isn't it. However, if you are more concerned that the lubricant is long-lasting, then give Better Sex Essentials Silicone Lubricant a chance.
Published:
Pros:
Long lasting
Slick
Cons:
Feels unnatural
Hard to clean up
Long ago, before I got involved with Eden, my husband and I heard about silicone lubricant and how it is supposed to be very slick and long lasting. We were delighted when, while out shopping one day, we found bottles of silicone lubricant on a store shelf. We fell in love with it, but when we went to buy more, we found the store had stopped carrying it. That lead us on a search that lead us to Better Sex Essentials Silicone Lubricant.
Let's start from the beginning. BSE's packaging is very simple. The bottle is clear plastic with a flip top, and the label is tan with geometric art. I love the label because it is not over the top. No double entendre, no naked people, just a plain, classic looking label. If you left it out on the bathroom counter, no one is going to give it a second look.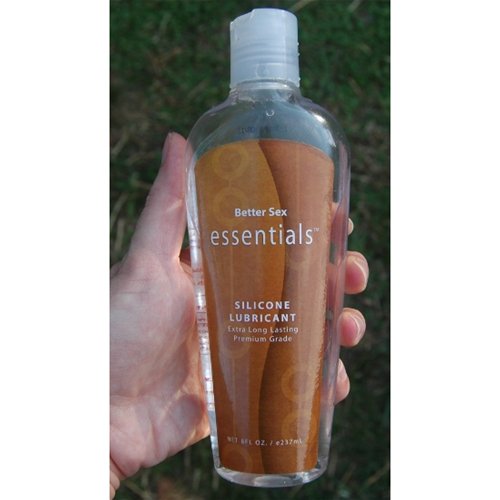 The back of the bottle boasts that BSE silicone lubricant "...is designed to enhance personal pleasure as well as sensual massage. It also revitalizes skin, latex and dry leather." Well, I'm too chicken to try it on my leather furniture and we use sweet almond oil for massage, but I did try it on my dry hands to see what it would do. I placed a pea-sized amount on the back of my hands and rubbed it in. My hands felt smoother and softer, but the smoothness of my skin feels odd. The best way I can describe it is a dry slickness. It will do in a pinch if I run out of moisturizer, but it certainly won't be my go-to.
While I was rubbing it into my hands, I did the smell test. I couldn't really smell anything, but if I concentrated really hard I think I may have smelled something vaguely citrusy. But I did eat a tangerine earlier...you know what? Let's say no smell. But you probably also want to know how it tastes. Can I say I hate tasting lubricants? The idea makes me queasy, but for thoroughness, I did taste it. No taste.
The ingredients are listed as cyclomethicone, dimethiconol, and cyclopentasiloxane and it is not a contraceptive or spermicide. BSE also warns against using silicone lubricant with silicone products (remember silicone and silicone don't mix), and due to the slickness, the user should be wary of using the lubricant near pools, showers, and bathtubs.
I found that I really don't love this lubricant for vaginal intercourse. It's too slick and feels unnatural both to my husband and I, and honestly, it's kind of hard to get it off. Clean up is listed as soap and water, but you aren't supposed to use soap on the vaginal area. However, we liked the smooth slickness for anal stimulation (didn't have to reapply at all) and hand jobs (needed to reapply a few times). The fact that it's long lasting is a huge plus for those two activities.
Now, all lubricants claim to be long lasting. But how long is long? I put it to the same tests I put other lubricants to. If you read my
Sliquid review
you'll recognize this test and the results. I placed a penny-sized amount of lubricant in my hands and rubbed them together to see how long it would take until I would have to reapply. Of course my hands aren't damp like a vagina would be, so it won't last as long on my hands as it would during sex, but it definitely helps when comparing lubricants. The three I tested are Better Sex Essentials Silicone Lubricant, KY Jelly, and Sliquid Organics Gel.
KY (water-based): After three minutes of rubbing, KY was starting to get sticky. After 4 minutes, it was very sticky and reapplication would have been necessary. It left behind a sticky residue.
Sliquid Organics Gel (water-based): After two minutes of rubbing, the Sliquid had disappeared without a trace. No residue left over.
BSE Silicone: Did not even start to lose any slickness until around 3 minutes, and didn't need reapplication until around 6.5 minutes. Left a slick residue on my hands.
Then, just because I could, I did another viscosity test. I put about a tablespoon(ish) amount of each lubricant on a flat surface and tilted it, so you could see how it behaves. The BSE silicone is, of course, more runny then a Gel or Jelly, and can sometimes be difficult to keep it where you want it because of that runniness.
In the end, I can say that I do love the BSE Silicone, but only for hand jobs and anal stimulation. It just feels too unnatural for PIV and it's hard to clean up, too. For PIV, I think I'll stick with Sliquid.
This content is the opinion of the submitting contributor and is not endorsed by EdenFantasys.com

Thank you for viewing
Better sex essentials silicone lubricant
review page!