Let's get it...started?
If you're looking for a lube to give your natural lubrication just a little bit of help at the beginning of intercourse or masturbation, this is perfect. If you want something that's long-lasting, look elsewhere.
Published:
Pros:
Absorbs completely, No taste, Natural ingredients, Great as a foreplay starter lube
Cons:
Doesn't last long, Not good for anal play, Not good for those with lots of vaginal dryness
A water-based lube that's organic and natural? Sign me up! Well, almost. I had high hopes for this lube, but it didn't quite do what I needed it to do, which of course was lubricate for more than 5 minutes!
Let's start from the packaging. It's very feminine in mauve tones with a lotus and female symbol over a dark plastic squeeze bottle with flip lid. The bottle touts the lubricant as being "Botanically Infused", and being free of glycerine, parabens, and petroleum. The ingredients are listed on the back as being purified water, plant cellulose (from cotton), aloe barbadensis, natural tocopherols (vitamin E), cyamopsis (guar conditioners), extracts of hibiscus, flax, green tea, sunflower seed, potassium sorbate, citric acid (citrus fruits).
Next, smell and taste. There is a very faint citrus scent if you get really close, but during use, you smell nothing. And the taste.. I'll be honest. I hate the idea of tasting lubes. The thought churns my stomach a little. But for you, dear readers, I did taste it, and I'm happy to report it had no taste whatsoever and didn't leave an odd residue in my mouth, either.
Before I get into specifically what tasks I put Sliquid to, I want to talk about how long it lasts. I see a lot of "long lasting," or "not lasting long at all," and I really wanted to be able to put a number on this. So, before I did anything sexual with it, I put it to a little test. I squeezed about a penny sized dollop into my palm and rubbed my palms together in a circular motion at a moderate pace to see how long it would last. For comparison reasons, I did the same with a standard KY jelly water based lubricant and for good measure a silicon lubricant called "Better Sex Essentials Silicone Lubricant."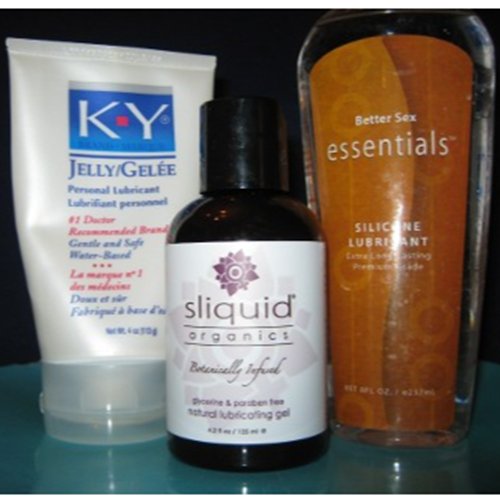 Let's start with the KY. After one minute of rubbing it had definitely lost some slickness. At 3 minutes, it was getting sticky. At 4 minutes it was very sticky and reapplication would have been necessary. A sticky residue was left over.
For the Better Sex Essentials silicone, it was a different story. It didn't lose any slickness until 3 minutes, and a reapplication would not have been needed until 6.5 minutes. It left a bit of slick residue on my hands.
And now the Sliquid Organics gel. It was a little foamy as I was rubbing, as if I had just a hint of soap on my hands (I didn't). At 2 minutes the Sliquid was gone. I mean GONE. Not a trace, no residue, no stickiness. It had absorbed completely. Even though it didn't leave any sort of residue, it didn't last long, either.
Just for fun, I did a sort of run test to show the difference in viscosity between the three. I put a dab of each, about the size of a quarter, on a plate and tilted it straight up. The thickest was the KY, which was very globular. The silicone was extremely runny. The Sliquid was neither goopy nor extremely runny. Keep all that in mind if you're looking for a lube to stay where you put it!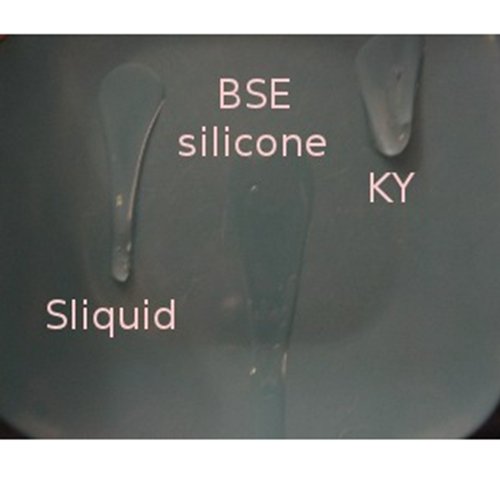 Experience
Now the very specific tasks I put Sliquid to, otherwise known as the fun stuff!
One of the first things I tried was using this with my
Ace butt plug
. Oh, boy, can we say OUCH?! I felt like I lost quite a bit of the lubrication just by touching it to my skin. Sliquid made the plug not overly slick, but I thought it would be at least slick enough to work. After a couple of minutes, I had to remove the plug because everything just felt so dry and uncomfortable. And removing it was no picnic! Talk about a mood killer! Because Sliquid gel didn't work well with a plug, I CAN NOT recommend this lube for anal play or anal sex.
So, it doesn't work great anally. I tried it next vaginally with a glass toy. I was not overly aroused at the time (still recovering from the plug fiasco), so I didn't have a whole lot of natural lubrication going on. I really needed the extra lubrication now! I felt like Sliquid started to disappear from the toy in about one minute.
Not to be defeated, I then just tried some on my fingers to rub my clitoris. Same result as above. It absorbed way too fast for it to be effective.
Finally, one more test: the hand job. Usually when I give husband a hand job, I have a lubricant and a cup of water handy, and when the lubricant gets dry, I add a few drops of water to freshen it. I had every intention of doing exactly that with Sliquid. Well, I had a lot of intentions for Sliquid and you can see how they turned out so far! Anyway, I went to work, but it started to absorb very fast. And it got foamy! I tried to refresh it with water, but it only slightly worked. I had to reapply the lubricant too many times for it to be worth it. One hand job could easily take half a bottle.
Despite its faults, Sliquid Organics gel is not useless. In fact, I found one very, very good use! Weren't you wondering why I gave it 3 stars instead of 1? It's for ladies that just need a *little bit* of extra help with lubrication. If you feel like you're ready for action and your vagina is on the dry side but WILL lubricate itself in a few minutes, this is a perfect lube for you. It will get you started and absorb at a point when you won't need it anymore. Think of it as a perfect let's-at-least-start-the-action lube!
Follow-up commentary
2 months after original review
It's been hard for me to figure out whether or not I like this lubricant. It just disappears too fast for me to be in love with it, but its natural ingredients and pleasant texture let me not hate it. In our house, we only use Sliqiud Gel when getting sex started, and when I'm feeling a little dry. Or when I'm trying to insert a toy with a lot of drag when I'm having trouble getting lubricated enough. That's it. If you are looking for something with staying power, this isn't it.
This product was provided at a discounted price in exchange for an unbiased review. This review is in compliance with the FTC guidelines.

Thank you for viewing
Sliquid Natural 4.2oz
– lubricant review page!