Juicy Lube Fun Pack
This is a great set for someone looking for the perfect flavored lube or for traveling. A great way to add a little delicious flavor to your lovemaking.
Published:
Pros:
Variety of flavors, travel perfect size
Cons:
Contains glycerine and parabens which may irritate those with allergies
The ID Juicy Lube 10 pack is a collection of travel friendly sized tubes of water-based flavored lube that is free of dyes and is sugar-free.
These are perfect for people who want to try a flavored lube, but are unsure what flavors that they might like best. They are also great for those who travel a lot, switch up flavors and want to give oral play a tasteful spin. It also works great just as a lube.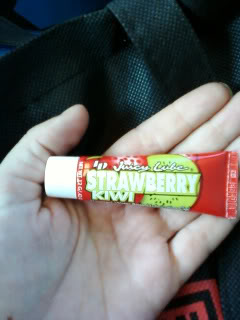 This set includes ten .42 ounce tubes of different flavored lubes, all of which give a creative twist to partner play. My sister and I sampled and smelled all 10 of them and our findings on the different smells and tastes are listed below.
It is a thin, clear gel that squeezes out of the tube. You have to squeeze gently because it is thin and comes out of the tube quickly. The husband and I tried out the Big Banana with me applying it to him. If you are not careful with the amount, it will run. A small amount is all that is necessary. It does make your mouth water a little so if you are using this for oral, I found no need to reapply it. Depending on how long you are using it for sex determines how much to use. It is long-lasting, but if you have an extended time of play, you may need to reapply it. After it dried, I noticed no stickiness. (Aside from saliva and once that dries there was no residue)
Following is a list of each flavor and our takes on them, starting with my favorites and working down.
Big Banana
Smell and taste:
Smells and tastes like banana taffy candy. Great smell/Good taste.
Wild Cherry
Smell and taste:
Smells like cherry and tastes like Ludens cough drops. Great smell/Good taste.
Bubblegum Blast
Smell and taste:
Smells and tastes like classic bubblegum. Great smell/Good taste.
Pina Colada
Smell and taste:
Smells like coconut tanning oil and tastes like mexican coconut candies. Good smell/Good taste.
Passion Fruit
Smell and taste:
Smells and tastes like fruit lipgloss. Slight aftertaste, but still good. Good smell/Good taste.
Fresh Peach
Smell and taste:
Smells like peach pie, but has very little taste. Good smell/Fair taste.
Strawberry/Kiwi
Smell and taste:
Smells lightly of strawberries. Tastes like a weak Big Red. Fair smell/Fair taste.
Lemon Drop
Smell and taste:
Not really any smell, tastes lightly like lemon candy drops. No smell/Fair taste.
Cool Mint
Smell and taste:
Light spearmint smell, very light mint taste. Fair smell/Fair taste.
Delicious Watermelon
Smell and taste:
This one has me perplexed. I can't pinpoint the smell but it isn't watermelon. Has a very light watermelon-like taste, but the smell leaves me wordless and I am not often without words.
Ingredients include: Water(Aqua), Glycerin,Propylene Glycol,Cellulose Polymer,Polyethylene Oxide,Carbomer 981,Polysorbate 20,Methylparaben,Sodium Benzoate, Sodium Saccharin,Aspartame,Tetrahydroxypropyl Ethylenediamine,Diazolidinyl, Urea, Flavor (Aroma)
It comes packaged in a plastic pop-open container that can be used to store them, although I carried all 10 of them in a baggie all day around town and there was no leakage.
This content is the opinion of the submitting contributor and is not endorsed by EdenFantasys.com

Thank you for viewing
ID juicy lube 10 pack
– lubricant review page!