Taste The Rainbow! Lick The Rainbow!
Trying out all the different flavors is a lot of fun! All of these lubes are water based, clear, and thin. Unfortunately they dry up quickly and get sticky. For the price it's a great way to try all the flavors before you buy a full sized bottle. I'd recommend these to anyone that wants to give flavored lubes a try and aren't that concerned with ingredients. I like the flavors but they just don't work for me as a lube and I don't like the ingredients.
Published:
Pros:
Variety, most of the flavors taste good, you get a good amount in each tube to sample.
Cons:
Contains parabens, aspartame, and glycerin and dries up quickly/sticky.
If you're looking for a flavored lube but have no idea which flavor to get then try this 10 pack! There's 10 different flavors to try in mini sized tubes. Purchasing this 10 pack is a lot better than purchasing one full sized bottle for only one flavor which you might end up not liking. It just makes more sense to sample them first.

All the lubes in this pack are clear, water based, and are very lightly scented. They feel smooth and almost water like. If you use a large amount the lube drips like water but slightly slower. Unfortunately, these lubes only last a few minutes before starting to dry up and get tacky/sticky. After use you'll definitely want to wipe yourself off with a wet washcloth or even take a shower.

I prefer to use these flavored lubes externally on the body like a body topping in small amounts. For example, on the breasts or thighs ect. I've also used them for oral sex, particularly on my boyfriend. I'm not 100% comfortable using these flavored lubes as my go to lube for penetration. The ingredients are kind of questionable and they dry up and get sticky really fast. I'd prefer to use a non flavored lube for penetrative sex. These flavored lubes are best for oral sex/body topping in my opinion.

~What do these taste like? What do they smell like?~

Lemon Drop: This one definitely smells like lemon but it has a slight chemical scent to it. It smells like lemon scented hand wipes. It also tastes very fake to me. It's more sweet than sour but it as a little zing to it that's kind of strange. It reminds me of an old stale lemon hard candy like you'd find in a candy dish at your grandparents house. I love Lemon Heads and to me this doesn't taste as tarty/sour as it should. It's definitely not my favorite. It's blah.

Cool Mint: This one smells like minty gum. It tastes minty and gives you a slight cooling effect in your mouth. It tastes very sweet like chewing on a mint leaf.

Passion Fruit: I'm not sure what a passion fruit smells or tastes like. It smells kind of like a mix between cotton candy and tropical fruit. It tastes sweet. I used to have a cotton candy flavored lube a long time ago and this flavor reminds me of it.

Big Banana: I've been crossing my fingers that this one will taste like those runts candy bananas. Oh my gosh it smells so good! It smells like banana candy! It's not exactly like a runts banana but it tastes really sweet and candy like. YUM!

Lucsious Watermelon: This one smells and tastes like a watermelon Jolly Rancher. It's not as good as the real thing but it's close. It tastes sweet but too light.

Pina Colada: Mmm this one definitely smells like coconut. It tastes like sweet coconut milk. Yum! You know when you drink coconut milk it has sort of a woodsy note to it? This kind of has it too. I wouldn't call it a bitter aftertaste but it's probably from the aspartame. I love it! I'd definitely buy a full size of this flavor.

Strawberry Kiwi: When I first smelled this one it reminded me of a candy I haven't had in years! It smells like those hard strawberry candies with the soft centers. Yummm it tastes really sweet. It has that tangy note from the strawberry and the watery kiwi mellows it out. I could lick this one over and over. It's just a really good flavor.

Bubblegum Blast: It smells and tastes just like powdery sugary Double Bubble gum. The kind of pink gum that tastes good for one minute before tasting like rubber. It's sweet and yummy.

Wild Cherry: I was afraid this one was going to taste like cherry cough syrup because most of the cherry lubes I've ever tasted always do. This one sure smells delicious! It smells just like smelling a jar of maraschino cherries! It also doesn't taste nearly as bad as I expected. It's a lighter fruitier cherry flavor rather than a cough syrup cherry. It's not perfect but it's a lot better than the other ones I've tried.

Fresh Peach: This one has a pleasant fresh peach scent. It tastes like peach candy rings but not as sugary, slightly bitter from the aspartame. It's definitely not as delicious as a real peach. It tastes like a sweet, light, watery, type of peach. It's good!
Experience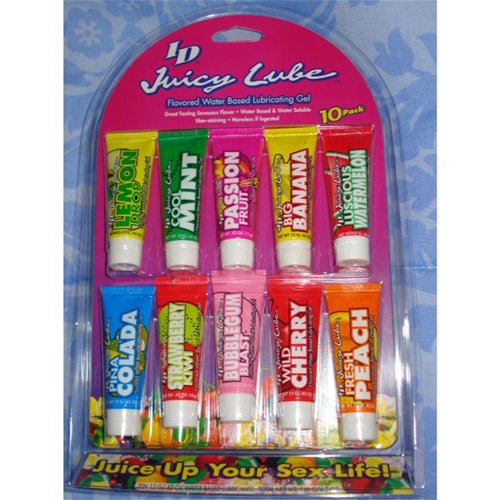 Ingredients:
water, glycerin (some may be sensitive to this ingredient. If you know that glycerin doesn't get along with you then you probably shouldn't risk it.) propylene glycol, cellulose gum, EDTA, carbomer, polysorbate 20, PEG 90m, sodium saccherin, aspartame, tetrahydroxypropyl ethylenediamine, methylparaben, sodium benzoate, potassium sorbate, and flavor. (This lube contains aspartame which is an artificial sweetener. It also contains parabens which isn't the best ingredient, definitely do your homework on these ingredients if you're concerned!)
Overall, I was really surprised by how much I like the flavors. They all tasted sweet without being too sweet. If you absolutely hate aspartame then you probably won't like these. I can't wait to share these with my boyfriend and see what he thinks about them. I couldn't really pick a #1 favorite but I would definitely purchase full sizes of Big Banana, Passion Fruit, and Pina Colada. I liked Lemon Drop the least.
We use these is small amounts and gradually add more. After you lick the lube off the skin the flavor is gone and you have to keep reapplying it. As a flavored lube I like the flavors but the ingredients scare me off. When it comes to using these lubes for sex I'd really rather not but that's my personal opinion.
This product was provided at a discounted price in exchange for an unbiased review. This review is in compliance with the FTC guidelines.

Thank you for viewing
ID juicy lube 10 pack
– lubricant review page!