When You Just Cannot Decide on One Flavour...Sample Them All!
This is a great sampler pack for those who have never tried the ID Juicy Lube products before, or for those who enjoy a variety of flavoured lubes instead of just having one or two regular sized products.
Published:
Pros:
10 different flavours, not sticky, price, taste, does not leak.
Cons:
Contains parabens and glycerin, some flavours are not good.
My partner and I enjoy using flavoured lubricants for oral sex, so we decided to try out the 10-pack so that we could sample each flavour. We had not used a Juicy Lube product before.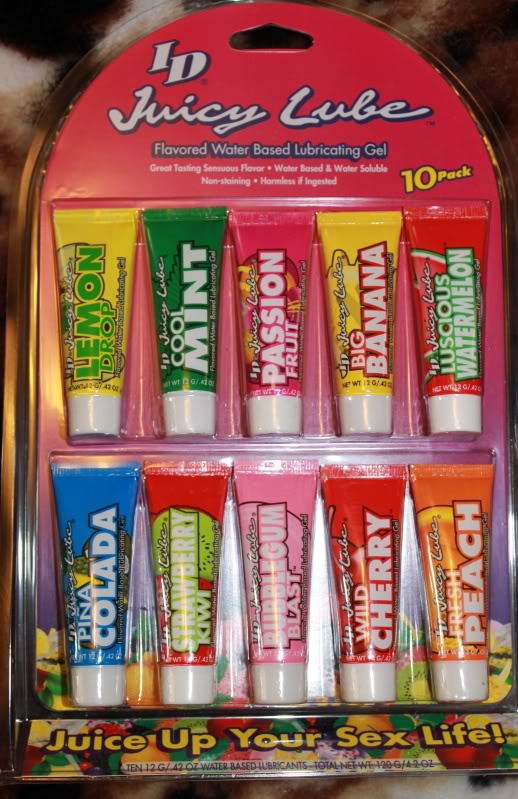 Upon opening the package, I was overwhelmed with the strong scents from the tubes before even opening them up yet. I personally love strong scents, so I was happy with this! If you are sensitive to strong scents, you may not enjoy this product as much as I do. The tubes themselves have protective seals on them.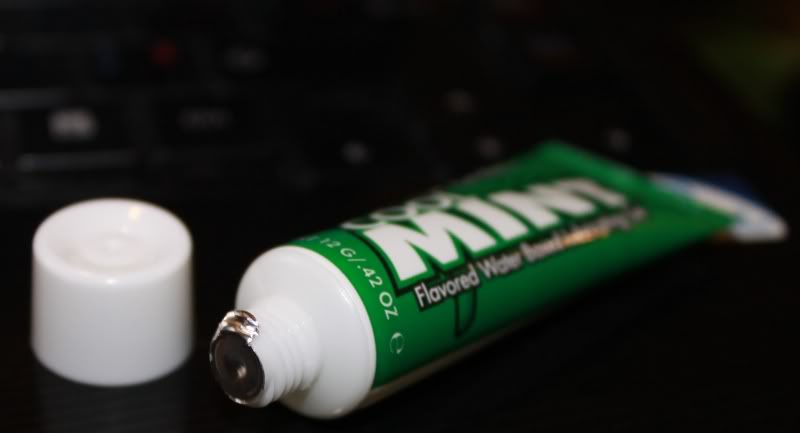 The consistency of the lube is thin, but not so thin that it runs like water. All of the lubes, regardless of the flavour, are a transparent liquid. I tested each flavour on the back of my hand. Here is my opinion of each of the flavours:
-Cool mint: Smells and tastes like minty toothpaste. If you can't stand that minty flavour when you swallow toothpaste by accident, you won't enjoy it. I, however, think it is quite refreshing.
-Big Banana: Okay,
yum
! This tastes like a banana popsicle. I love it.
-Lemon Drop: Tastes like sweet lemons.
-Pina Colada: It tastes like coconuts. I have no idea what a Pina Colada tastes like, but I love coconuts and love this flavour.
-Fresh Peach: Tastes like the fuzzy peach candies.
-Strawberry Kiwi: I find it tastes more like Kiwi with a subtle taste of strawberry.
-Bubblegum Blast: Tastes like the Double Bubble brand gum.
Here are the flavours that I did not enjoy:
-Passion Fruit: Reminds me of the flavour of that gel they use when you are a child at the dentist. They attempt to make it taste "fruity," but in fact it just tastes terrible.
-Luscious Watermelon: In the same category as dentist gel.
-Wild Cherry: Tastes similar to passion fruit and has the dentist gel aftertaste as well. Not a fan.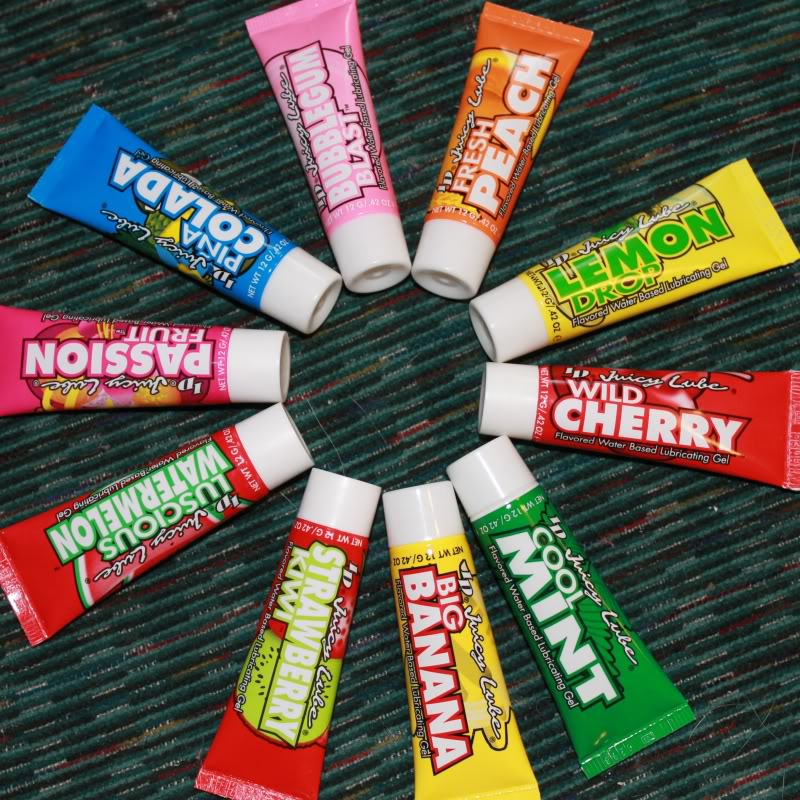 The lubes are water-based, do not feel greasy at all, and do not leave any sticky residue. The product does not absorb into the skin very quickly, so reapplication is not needed. Although these tubes are quite small, you do not need to use much so they will last us for many applications!
Each tube is .42oz, with a combined total of 4.2oz. So for $14.99, you are basically paying $1.49/tube. The larger sized Juicy Lube products are 3.8oz at $11.99 each. So for an extra .4oz in the sampler pack, you are paying an extra $3.00. This may sound steep, but for that extra $3.00, you are getting .4oz more, as well the variety that comes in the sampler pack.
Because of the size of the tubes, I would consider them travel-friendly and quite discreet. They also have plastic twist tops which ensures the product will not leak if you carry it in your purse.
The ingredients are as follows: Water (Aqua), Glycerin, Propylene Glycol, Cellulose Polymer, Polyethylene Oxide, Carbomer 981, Polysorbate 20, Methylparaben, Sodium Benzoate, Sodium Saccharin, Aspartame, Tetrahydroxypropyl Ethylenediamine, Diazolidinyl, Urea, Flavor (Aroma).
Experience
As I had stated, I tested each lube on the back of my hand. After all ten of the tubes were tested, I did notice a bit of redness on my skin, almost like a rash. About five minutes later, it had gone away. I cannot be certain it was a reaction to the ingredients of the product, but I thought it was important to note.

If you have had any reactions to glycerin or parabens previously, I suggest you avoid using this product since it contains both ingredients.

I still will try this product during oral sex, and will update the review on whether I have another reaction to this product or not.
Follow-up commentary
1 month after original review
We are still very happy with the juicy lube ten pack. We don't use them often, but have a couple of times since my review. They are great to keep right beside the bed, and having the option of what flavour we are going to use is nice as well. I ended up giving away the flavours I did not like to a friend, and we kept the ones that we did enjoy. :)
This content is the opinion of the submitting contributor and is not endorsed by EdenFantasys.com

Thank you for viewing
ID juicy lube 10 pack
– lubricant review page!