Just average..
When I run out, I'm going to look around for another product. It certainly performed well when combined with another product, but it was just too thin to use for masturbation. A small amount covered a lot of skin, but no matter how much I used, it wasn't that great. When combined with just a tiny bit of another form of lube, it made an excellent combination that was much more slippery than either product by itself, but it was a mess to have to add a second container to the equation.
Published:
Pros:
Waterproof, Long lasting
Cons:
Expensive, Messy, Greasy bottle
Wet platinum is a silicone based, premium lube that aims to provide the best, longest lasting lubrication possible, and is available in several different sizes. While it does offer long lasting performance, I found that there were a few caveats that can affect its suitability for different tasks.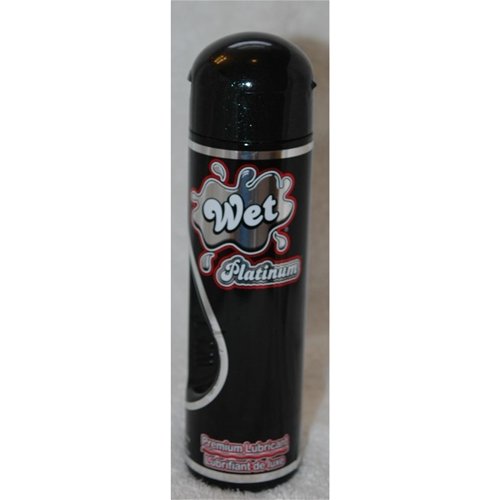 There are two main types of lubes – water based, and silicone, and each type has a few unique properties that define when they work best. Wet Platinum is a silicone based lubricant, which means that unlike water based lubricants, it is waterproof and it won't wash away when used in the shower or in a bath. Silicone lubes carry a risk that they could react with toys made of silicone, causing the outside surface of the toy to become sticky or discolored, so in those situations you should stick to water based lube.
Water based lubes work by binding water molecules together to 'float' the surfaces being lubricated past each other. After some time, however, the water tends to either evaporate or get absorbed into the body, leaving a sticky residue and a need to re-apply. Because it's silicone based, Wet Platinum doesn't get absorbed into the body or dry out, meaning that it lasts almost indefinitely on the skin. Usually one small application is more than enough for just about any length of play imaginable.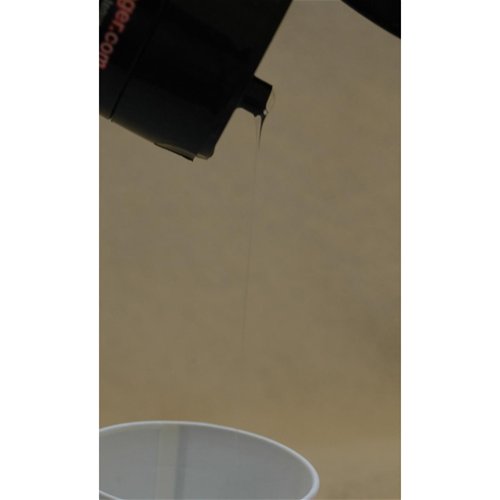 As you can see this product is very thin, unlike water based lubes, which are usually thick and highly viscous, which can make it particularly messy if you don't apply it carefully. A small squirt covers a lot of skin. By itself, I found that it was rather greasy and didn't have the thick, jelly like feeling of natural lubricant that I had come to expect from my experience with water based lubes – it was more of an oily feeling, similar to olive oil, only with a little less friction. Because of this, it wasn't as useful for anal penetration or masturbation as water based lube. It seemed to work best as a compliment to another form of lubrication - it works great as a supplement to natural lubrication for vaginal use, or when applied before a water based lube. Slightly disappointed by my initial impression, I added some water based lube without first removing the Wet Platinum. The combination of the two was excellent, and the effect lasted longer than the water based lube would have on its own.
It doesn't have much of a taste, but it does leave a greasy feeling in your mouth that takes a while to go away. It doesn't have much of a smell either, but the greasy feeling transfers easily to other objects and doesn't go away on it's own, so you need to take a bit of care when you clean up so that it doesn't end up on everything.
Because it's waterproof, cleanup can be a bit of a challenge. Most water based lubes will wash right off with just plain water, but silicone based lubes are more persistent. When I tried bar soap, I found that it just seemed to push the lubricant around on my skin without breaking it down and removing it, leaving a greasy feel when I was finished. I had much better luck with liquid soap which stripped it off pretty well, although it still took some scrubbing to really come out completely clean.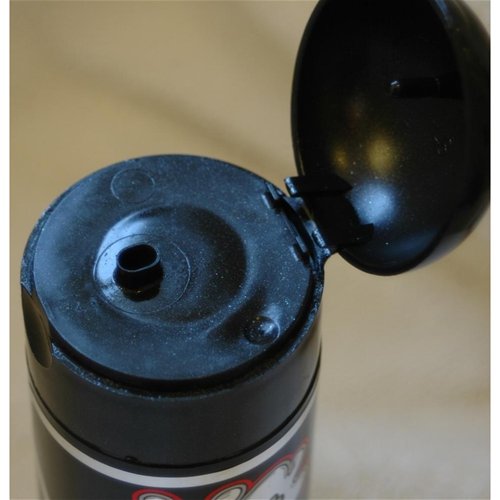 Here's a closeup of the flip top lid. The bottle always seems to have a slimy film on the outside, so much that I fear having to touch it to move it around. I can't find a leak, but I suspect that it's coming from the lid. There isn't enough to run down the side, but just enough that the entire bottle is covered with a slimy film. Because it's a very low viscosity lube, I can understand how it would be hard to contain with just a flip top lid – you certainly can't leave this on its side for more than a couple of seconds or it starts to leak. It really should be packaged in something that seals a little better, considering just how much lube is in the bottle and how messy it is when it escapes.
As you can see, the packaging is not at all discreet. The bottle is tall, and due to the leakage issues that I had, I wouldn't recommend storing it on its side. The 4 oz. size is pretty large, and would last a long time even with frequent use. For that reason, if you have never used this product before, I would recommend trying one of the smaller containers to be sure that you like the feel before you invest in something that will be around for a long time.
Experience
When I bought this, I knew it was waterproof, but I hadn't really planned on using that feature; it was just an additional possibility. It seems to me that this product really doesn't perform that well unless it's in combination with water or another water based lube, making it somewhat less useful than I had hoped. It does function well, it just needs a tiny bit of additional help to really shine. I'll certainly finish the bottle, but it's not a one-stop solution to my lubrication needs.
This content is the opinion of the submitting contributor and is not endorsed by EdenFantasys.com

Thank you for viewing
Platinum silicone lubricant
review page!