Luxury Performance, Not Sticky!!! Great flavor
After I told myself I didn't need any more lubes, I received an assignment for the Wicked Aqua. I am so glad that I accepted it. The Aqua candy apple rocks! It tastes great and not overpowering, no aftertaste. I was very concerned about a flavored lube and stickiness. There is no tacky or stickiness at all. It absorbs nicely with no residue. It outlasted it's lubricating properties longer than many of it's counterparts and the packaging is appealing.
Published:
Pros:
Not Sticky!!
Good Flavor
Nice Scent
Moisturizing
Non Staining
Soft and Silky
Cons:
None at this time
Wicked Aqua Candy Apple Flavored Lube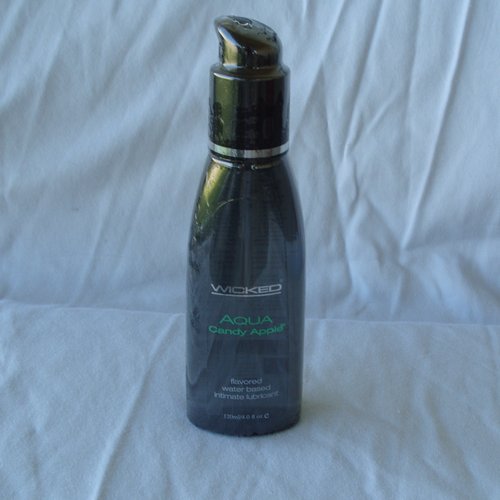 Use
Water based flavored lube for use with couples play and intercourse. You can still use this for solo play and it does work for anal but Wicked has a formula that is thicker for anal play. You can use this as a tasty treat when performing oral anal though. The aqua formula is safe for use with latex condoms. You can use it with all types of toys from jelly to silicone, glass and metal. It doesn't contain any warming or cooling properties.
Texture/Consistency/Thickness
The Aqua candy apple is a clear thinner lube, it is thicker than water, but much thinner than pancake syrup. When you squirt a pumps worth onto your finger it will run down your finger. The aqua feels silky and smooth. When you rub it on your fingers it feels moist but not sticky or tacky at all. I hate the Sticky! With use it doesn't become tacky and it maintains it's moisture for more than 30 minutes both with toy play and intercourse experiences. It is not greasy at all and when you are finished with your session it seems to just absorb with no reside. I didn't feel the need to run and clean up. It mixes nicely with your natural juices. I have to say that I did a spot test on my sheets and it didn't stain my sheets. Only a small watermark remained after it dried.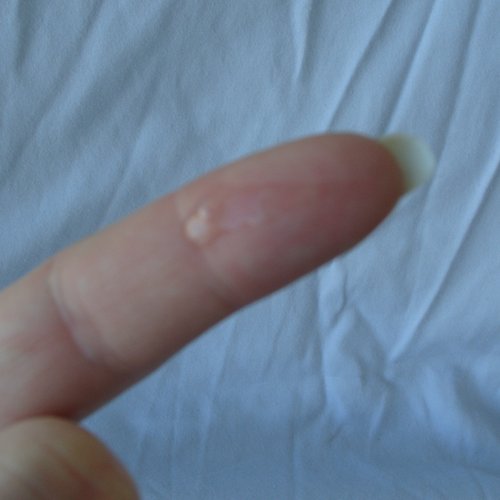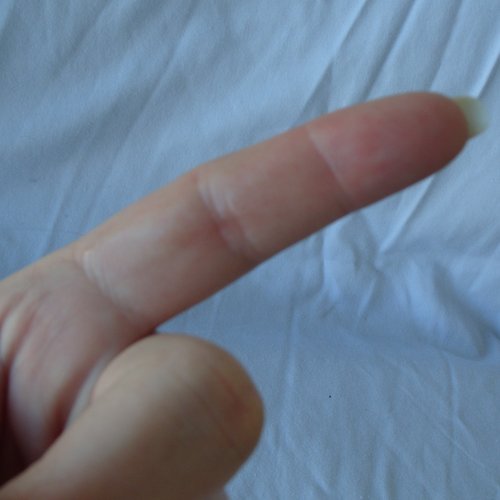 Picture shows after lube was rubbed into my finger.
Ingredients
Water
Glycerine
Cellulose Gum
Stevia Rabaudiana Extract
Olea Europea (Olive) leaf Extract
Hdroxethylcellulose
Tetrasodium EDTA
Citric Acid
Sodium Benzoate
Potassium Sorbate
Flavor
It does not contain Parabens. It does contain Glycerine which can cause some issues with UTI's and Yeast infections for women. In my quest for information on the Wicked products I found that their aqua products are PH Balanced to match that of a woman's vagina, and their glycerin comes from 100% plant based materials making them vegan. This helps so stop the formation of yeast infections. The Wicked products have been tested by dermatologists and in their clinical tests they didn't have any incidences of sensitivities to their products. The Wicked products contain vitamin E and Aloe known for their healing and moisturizing properties. The Wicked products are also hypoallergenic.
Taste/Aroma
The Wicked apple candy lube has a very pleasant candy scent to it. It is not an overpowering scent. The taste is very light like candied apples and it tasted slightly watermelon flavored to my husband. The flavor and scent are not overpowering and sweet. It is very pleasant and there is no bad aftertaste.
Performance
The Wicked aqua rocked! I can only say good about it. I didn't have to reapply due to drying out. When used for oral is was both pleasurable for the giver and receiver. I only had to use one pump of the dispenser for enough lube for intercourse and the same for use with solo play. It was only slightly more than a pea sized amount on my hand. It works to stop the drag on the silicone toys.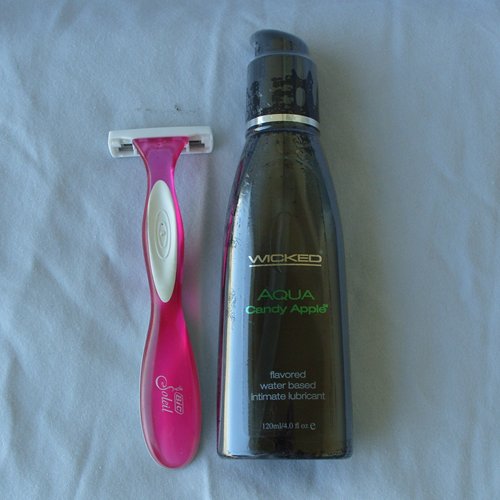 Packaging
It comes in an elegant looking black bottle, The bottle is actually quite transparent but you cant tell it so much in the pictures. Due to the transparency you can tell how much lube you have left until you need to reorder. There is Silver and green metallic writing on the bottle. The Aqua candy apple comes in a 4 ounce bottle. The bottle is a pump type dispenser. One pump is all you need. The bottle was completely wrapped in a shrink wrapped plastic with perforated area to pull to open. I like this so that way the bottle won't leak with shipping.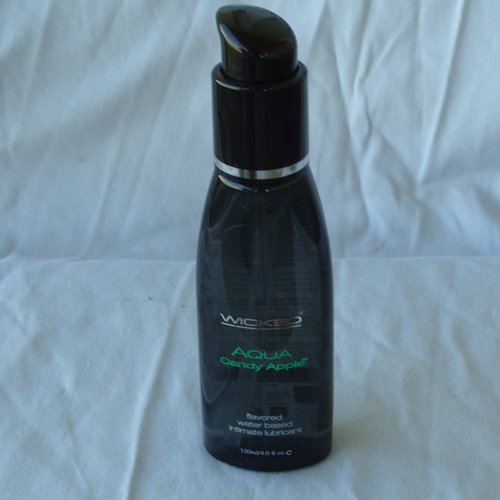 Of course,it has the standard warning that if discomfort or irritation occurs, discontinue use and consult a physician. This product is not intended for use as a contraceptive. Avoid contact with eyes. Keep out of reach of children.
Wicked products are created in the United States. Wicked has a very informational web site at www.Wickedsensualcare.com.
Experience
OOH OOH, I like this, can I trade in my other lubes for the whole line? The Wicked line of products have recently received 2- O award nominations at the 2012 ANME Show this past July. I can see why. I have only used the Aqua candy apple and I love it. It feels as good as my luxury lube that I bought as a treat for myself. It is not STICKY. I have big issues with stickiness and I didn't have any with the aqua. I used it with my silicone toys and with my husband. He also agrees with my praise of this lube. I don't have information on the MSRP of this lube at this time but I am anxious to see how expensive it is. I want to try the pomegranate flavor and a few of their other lubes. Now when we used this lube for oral my husband thinks that it tastes more like watermelon but I, who actually eats candied apples, I say that it is pretty spot on the flavor. There is no sticky candy or apple pieces left in your teeth and no aftertaste. This one is a nice treat and I would recommend it for desert any evening. And it's not Sticky!!!
Follow-up commentary
2 months after original review
I really like this lube. It does taste great and doesn't leave an aftertaste. The best thing is no Stickiness even though it is a flavored lube!!
This product was provided free of charge to the reviewer. This review is in compliance with the FTC guidelines.

Thank you for viewing
Aqua flavored
– lubricant review page!