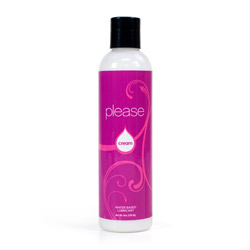 Please cream lubricant
Lubricant by Pleasure Works
Our Powers Combined!
Overall, this is a nice lube for vaginal applications, but it is far too thin to make anal comfortable for me. The sad thing is that I don't often require vaginal lubrication for sex. That leaves using it for toys, but it is really runny which makes that a tad frustrating. It's a nice lube; I just can't find a use for it for my needs that is any better then my staples.
Published:
Pros:
Long Lasting
Silky
Natural feeling
Cons:
Thin
Runny
I will give please cream a huge round of applause for the natural feeling of it. I am very good at being able to tell if we are using lube or not, but if I hadn't applied it to the toy, I would have never been able to tell. Also, it adjusts to your body temperature very quickly which helps with the realistic sensation. Too many lubes seems to stay cold for quite a while.

Please Cream is a hybrid lube, so it is a mostly waterbased lube with a little bit of silicone. This makes it the best of both worlds. You can clean it easily, but it's thinner and lasts longer like silicone.

It rather thin which makes it difficult to apply and a bit messy. It runs... a lot. This stuff hit the base of a 12 inch tall dildo fast. It dripped everywhere, and there is no use trying to rub it in to spread out over a toy. I just got more on my hands then on the toy. This is one of those lubes that needs to be applied to the vagina or anus and then down to business because it's going to get everywhere.

For all of it's thinness, It has a really long life. I will hand it to Please Cream on that. It lasted through 30 minute session with a very, very large dildo without me thinking at all about reapplication.

After all was said and done, this absorbed really nicely into my skin during the spot test for allergies, and cleaned up easily with a body wipe. Easy clean up is a must have for me. I am lazy post orgasm, but hate feeling soggy.

I didn't try it for anal due the fact that I really prefer gel lubes for anal, but I wouldn't bother anyway. It was just too thin. I need something much thicker for anal to be comfortable. Also, not tasty at all. Don't try oral after using this stuff.

It's a great deal in my opinion to be able to get the large bottle. In my experience, $16 for 8oz of lube is a steal, and if you splurge on the large bottle, you are taken care of for a long time.
This product was provided at a discounted price in exchange for an unbiased review. This review is in compliance with the FTC guidelines.

Thank you for viewing
Please cream lubricant
review page!