Sensual Strawberry Arousal Lube.
If you are wanting a flavored massage oil this is a good choice. The smell is nice, but the taste can be strange. For the price it is worth purchasing this product.
Published:
Pros:
Scent, flavor, cute bottle, and discreet.
Cons:
Glycerin, Strange taste, and needs reapplied.
My Joy Collection's lotion D'Amour is an arousal lube that is great for massaging and can also be ingested. It works well for massages, since it is absorbed into the skin without leaving a greasy or sticky feeling. Since it does get absorb you may need to reapply more often. It works well to use on the genitals, to add extra flavor for oral sex, help with masturbation (mutual or solo), but will not work well for penetration with toys or a partner. This is more of tasteful massage oil that is best for massage,heavy petting, and oral sex.
The lotion/arousal lube has a light red color to it, but this color is not going to stain your skin. You can purchase it on Eden in strawberry and cherry flavor and scent. The smell reminds me of fruity pebble cereal and the taste is like strawberry medicine after taste. The taste is strange on the taste buds and gives you that sour shock feeling, that shocks the jaw and tongue, plus makes your mouth water to get raid of the taste. The lotion/arousal lube does also have a warming effect, this occurs when you rub or blow on it. This is really nothing special, but is nice for massages. This is really thin and slippery, so things can get messy you are going to want to lay down something you do not care about getting messy. I did not notice that it stained clothing, but it may leave grease like stain on dark clothing.
The lotion/arousal lube comes in a 4oz heart shaped bottle with a cap. The has a top that opens up like most shampoo bottle's, but has a rubber stopper to help prevent leakage. The bottle stands 6" tall and less than 1"thick, which is small enough to pack away and travel with. The bottle can easily be hidden in plain sight, by placing it with other beauty products, no one would even notice. You should store this bottle standing upright incase of leakage, but if not you will want to store in Ziploc bag.
Should any reaction occur to this product discontinue use and consult your Doctor. You are going to want to take the bottle or the ingredients list with you, incase of allergic reaction to ingredient. This lotion/arousal lube does contain Glycerin, which some women have reactions to, but this is not limited to this ingredient alone. You can easily be allergic to something new or something most women are not. The bottle does note that it is latex friendly and that it was not tested on animals.
To wash away this lotion/arousal lube just shower and be sure to use lots of soap.
It comes packaged in a plastic bag to protect the other products it is mailed with.
It is made from organically pure ingredients. It is a water based lube that can be used with all materials of toys, if you wish.
Ingredients: Glycerin, Corn Syrup, Sorbitol, Propylene Glycol, Flavor, Potassium Sorbate, Sodium Saccharin, May contain FD&C Red #33 or #40, FD&c Yellow #5 or #6, FD&C blue #1 or #2, and Titanium Dioxide.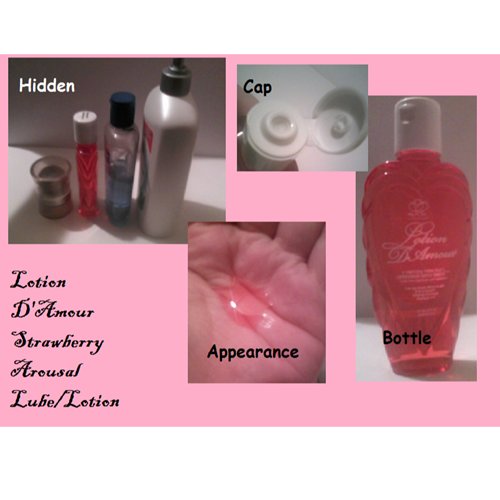 Follow-up commentary
3 months after original review
I gave this bottle to my sister. I was very disappointed in the medicine taste. The bottle leaked if it was tipped, so be sure to store it upright. I would only recommend using this for a massage oil.
This content is the opinion of the submitting contributor and is not endorsed by EdenFantasys.com

Thank you for viewing
Lotion d'amour
review page!