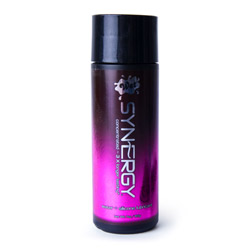 Synergy hybrid lubricant
Lubricant
by Wet International
Wet, Hot And Wild Synergy!
Wet Synergy is a workhorse type lube that will provide a suitably, silky cushion of protection for your sensitive tissues. It doesn't have a pleasant taste but hits all the points We were looking for in a lube. This isn't a terribly expensive lube but performs like one.
Published:
Pros:
Rich, long lasting, washes away cleanly
Cons:
Not pleasant tasting
I have tried water based lubes and silicone based lubes, but I have never tried a blend of the two. I love the way water based lube is so easy to use and washes off completely with warm water and soap. The problem is it can be absorbed very quickly especially during anal play. Sometimes I have noticed that I get slightly irritated after using some water based lubes as well. Which is where silicone lube comes into play. Silicone lasts seemingly forever and I have never gotten a reaction to the silicon lubes I've tried, but Sigel has! They burn if he gets them inside his urethra, but water based lubes don't. So we were in a sort of a pickle.

I decided to give Wet Synergy a try since it is a blend of water and silicone lubricant. It is also concentrated and supposed to last 3 times longer than other Wet brand products. It's supposed to provide all the benefits of silicone lube but clean away as easily as water based lube. Since Sigel's doctor believed his irritation might be caused by the way silicone coats and doesn't wash away easily we figured this might be the answer to our dilemma.

The product arrives in a medium-soft, 7 oz. black plastic bottle with a flip top lid. The label is a very pretty medium pink shading up to a deep maroon. I mention this because this bottle is the most discreet sexual aid I have ever received. It simply says Wet, with the splash trademark, Synergy water+silicone lubricant. It also mentions that it is concentrated and lasts 3 times longer. This can sit on your bedside table and even your Mom won't cringe!
The flip top lid guarantees this lube won't leak all over everything making it great for travel or storing on it's side in a drawer.

The lube itself is beautifully thick, rich and totally clear. It has no scent, not even a plastic scent from being stored in the plastic bottle. It doesn't have a particularly pleasant taste, it is sort of sweet and finishes with a bitter aftertaste. It isn't horrible and won't ruin the fun if you accidentally get taste while playing. I don't recommend this for oral play, however, and wet makes some pretty good products specifically for that!
The product comes out of the bottle in a thick pea sized glob that doesn't immediately heat up and begin running all over the place, it stays where you put it. From the very minute you put it on the skin it feels very rich and very slick.
The slickness holds up to an amazingly long play time without the need for reapplication.
It makes an amazing massage gel giving a very slick surface that feels silky rather than oily and permeates the skin without disappearing completely. You might feel the need to shower afterwards but if you don't the lube won't stain your sheets and washes completely away in the laundry. The lube won't leave your skin feeling anything but smooth and hydrated, as the lube doesn't dry sticky or flaky.

Warm water and soap will wash all but an amazing silky feeling from your body and your toys. I don't mean that you'll be left with a slick surface but that your skin will feel wonderfully conditioned and your toys will shine. A little goes a long way with this lube and I am confident the 7 oz. bottle will last quite some time.

I have tested all my silicone toys and have yet to see any indication that this lube will adversely affect them. It does need to be washed off carefully as it does seem to stay slick. Otherwise it seems to work just fine. I recommend using a patch test to protect your expensive silicone friends.
Since the formulation is water + silicone it works well in the shower but not as well in the tub. It seems that a bit of water won't immediately wash it away but add too much and it's gone!
Experience
I tried this lube by myself the first time and waited to see if I would develop the irritated stinging I usually associated with some water based lubes and nothing happened. The lube just washed away easily and left my skin silky and smooth.
Next I used it for anal play and the lube didn't disappoint me in this area either! The lube lasted through my play with one application and then washed cleanly away. So far so good.
Next I invited Sigel to help me test this product, and he was very willing like always! I gave him a long and erotic massage followed by a handjob. After the play he went off to take a shower and reported that the lube had washed away cleanly, once again, and that he didn't feel the irritation to his urethra that usually followed an extended handjob.
On every point this lube worked for us.
Follow-up commentary
7 months after original review
I still LOVE this lube but alas it has been co-opted by Arch who really likes it with his strokers. I guess I will have to buy another bottle...
I haven't had any interaction between this lube and silicone toys regardless of whether they are firm or soft. It cleans up easily with soap and water and doesn't irritate my sensitive and often grouchy Lady Bits.
This product was provided free of charge to the reviewer. This review is in compliance with the FTC guidelines.

Thank you for viewing
Synergy hybrid lubricant
review page!