(1x/2x) Steampunk...here she comes!
My daughter gives this a 4.75 star rating and says that she is sure that there is probably something better out there, but she has no idea what it would be. She says that it isn't perfect, but it sure does encourage her to have good posture and it looks good over another shirt.

I'm rounding her rating up to 5 stars.

If you're not looking to use it as a corset, it is very nice.
Published:
Pros:
Flexible design - you can use it with or without straps and garters or even as a vest
Cons:
Must be handwashed
Fabric not very stretchy
I bought this because it was so adorable and I thought a 1x/2x
might
fit me.
I was wrong, but fortunately I have a slighter smaller size daughter...and she loves it!
What it is … how to wear it
This is labeled a "corset" but it is more like a strapless top or vest. Although it comes with adjustable straps and garters, my daughter is going to use it as a vest over a white top.
This item is currently available at Eden Fantasys in: S,M,L,XL and 1x/2x
Packaging
I honestly don't remember how this one came packaged and I didn't take a photo of it. I think it came in a plastic bag but I don't remember any hangers with it.
Material & Care
This is made of 100% polyester and according to the tag, it needs to be handwashed and then hung to dry. I would follow their instructions.
Design, Sizing & Fit
According to the sizing chart, my bra should be 46-50D, my waist 38"-42" and my hips 46"-52". .
I am currently 275 pounds, wear 18-24 tops, wear 44D bra, with a waist of 49", hips of 57" and a torso of 18-19" long.
Based on these measurements this item should not fit me or at least ride up and sit on top of my butt.
Specific Measurements
center top of front to hem
15" long
top of cup to hem
17" long
width of front
20" wide , 40" TOTAL width of which 12" on back is stretchy mesh
cup width & length
5" long X 8" wide
strap length
16" adjustable detachable straps
garter length
stretchy & adjustable up to 8" long, have metal clasps at bottom
It has 20 hooks going down the back with two sets of eyes which gives you 1/2" adjustment.
Close-up photos
Close-up of 1/2 of front: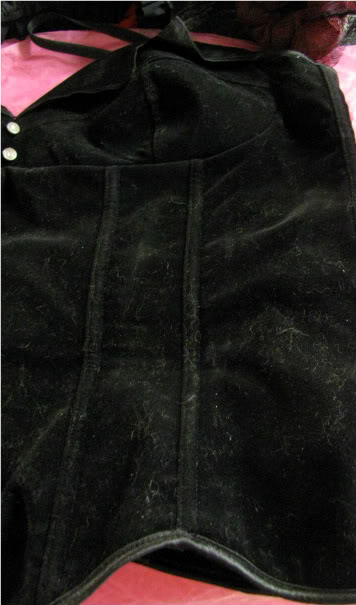 Full front: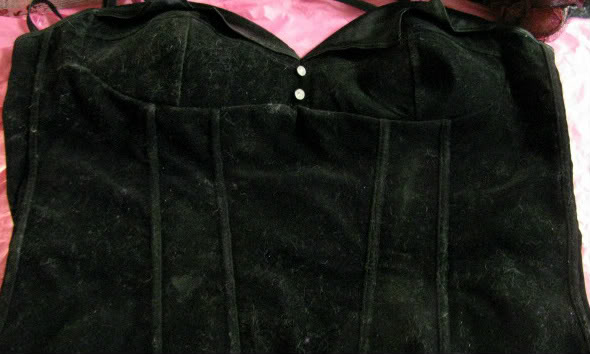 Close-up of area over cups: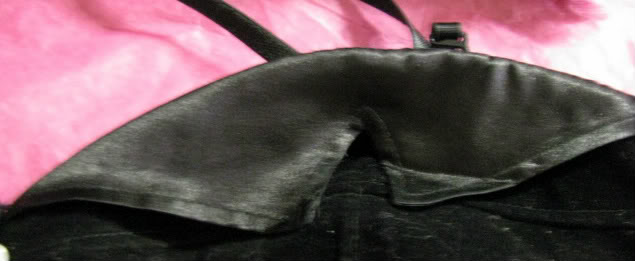 Close-up of padded cups: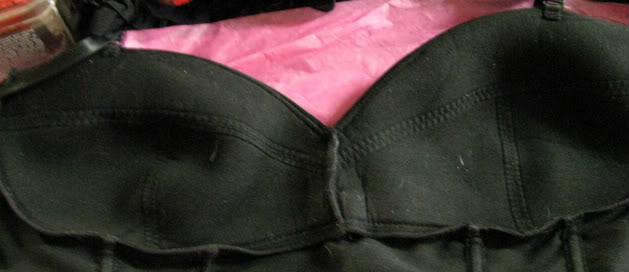 Mesh on back:
Size between boning: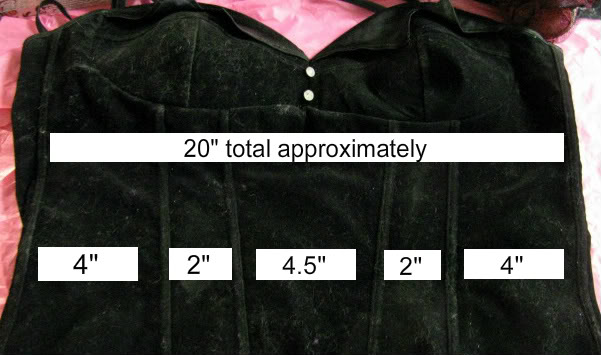 Modeling the Garment
I have a number of photos so I'm going to explain them here quickly. You'll see front, side, back and breast support three times. The first time is me.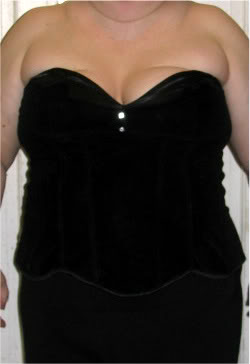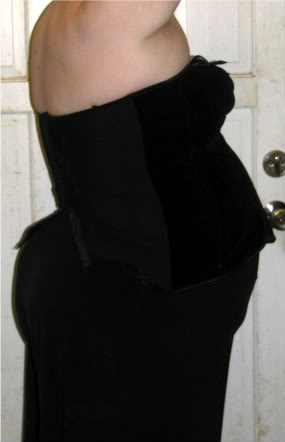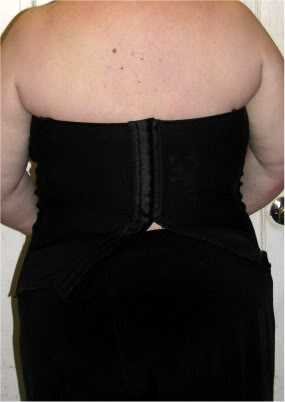 As we realize it doesn't fit me because we can't close the hooks, my daughter gets excited since she likes the piece.
My daughter wears a 40D bra, has a 43" waist and 49" hips. She is just 1" above their sizing in the waist - here it is on her.
Once again - front, side, back, breast support (without straps this time)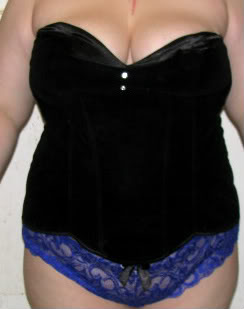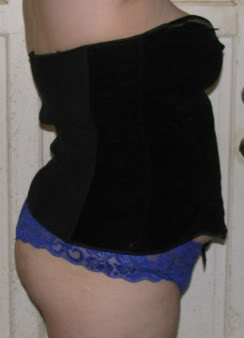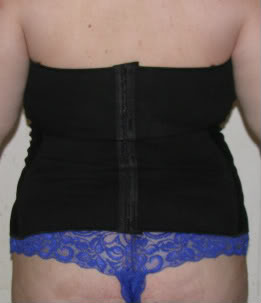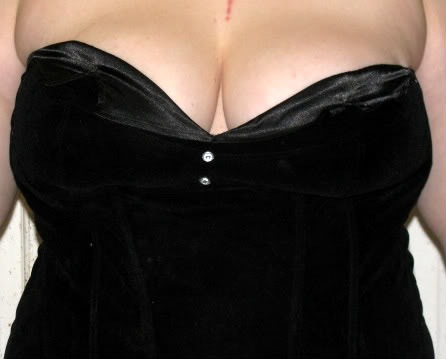 With the straps: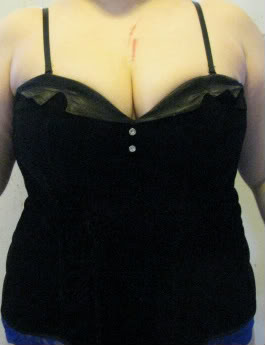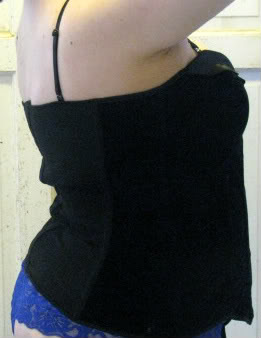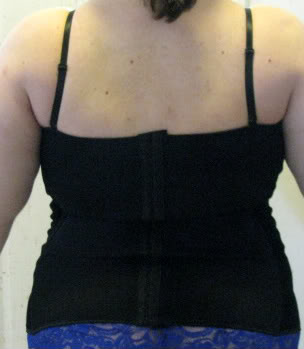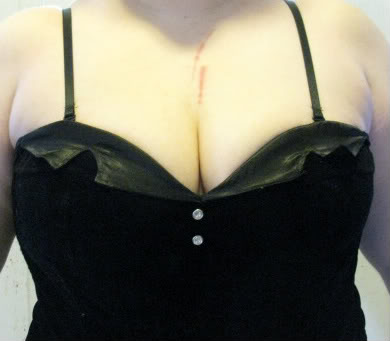 Please excuse the scratches she got from the rabbit!
Experience
Comfort

I'm going to base the rest of this review, including the rating, on my daughter's comments. From 1 to 5 for comfort, with 5 being the most comfortable, she gave it a 4. She wore it for over 6 hours today over a shirt and found that it encouraged her to have better posture. She can slip it on over her head now that she has it fastened and then bring it down over her breasts and waist, etc.
This content is the opinion of the submitting contributor and is not endorsed by EdenFantasys.com

Thank you for viewing
Velveteen and powernet corset
review page!