A bit of a disappointment
This corset was a bit disappointing for me. I didn't like the way it fit me and the fact that the bowing bent at the waist instead of creating a nice shape for me. A corset is meant to do three things: make the waist smaller, lift and support your bosoms, and help improve your posture. This corset didn't do enough of any one of those for me to recommend it.
Published:
Pros:
Material feels nice, Two different size settings, Cup size will fit most
Cons:
Bowing is too pliable, Hard to get on and off, Not very adjustable
This Velveteen and Powernet Corset looks so nice in the pics, I had to have it! This set has two settings in the back for those that need a bit of training for corset. The eye-hook rows are about 1/2" apart. I got a large for myself since Coquette seems to run small. I am only a B-cup but I think it still looked okay on me. A C-cup will fill this size a bit better I think though. The breast cups are slightly padded.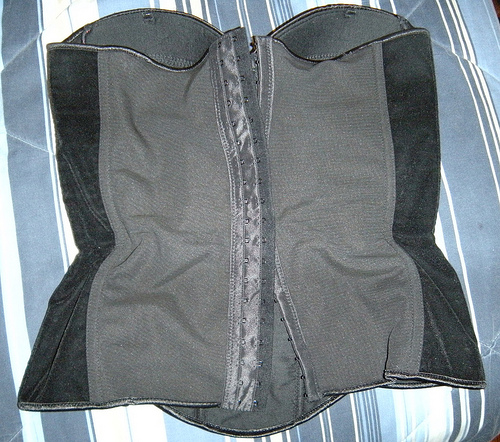 This set came with only the corset and garters to my surprise, since most come with panties to match, (some even come with stockings). The garters and the shoulder straps are removable. I didn't like the placement of the straps so I never wore them with this corset. If you look at the photo above you can see the strap placement is right in the middle of the cups, making it odd looking when they are attached.
I think this corset looked alright paired up with my favorite jeans or a nice mini skirt. I have to admit that I didn't
love
this corset. The bowing wasn't quite tough enough to create a good waist for me. It made more of a dent in my sides. It
was
a bit easier to breath in this thing, even when it was at it's smallest. I think the freedom of laces work better for corset training than something with only a eye-hook for closure. Not every woman is the same shape and lace gives a bit more wiggle room and can be drawn tighter where you need it.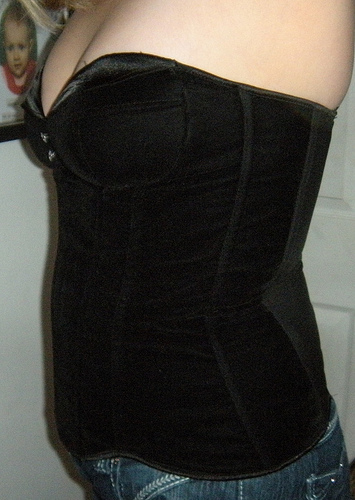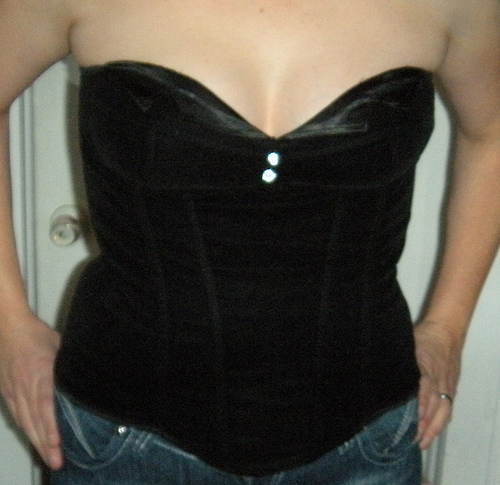 Sorry this pic is so fuzzy.
The tuxedo flaps and the two rhinestones in the middle were a nice touch. Most of this corset has a velvet feel. It is soft without being too plush and picking up alot of hair and lint. The back panels have a bit of give in them and will stretch. Looking at the back...it just doesn't look as good as lace up straps. Also, it is almost impossible to get this on or off without assistance.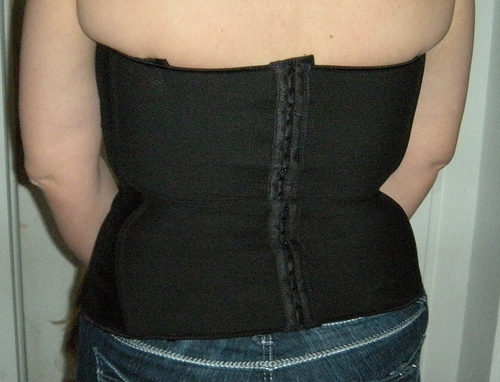 The whole thing is 100% polyester and needs to be hand-washed and hung to dry. The metal bowing is quite pliable and will retain a bit of a shape after wearing. If you look at the top pic you can see that this corset retained my hip shape. I did notice some strings around the cup area of this corset that needed to be cut before wearing it. The part where to the tuxedo flaps were sewn in to the cups I found more than a few strings fraying, making this corset look cheap.
Experience
All in all, I don't think I would have purchased this knowing what I do now. It is too pricey and doesn't look as good on me as some of my other corsets. If you are looking for a nice strapless top this might be a good fit. I felt disappointed by this item. Wearing this wasn't at all like wearing a corset, it was more like wearing a strapless top.
~It didn't support my breasts that well, I attribute that to it being a large instead of small and that I didn't use the shoulder straps. I don't hold that against this corset.
~It didn't really improve my posture. The key to a great corset for me, is giving me a hard time getting into my small car. I had no problems getting in and out of the car while wearing this top. It had breathing room but allowed too much movement for a great corset.
~It failed to give me the cinch waist that I have come to expect from a good corset. It didn't help my shape at all. If I had a better figure I probably wouldn't need a corset to help me. For me this corset was a fail.
This product was provided free of charge to the reviewer. This review is in compliance with the FTC guidelines.

Thank you for viewing
Velveteen and powernet corset
review page!