A tight fuchsia dream
This is a fantastic bustier, with detachable details throughout to cater it to your feelings or setting for where you will be wearing it. Detachable shoulder straps, garters, and bows are all included, in a very nice looking piece. And even with an annoying busk closure, my wife still gives it 5 stars, and I totally agree!
Published:
Pros:
Colors, Fit, Looks Fantastic
Cons:
Busk closure difficult
Introduction
The moment I saw this bustier, I really wanted to get it for my wife. This is only her third lace up lingerie item, and her first bustier, but with its colors, I saw something that looked burlesque-ish, without being too girly. I really hoped she would like the colors, and I think it looks just right where it could be worn out as well.
Design
At $67, the bustier seems to be on the more expensive side for a bustier from Coquette. The bustier is made out of 100% polyester, exclusive of trim according to the tag on the inside. This is our first bustier from Coquette, but it appears to be well made, and you get a lot for your $67. The piece starts with a fuchsia bustier, with a 6 clasp busk closure. The rear of the bustier adjusts with a single piece of lace that ties into a bow in the center. The actual end where Coquette tied the piece of lace together is positioned at the bottom center. There are also 2 plain detachable shoulder straps included with the bustier if you desire some additional support.
It also has a total of 8 pieces of plastic boning, 4 total in the front, and 4 total in the back. Both front and rear, the boning is positioned close together, about 1.75 inches apart in the front, and 2 inches apart in the rear. The bustier is covered with black lace on top of the cups, over the half bottom of the front, and about the same amount on the back. There is also lace trim that goes around the entire top of the bustier. But it is not done there. There are also 4 detachable garters included, but they aren't plain, boring black garters. They are garters that are also covered in fuchsia material, and they feature a plastic/metal clasp at the bottom for the stocking. While the garters are stretchy, they are unfortunately non-adjustable. Unstretched, they measure 8 inches to the clasp, and stretching them out, they reach to about 12 inches. And at the top of each garter, and at the center of the bustier between the breasts, are black bows that are easily detachable via a small pin. And even though my wife doesn't like girly pieces, she did not mind these bows, and she didn't even say one word about them.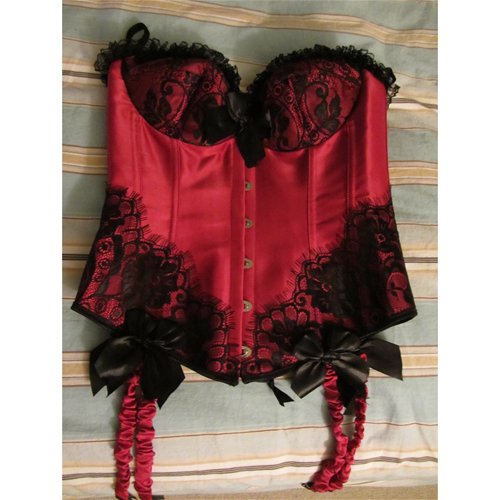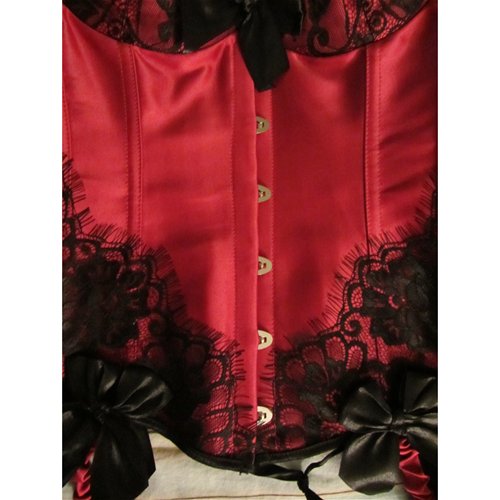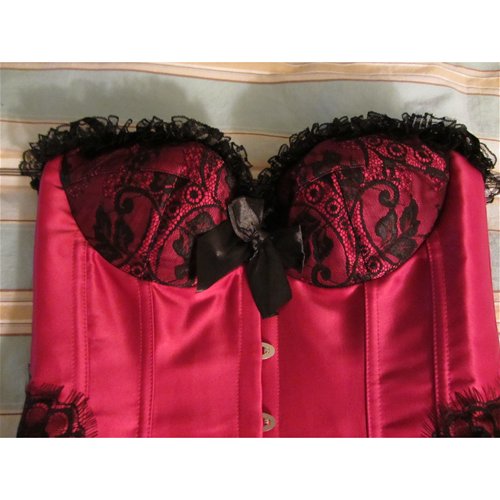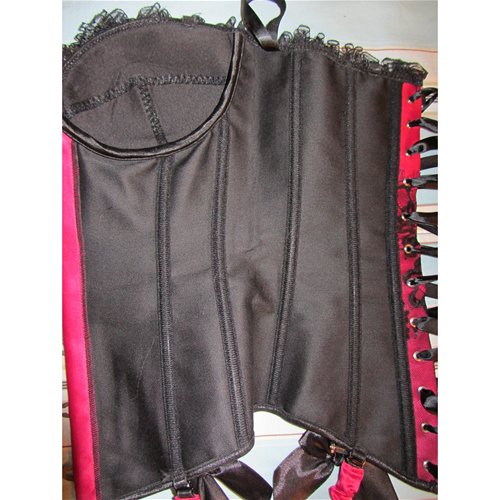 Lace around cups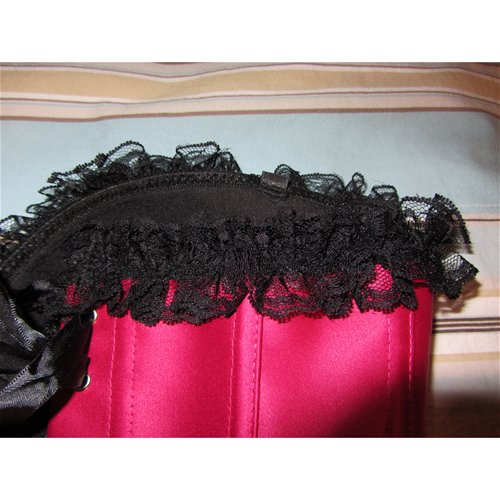 Rear lace detail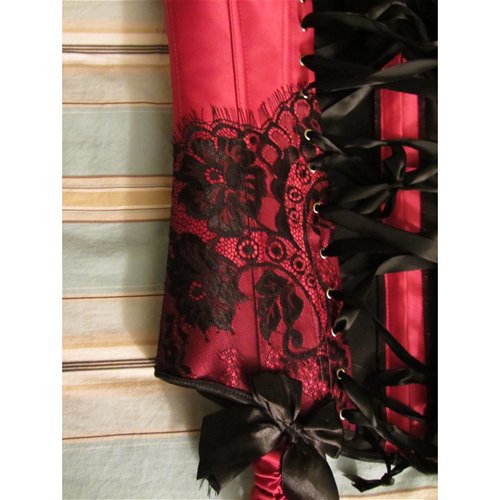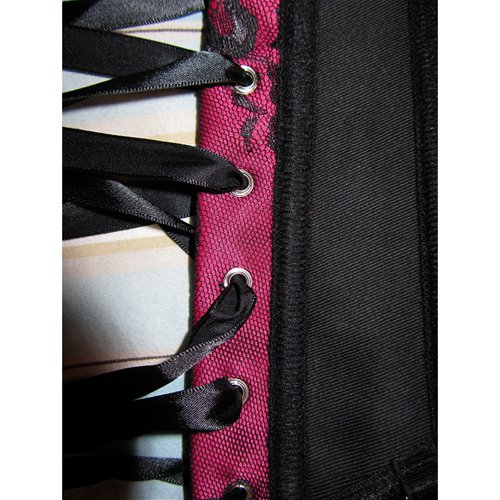 Garters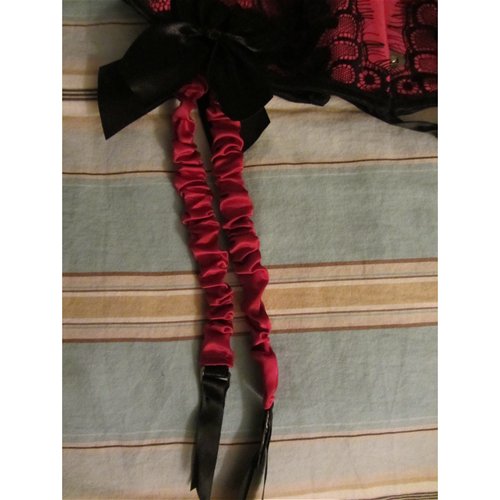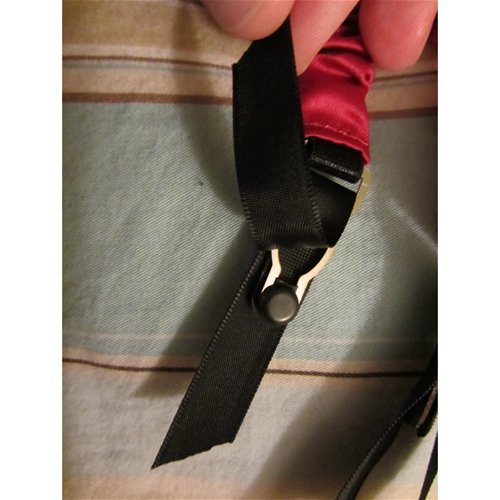 Attachment for a garter and the back of a bow.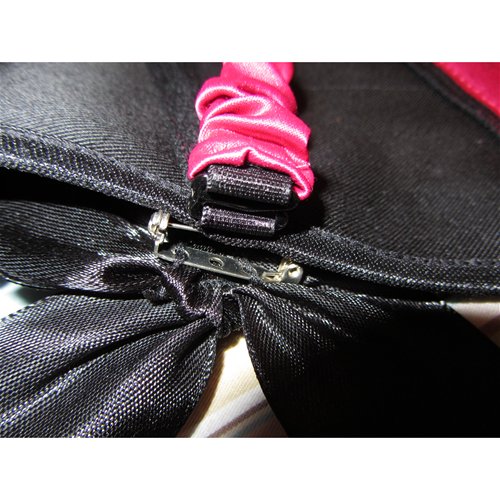 Included shoulder straps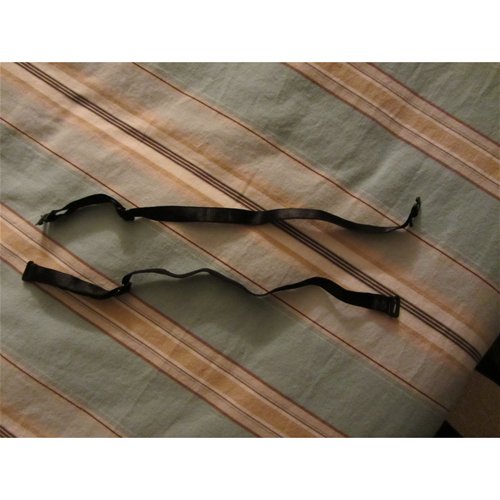 Sizing
I recently reviewed a wetlook underbust corset from Coquette, and purchased the S since my wife fit the sizing guidelines perfectly, and also fit into their S wetlook booty shorts and skirt. Except that it didn't fit at all. And since Eden didn't carry the M, I could never get the proper sized item. This time, Eden had the full range of sizes for this piece, from S, M, L, XL, and 1X/2X. I went ahead and got the M, and I am sure glad I did. Because after getting the laces tightened down, I barely had enough lace left to tie it into a bow.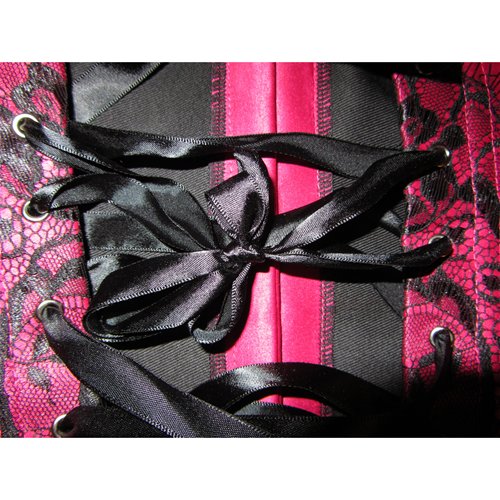 For a M, Coquette says that it should fit someone who wears a size 8-10, with a bust of 36-38 inches, a waist of 26-30 inches, and hips 38-40 inches. My wife normally wears a small to medium top depending on the company, but she has always said that she has large ribs. And these two Coquette pieces I have tried confirmed this. She is in between a 4/6, with a 34 inch bust, a 28 inch waist, and 38 inch hips. She is 5'9", and weighs about 130 lbs right now.
Packaging
This came packaged in what seems to be standard Coquette packaging. It was hanging on a nice padded hanger, inside of a plastic bag with sticky tape at the bottom to seal it. Inside with the bustier was a small plastic bag holding 2 black detachable shoulder straps, which was pinned to the bustier along with a small tag. The tag features 3 different photos of the bustier, along with 6 care symbols. The plastic bag and tag will both be recycled.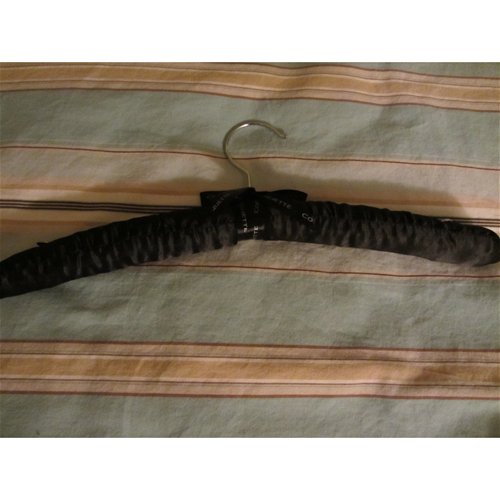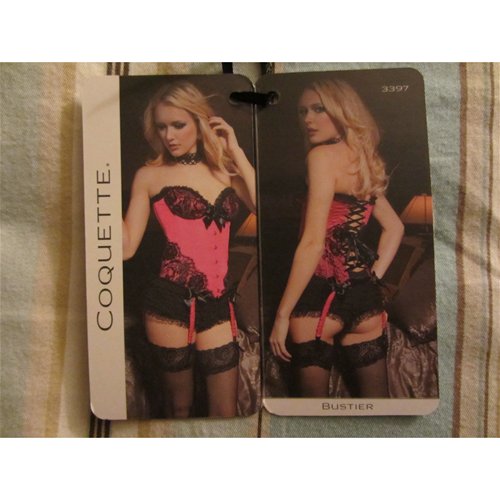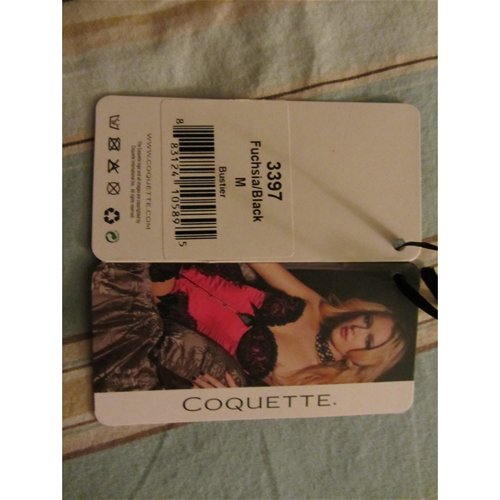 Care and Maintenance
The tag inside of the bustier says to hand wash only and hang to dry, and that is the method of cleaning that we follow for a piece like this using cold water. Due to the boning, placing this in the washing machine would most likely ruin the bustier.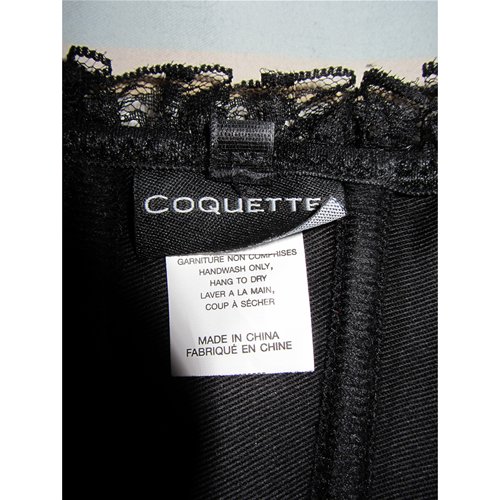 Experience
Wife's thoughts
As soon as we opened up the plastic packaging around the bustier, I asked what my wife thought about this piece. She said she liked the colors of the bustier, but she knew that the busk closure would be a slight pain in the ass. This is our first bustier or corset with a busk closure, and it was slightly difficult. After we got the laces loose and the bustier put on, I cinched it down to where it was comfortable for her and she could still move, but not so tight where she could not bend over. She kept the piece on throughout foreplay and sex.

After she removed it, which seemed pretty simple to do, I asked her how she would rate the bustier. She said 5 stars because she liked the design, the colors, and for being a bustier, she said it was comfortable. She still wasn't in love with the busk closure, but she said that we would just loosen the laces before putting it on the next time, and they aren't that bad. She also said that she wished that there was more breast support in the cups, because her 34D breasts didn't really fill in the cups. I also noticed this issue, but thought when she was wearing this that we could have tightened the upper lacing a little bit more. I just didn't want to stop in the middle of our foreplay to adjust the laces for her.

I'd like to apologize that my wife isn't wearing the piece in any of the photos, but she is simply too shy for me to take photos of her in the lingerie, especially with wanting to post the photos on Eden. I did try and asked her, but didn't push her for the photos. Sorry.
This product was provided free of charge to the reviewer. This review is in compliance with the FTC guidelines.

Thank you for viewing
Holiday satin bustier
review page!