Aye Sexy Mami
Who doesn't love a cute corset to where in the bedroom, or even out in public. I know I do, I always wanted one but none really caught my eye, until now. Removable garters is a plus, You can add your own clip on bows, You can change the lace if you want. It's very cute, classy, sexy, something every female should own.
Published:
Pros:
Cute color
Different sizes to choose from
different pieces
Cons:
Can't wear for a long time
My first Corset and not my last. This corset caught my eye when I seen it on Edenfantasys. This can be used for anything, going out to a club, dressing up for a party, make your own costume and the bedroom. I really love wearing this because it makes me look slimmer and it's very sexy.
Size Measurements
Large - 14 - 12
Cup - C
Bust - 38 - 40
Waist - 30 - 32
Hip - 40 - 42
I had bought a large only because this was my first time buying a corset and I didn't want to buy something small. I'm glad the large fit me fine. Of couse I had to adjust the long satin lace so it can fit me, but other than that it fit me with no problem.
The material is Lace and Satin.
Lace is a soft and stretchy material, and It breaks easily.
A satin fabric tends to have a high luster due to the high number of "floats" on the fabric. Floats are "missed" interlacings, where, the warp yarn lays on top of the weft yarn, or vice versa. The floats tend to make the fabric look glossier as well as give it a smoother hand in most cases.
I love the there are a few pieces that can be taken off or put back on the corset, for example the little black bows, there are 5 little black bows that can be removed if they are not liked. I took them off to see what the corset looked like, and to me it still looks cute. I really didn't like the bow in the front right in the middle so that bow was the first to come off.
Also there are removable garters, That is a plus for me. When I need them I can put them back on, when I don't it's easy to come off. They are pretty plain but still cute.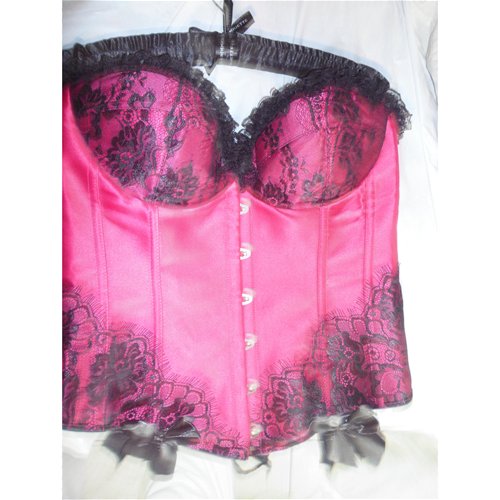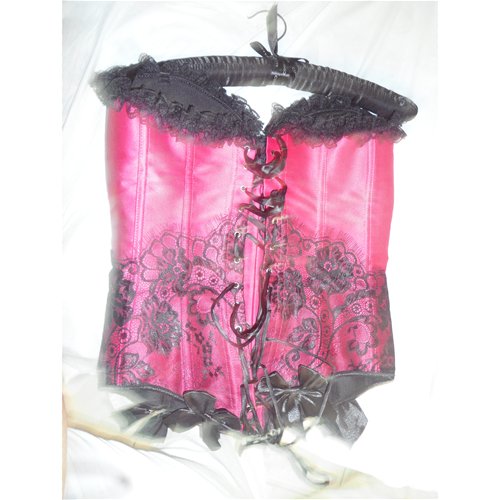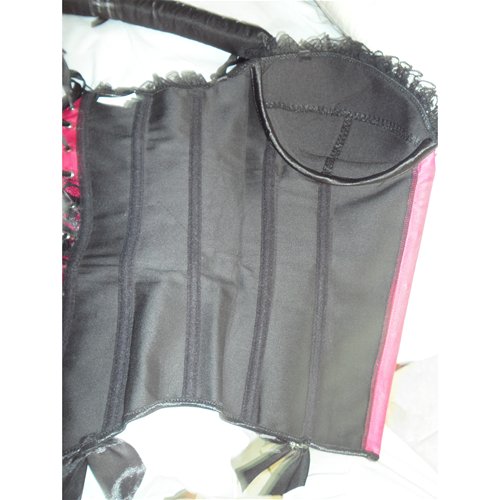 Washing the corset
Lace - This material can be machine washed at 30 degrees. Lace should not be bleached and ironed. It also shouldn't be tumbled and dry cleaned.
Satin - Can not stand high temperatures so never soak, boil or bleach this material. Wash in tepid water and allow drying in an airy place.
So I would recommend just hand cleaning it and air drying, just to prevent any damage.
Experience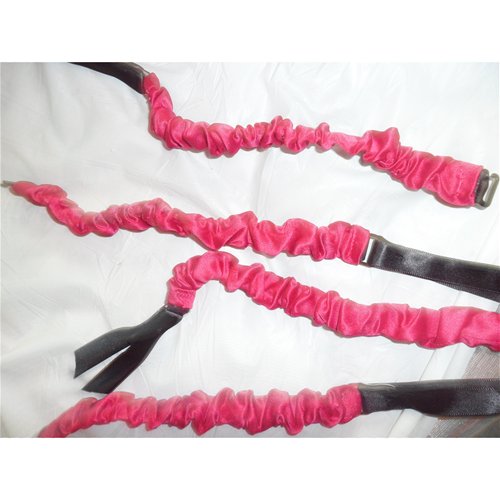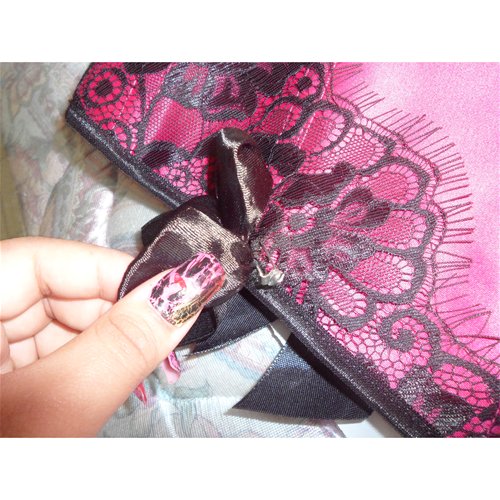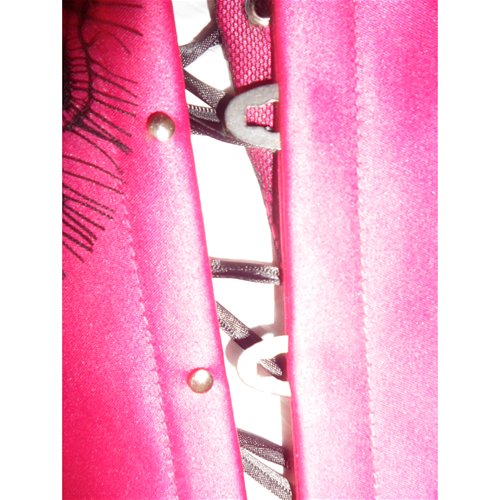 I was confused on what to wear for halloween, so I ended up making my own costume.
I wore this corset with my fluffy tutu, black leggings, devil horns, and my hair was bright red.
My two brothers, my younger sister and her friends all went out trick or treating so I went along. We walked around for about 4 hours around my community getting candy acting like fools and just having fun. It was cold outside but for some reason, I was hot and starting to sweat. When we were walking back to my house, I started getting pains on my sides because the corset was tight and I had it on for so long, plus I was sweating. I wanted to take it off ASAP, I had to suck in my stomach a little so it wouldnt hurt so much. I finally got home and took it off, my sides were hurting till the next day. So if you are going to wear it don't wear it for a long period of time, or maybe even bring a matching shirt to change.
Follow-up commentary
25 days after original review
I love wearing this Corset (Bustier)
It makes me look thinner, and it made me realize that I want to lose weight.
Its in great condition but it does have the lines when you wear something too much or for a long time.
This product was provided at a discounted price in exchange for an unbiased review. This review is in compliance with the FTC guidelines.

Thank you for viewing
Holiday satin bustier
review page!