A True Blue Beauty
The Blue babydoll and g-string by Coquette is a wonderfully made piece of lingerie that simply oozes sex appeal even for us BBW's. For it's price it is a bargain and a rare gem that will please a wide range of consumers (and their soon to be drooling partners of course).
Published:
Pros:
Fits well, hides flaws, well made, beautiful, looks sexy on.
Cons:
Larger busted women may need a bra for support, buttons might need sewing back on at some point.
Before I get into any details let me just say this product is quite possibly the most lovely thing I've ever worn. If you're on the fence about this I'll save you some time: Just get it!
The material is light and feels absolutely wonderful against the skin (and incredibly comfortable unlike a few somewhat similar tops I've tried that were pretty itchy), the two-tiered bottom part is a touch see through under the perfect conditions but it shouldn't be an issue at all once it's on you. (If you're really self-conscious add a little tube/camisole top underneath.)
The bust area is an amazing shade of what can best be described as a rich, sapphire blue covered with black lace and trimmed with cute little ruffles along the top (only on the front though, but I suspect they'd look odd along the back). The waist band is sort of a somewhat shiny material with two small decorative buttons in the middle, and the bottom part is a stretchy mesh fabric that would be translucent if it weren't for the fact it has two layers and the hem at the bottom of each layer is an equally gorgeous shade of blue to match the bust. The pictures really do this piece justice and unlike a few garments I've bought online on other sites you really do get the beautiful item shown instead of some lackluster almost but not quite the same item.
I'll admit, I had a few worries about how it would look with my tummy (I'm a pretty full figured lady) but once I tried it on all those worries went away. It is just about the most flattering thing I think I've ever tried on so do NOT be afraid to order it.
To ease any possible lingering worries I've decided to include two photos below of myself wearing it (the straps are included and removable, it didn't slip off on it's own, that was to add a bit of teasing since these were taken to show my boyfriend).
My only problem at all with this was the fact that it didn't fit my breasts properly which is pretty easy to tell in the 3/4 view, although I wasn't really expecting it to with my unmanageable size DDD's. (I will be purchasing a strapless bra to try with it and will cover how that works out in my follow-up review)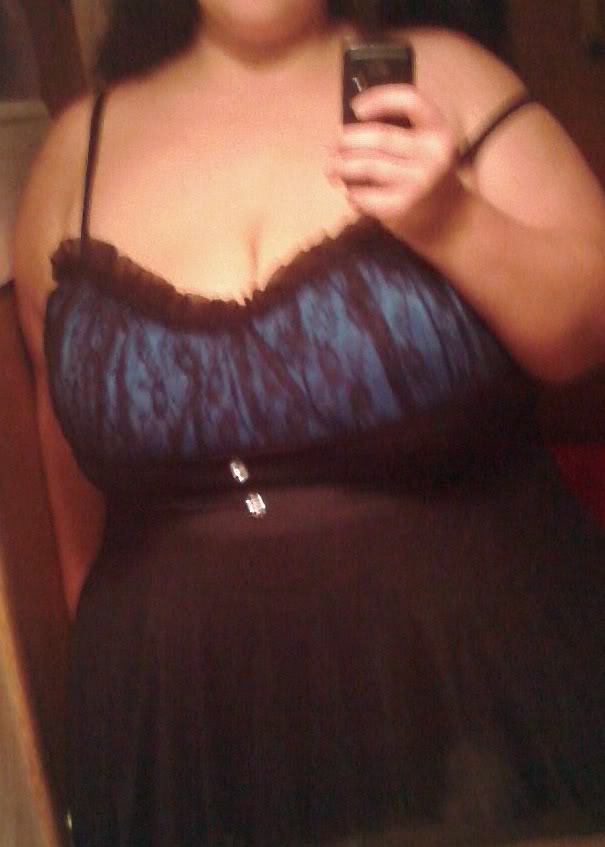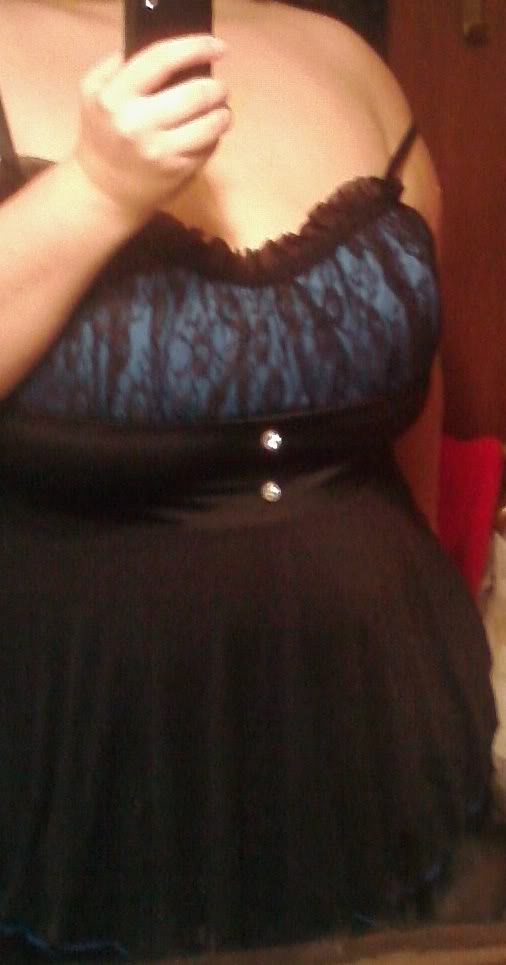 Experience
Though mine also came wrapped in the pink tissue paper and sans hanger I think I actually like it better that way, the paper is such a cute shade of pink. The tag was pinned on with a little black safety pin and the straps came in a little bag all their own. The simple black g-string fits well, though I don't plan on showing that off in this review.
After a little experimental inspection of the pretty little buttons they might eventually need to be sewed back on, but for now at least they seem to be held on pretty well so long as you don't plan on yanking on them and you're careful when you wash it.
I haven't worn mine more than the once yet but I wouldn't recommend machine drying this item ever (machine washing may be alright on the cold and gentle setting in a delicates bag but hand washing and drying is probably best).
I can say honestly that I've never been happier about a clothing purchase in my life, Coquette truly has a great product here.
Follow-up commentary
5 months after original review
Well I've had this stunning babydoll for about five months now and worn it quite a few times since spring came; those little, sparkly buttons are still holding up well so I haven't had to bust out my sewing kit yet.

I still love this just as much as ever (even more actually, now that I've gotten some clear straps and a strapless bra to go with it). I have washed it about three times and it's still just like new. But considering I hand washed it and air dried it, I can't say how well it would fare in a washing machine or dryer.

I actually loved this so much I got my mother one in the same color and size for her birthday. Suffice it to say, if she had an account here, she would probably give it a rave review as well!
This content is the opinion of the submitting contributor and is not endorsed by EdenFantasys.com

Thank you for viewing
Blue babydoll and g-string
– babydoll and panty set review page!