Not $43 quality, but elegant, easy and comfy!
This elegant babydoll consists of two colors: royal blue and black. The ruffle and lace detail with two rhinestones make this flattering for most any body type. It's an easy-to-wear piece that adds some pretty to your day while allowing you a great deal of comfort. Bloated days won't get in your way, this flowy babydoll doesn't glue to you or highlight one specific area.
Published:
Pros:
Elegant.
Royal blue color.
Lacy and ruffly.
Cons:
Not highest quality.
Cheapish upon inspection.
Slightly large.
Rhinestones sewn poorly.
This royal blue chested babydoll feature flattering colors for all women. It's lacy, super flowy and has 2 rhinestones to glam it up. Included with the babydoll is a decent thong, removable straps and hanger, which came broken into 4 pieces. Wrapped in plastic. Note: I said thong because it's a thong, not G-string, which I like better anyway! There are two strings on each thigh of course, but the butt-crack part is not a g-string, but a thong. These are a Coquette unique design and actually seem to fit better than your typical g-strings. I've been able to put a few of these to use. They're not durable, but cheap. Don't expect to get much wear from them. No crotch liner.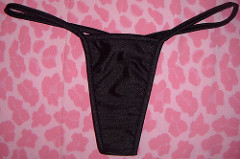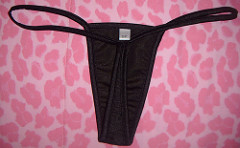 I love the flowy, flattering look of this, and of course Coquette's gorgeous royal blue pieces always have me drooling. I feel this runs a tad large since the small slid right off my body and hit the ground when I put it on. Wearing a bra helped hold it up, and the included straps will do the trick. I like the strapless look better for this piece though.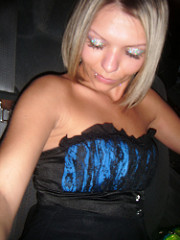 Looking closely at detail you'll see that Coquette lined the front bust with 1" black ruffle trim. This stops before you the arm pits and doesn't line the upper back *noticeable in photo above* I was actually not taking the photo to show this detail, but to show my sparkly eyelids and it turned out it captured what I was trying to show better than the photograph I took intentionally trying to show this! The bust is the beautiful part. It's a blue satin-y looking material with gathered floral lace overlay. There's no underwire or serious support, but for smaller chests, a bra isn't needed unless you're like me and need one just to hold the top on. It's got that noisy almost-padding in the chest. It's like a noisy foam. I've seen this in several lingerie brand dresses I have. The foamy stuff won't give added cleavage or anything, but that plus the gathered lace conceals your nipples. Larger chests will obviously find straps necessary to keep it from curling under since it's not sturdy.
Under the bust is a satin-y fabric. A good, fitting underbust band is necessary with babydolls because it breaks up an other wise boxy appearance given by the flow of the babydoll. Unfortunately, Coquette never has the underbust form-fitting for my size. This is one of their larger "small" pieces, so the material does form to my figure. It only slightly touches my body and is form-fitting enough in the chest to where there's no gap, and the underbust band does touch my skin, but the rest is baggy unless I'm sitting. It's comfortable though, and hardly noticeable.
This underbust band is 2" long & has 2 rhinestones that will need to be sewn on better or will fall off. Mine were hardly on the garment when it arrived, so it's best to re-sew them before they fall off and are lost.
There are two layers of black stretchy, lightweight mesh. Both are very flowy and each hem is stitched in royal blue. The layers are transparent a little in sun-light, but being layered, it prevents them from being totally see-through. In light though, I can see my skin through it.
The back is all black and has elastic around upper back.
One thing that gets me about some babydolls is they're often too long to wear shorts with (because they'll cover the shorts and look like you're wearing nothing underneath!) but barely too short as a dress. This came close, as it hits about an inch under my butt, but not enough for me to be comfortable wearing as a dress. Since the bottom layer of fabric sticks out 3 1/2" inches than the top, it's sheer and would show my butt cheeks with no pants. I paired it with black leggings, which was cute. In colder months it'll look spicy with a pair of dark jeans and heels!
MY MEASUREMENTS:
Bust: Right: between a B and C cup. Left: 34B
Jean/shorts/size: Zero
Weight: 93lbs
Height: 5 2"
Waist: 26" Lower waist. Where I'm a bit wider, the love handle area: 29"
BABYDOLL'S MEASUREMENTS:
Bust: 13 1/2"
Underbust: 13"
Waist: 15"
Widest part/bottom: 22"
Length from bust-hem: 20"
Straps: 16 1/2" at longest, 8 1/2" shortest.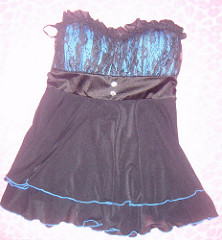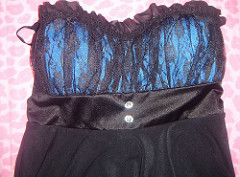 The string you see on the right of the babydoll in last photo is for hanging, always handy!
This will fit a medium nicely. Possibly a large, if you're on the smaller end of the chart.
Made in China.
Material
: lace, lycra and mesh, according to EF. According to the tag, 82% Nylon, 18% Spandex, and I'd say the tag's more legit.
Experience
Front & back of babydoll (caught some interesting orbs in these photos too!)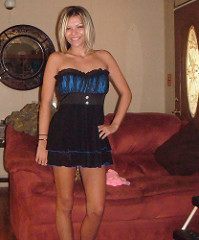 How to care: Handwash and hang-dry. And I truly recommend hand-washing only and separate! Unless you want your other clothing to turn black and have stains. I say this for 2 reasons. 1. After wearing this today, I was in the bath a while ago, looked down and nearly had a heart attack. Under my bust was entirely black! Looked like severe bruising. Then it came to me: Coquette's underbust part stained me black! I scrubbed and some of it came off in little rolly bits! Now it's just splotchy and I look more bruised than before washing. 2. All coquette items I've had, such as the Pinstriped Woven Camisole & Satin Lace Layered Babydoll have turned my entire sink black and the water while handwashing them. I also have the Champagne Dress where the top portion is pink, the bottom black. The first time I hand-washed it, it stained the pink all up. There's black splotches all over it due to the black bodice of the dress staining it during wash. I've never gotten to wear it again because the stains do not come out.
This is a pretty piece that will flatter about any body type, but personally I think if there were a tighter band under the chest and around the back, it'd have flattered me more. It gave me a sort of thicker appearance since it's baggy. Thankfully, it's not noticeabley baggy and I still love it. I do feel pretty in this and I enjoy wearing something that's so lovely and so comfortable. It's easy, especially on cooler days. You can simply pair it with jeans or leggings and look nicely done.
In my photos, I'm wearing jean shorts under the babydoll. It'd look so pretty as a dress, but looking at the photo below, you can see my shorts through the bottom layer, so it's just not a possibility. Leggings or bike shorts are necessary. I think I may try this with black bike shorts, so that I don't have to wear long leggings.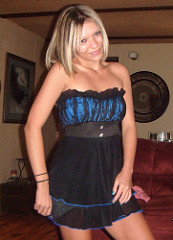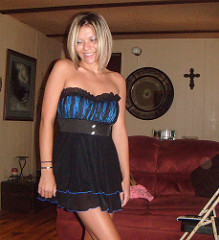 That blue is just fabulous. It'll be stunning on all complexions.
I'm going to be honest, this isn't $43 quality. It's so pretty that I was okay, but it's not that high quality. This type of garment would go for $15-20 at one of my favorite retail stores. It's overpriced for what it is, but the prettyness I feel in it makes it worth it.
What I love most is how I can be comfortable in this, I mean it's almost as comfy as my big EF T-shirt! I love being comfortable and looking classy at the same time. I feel really nice in this and it's suitable for any occasion really, provided you pair it with the proper bottoms. It's something I'll wear often.
This content is the opinion of the submitting contributor and is not endorsed by EdenFantasys.com

Thank you for viewing
Blue babydoll and g-string
– babydoll and panty set review page!