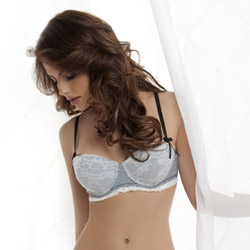 Ashley Boutique striped bra
Bra
by Oh La La Cheri
Absolutely Adorable.
The Ashley Boutique bra is adorable and comfortable. The bra is of decent quality, but it did have several loose threads when I first got it. Still, for the amount of comfort I get from this bra, I can deal with some loose threads. All in all, a good buy.
Published:
Pros:
Supportive, Adorable, Creates great cleavage, Comfortable
Cons:
Bows aren't attached very well, loose threads, Doesn't work well as a strapless bra
I'm always hesitant about buying bras without being able to try them on first, but this one was so adorable that I just couldn't resist it. All in all, I'm glad that I took a chance on this adorable bra, and I'd definitely buy it again if I got the chance to.

Basics:
This bra is made by Oh La La Cheri. It's essentially a shelf bra, which is always my favorite type of bra to wear. The bra is casual and supportive enough for everyday wear, but it also looks super cute.

Material & Care:
This bra is made out of 90% Nylon and 10% Spandex. Due to the spandex count, the bra does have some stretch. The stretch is found entirely in the band (which is extremely stretchy). The cups do not have any stretch to them at all.

This bra is opaque in nature. This means that you won't need to worry about your nipples being seen through the cups; instead, it offers you some discretion and privacy (although... if you're showing off your bra, the chances are that you're not too concerned about discretion).

The bra combines a look of blue and white stripes with a beautiful lace overlay. The striped material is found on the band of the bra, and feels very silky and smooth to the touch. The lace overlay is white, and is found on the cups. The lace feels durable, but there is a chance that it may snag, so be careful. The lace does not go against your skin, so you don't really need to worry about it being uncomfortable. Be aware, however, that the lace is not completely flat, so it might be difficult to wear this bra under a tight fitting t-shirt.

The inside of the cups is smooth and comfortable against my skin; no itching at all.

To care for this bra, it's recommended that you hand wash it in cold water, and then allow it to line dry.

Design:
I have already discussed the pattern designs in the material section, so here we will focus on some other details.

This is a shelf bra, and it does provide the wearer with some wonderful cleavage. The cups of the bra are molded and very slightly padded. There is also an underwire, which provides plenty of support for me. The cups of the bra cover most of my breasts while still providing me with some great cleavage.

The bra features three little bows. One of the bows is found between the cups, and the other two are found on each strap. The bras do not lay flat, and they don't seem to be very securely attached. I feel like the bows will probably fall off after a couple of washes, so I would suggest that you hand sew them on a bit more securely, to reinforce them, if you like them. If you don't like the bows, well... obviously, they will be very easy to remove.

The straps on the bra are both adjustable and removable. With the removable straps, you could possibly wear this as a strapless bra. That being said, there is nothing there to really hold the bra up -- there's no elastic or anything around the top to keep it in place, and it slides down easily on me.

The bra closes with your typical hook and eye closure system.

Sizing:
I typically wear a 34D bra in most brands, but sometimes I find that 34D's don't fit properly. So, when I ordered this, I ordered both the 34D and 34DD, figuring I could return whichever one didn't fit me properly. The thing is, both fit me fine, but neither fit me perfectly.

I almost pop out of the cups on the 34D, so it does seem that the cups are a little small (compared to other brands, anyway). On the other hand, the cups seem just a tad loose on the 34DD.

The band fits me the same on both sizes.

Quality:
The quality of this bra is decent, but not perfect. There were quite a lot of loose threads, and the bows appear to be falling off. Still, the quality is decent for the price.
Follow-up commentary
1 month after original review
I still really adore this bra, but unfortunately the bows have fallen off. I didn't care much about the bows, so that's not a huge deal for me.

If this was still available, I would gladly pick up another one.
This product was provided at a discounted price in exchange for an unbiased review. This review is in compliance with the FTC guidelines.

Thank you for viewing
Ashley Boutique striped bra
review page!