Awkward: Tucking Your Nips In
It's a bra...or maybe it's half of a bra when it comes to coverage. While the sizing does seem to be off to me, the quality is still good. The bra is also beautiful, and I love the pin stripes. Basically, this bra is worth the buy if you can figure out the sizing (some say to buy a size up). However, it might not be the right bra for those who are well-endowed in the chest area due to those sizing issues unless you're comfortable with a little breast adjustment every time you wear it/shift.
Published:
Pros:
Well-Sewn
Beautiful
Matching Panties Available (to purchase separately)
Variety of Sizes
Cons:
Awkward Sizing
Straps Come Out Of Place Easily
Hand Wash Only
When I first saw the Ashley Boutique bra, I could not resist. For one, this bra is beautiful...there are even matching panties! Then, I've recently been measured by a bra fitting guru, and I had a new bra size to work with. 34DD...It doesn't feel like my boobs are that big, but the guru assures me that there is a lot more to cup size (and band size for that matter) than what people generally think. So, imagine my surprise when upon ordering such a large cup size, I realized that my boobs still didn't quite fit into this bra! The band fit rather well...snug, but not cutting in. However, my nips seemed to be doing some kind of protest against this adorable bra. I found myself...get this...tucking my nips (and breasts somewhat) into the bra. I didn't want to mentally scar you with that image, but I did take a few pics of my girls once they had made their way into the bra.
As you can see, things are looking rather interesting here with my weird inability to get all the under-lace correctly placed and dainty looking: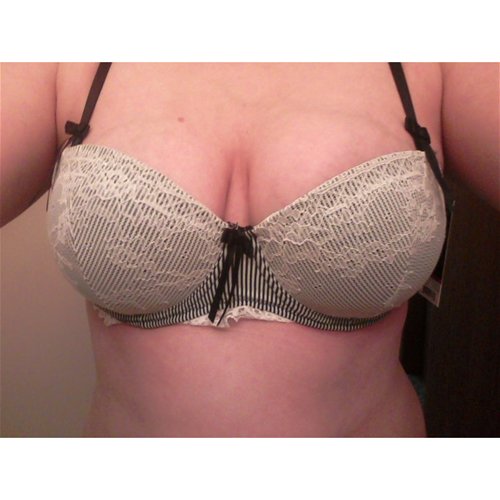 In this one, the spillage over the top is more apparent, while my armpit jiggle does something weird as well: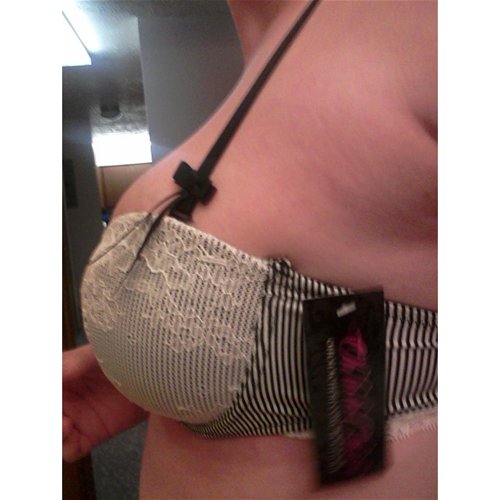 I know that each woman is different, and bra sizes from various companies are different, but this bra was just NOT flattering for me at all! I had read a couple other reviews that advised that this bra was snug, or that it was wise to buy a size up. That's just not an option when you're spilling out of the double Ds though! Still, when bra shopping online, its necessary to keep an open mind and a sense of humor, so I asked one of my male friends what he thought about this bra. In the past, though I've been uncomfortable with certain lingerie, he has seemed to find certain pieces more attractive than I have. In this case, we agreed that the bra was a little awkward and not nearly as sexy as it appeared online.
To give some more basic information on this piece:
There are the basic three hook clasps on the band of this bra to tighten or loosen the band. For best results, buy a bra where you can start on the loosest setting that way when there is wear and tear, you can tighten the band as needed. The cups are lightly lined. Oddly, the bra straps attach to basically the middle of the cup on each side and then to the back by the clasps. There are black bows on the front of the bra straps. There is also a black bow directly in the center of the cups, which is kind of cliche. The bra straps slide easily in and out and can come off making this a strapless bra, but they come off a little too easily when trying to wear this bra as a regular strapped bra. I couldn't put this bra on without re-attaching the straps several times. At least the straps tighten like a normal bra though because some of my lingerie doesn't even do that. There are several bra sizes offered, though about half seem to be out of stock at any point in time. This bra is 90% nylon and 10% spandex. Hand wash in cold water, do not bleach, hang dry. Finally, despite being made in China, the sewing quality is really superior to other bras that I've seen from EF. There was not a loose thread in sight.
Follow-up commentary
23 days after original review
While I originally cited the quality as good, I personally didn't care for this bra. It would do me absolutely no good to order another size up as it doesn't exist for this product. That being said, I still do not like this product for me. Even if additional sizes were offered, I'd be weary of how the straps attach. I did gift this bra to a family member, and she did end up keeping it. However, it's not one of her favorites, which I think backs up my original 3-star rating.
This content is the opinion of the submitting contributor and is not endorsed by EdenFantasys.com

Thank you for viewing
Ashley Boutique striped bra
review page!