All laced up and ready to go!
If you're looking for the sexiest stockings out there, you're in the right place. These stockings make a statement when you wear them! They're so awesome that they can be worn by themselves and still make a wonderful visual impact. The lacing allows them to fit just about anyone and looks totally sexy. If you love stockings like I do, these are a must-have. I don't know how I lived without them.
Published:
Pros:
Adjustable size, sexy design, great material, unique, hides leg flaws
Cons:
Have to be laced up by hand
Summary
I own probably half of the stockings here on Eden, but this was the only pair I actually lusted after for quite some time. I'm surprised I didn't buy them earlier. Now, after getting them, I'm totally in love with them and they really do stand out in my collection.
These stockings are so hot that they're really the only thing you have to wear. They're a nice compliment to other lingerie, but they're also enough by themselves to be a total show stopper. They're nice because they hide any flaws that you may have on your legs, and they're adorable enough to be worn alone. Who doesn't love how sensual things look all laced up?
Design/Material
These stockings are made of a thick, smooth nylon material. They're almost completely opaque and can be compared to a thin dress sock. Because of the thickness of the material, they seem as if they'd be run-resistant. The nylon hugs your legs and gives you an all-over smooth look to your legs.
There's a small band at the top that's a little stretchier than the rest of the material. Because of the thickness of the stockings, you can't really see it, but it does help the stocking stay up. It's thick enough that it doesn't seem like it would roll much, but it doesn't cut into the leg at all and isn't much stretchier than the rest of the material.
When I opened the package, I couldn't wait to get these on. However, when I took them out and unfolded them, I saw that they weren't laced up! That totally wasn't what I was expecting! The ribbon is laced through the eyelets a couple of times, but not like the picture shows. I found the easiest way to lace them up is to put them on your leg with the laced side facing forward. Have a seat on the floor and extend your leg straight. I laced them up on every fourth hole and this seemed to be a good spacing for the ribbon. The eyelets are made of an elastic material but seem pretty durable unless you do some hardcore pulling on them. The end of the ribbon is pretty stiff and cut diagonally so it's easy to get it through the eyelets. It takes a few minutes to get them laced all the way, but you only really have to do it once. Make sure that your spacing is even and that your ribbon isn't twisted all crazy while you're going up, cause it's a pain to go back and fix it when you've already started. When you reach the top, adjust the ribbons so that they're laced up evenly and tie them at the top. A single knot seems to do the job pretty well, but you can put a double knot in it to make sure that they won't get snagged and come undone. I realized that the lacing is a pain in the ass (but really not that hard) but it makes for more accurate sizing.
The lacing starts a couple inches above the ankle leaving the foot completely covered. These should be fine when worn with shoes if you choose and are comfortable on the toes.
These aren't totally compatible with a full set of garters because of the lack of something to attach them to in the back. Because of the lacing, you shouldn't really need garters because you can adjust them to fit how you need them to.
Sizing
I have skinny, short legs, so thigh-highs are often a total hit or miss. These, on the other hand, are totally customizable. My thighs are about 17 ½" around which is thinner than average, so I was seriously hoping that I could lace these up and still have a little skin showing through. I found that these were able to fit my legs well and will fit larger legs just as well due to the stretchiness of the material and the lace up the back. I can walk around without these falling down, which means that they'll work for those of us with little legs, and they can be laced up looser to fit those with thicker legs. I actually had quite a bit of ribbon left over after lacing them up all the way. They did go up to my butt (like most thigh-highs do on me), but I could technically lace them up so they fall shorter.
I'd suggest these for those with thighs between 17-20" around and a height of 5'2-5'10.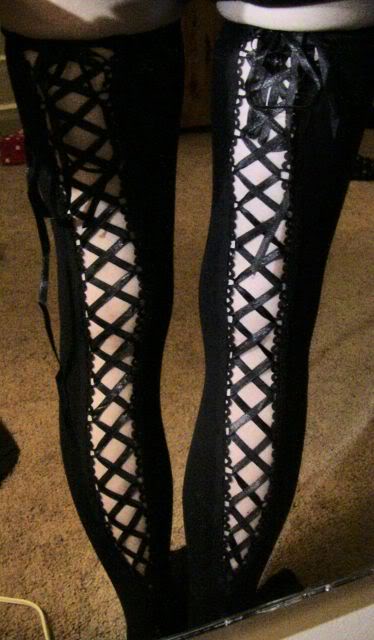 Experience
Care

As with all nylon stockings, these are hand-wash only. Wash them as needed in cold water without any soap and hang them in a warm spot to dry. Store them in a place free of things they could catch on.
When putting these on and taking them off, make sure to be careful with the lacing on the back so that they don't end up uneven.
Follow-up commentary
4 months after original review
Favorite pair of stockings ever. If I had to choose one pair out of my entire collection it would be these. They're so unique and offer a very classy yet daring appeal. They're still in flawless condition, too. The only thing I really worry about is the eyelets for the laces. They haven't shown any wear yet, but they/re not the sturdiest out there.
This content is the opinion of the submitting contributor and is not endorsed by EdenFantasys.com

Thank you for viewing
Opaque thigh highs with satin lace up back
review page!