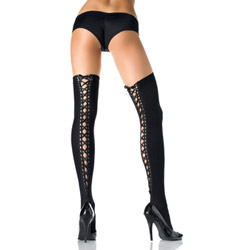 Opaque thigh highs with satin lace up back
Thigh highs
by Leg Avenue
Sexy, if you don't mind the assembly.
These stockings are certainly sexy, but you may find yourself wanting to throw them out of your sight after you get done lacing them up! That's right, they are not laced for you, so be ready to spend a good chunk of your time lacing them. It's a real pain to do, but the resulting look is well worth the effort.
Published:
Pros
Adjustable, Comfortable, Doesn't itch, Stretchy, Can be worn both in and out of the bedroom
Cons
You need to lace them up yourself!
When I first saw these stockings, I wrote them off as not being for me. Sure, I thought they were sexy, but I thought that there was no way that these could ever fit me. You see, I am not a particularly large girl, but I do have fairly thick thighs, and I have been disappointed by more than one pair of "one size fits most" stockings. With these only being available in one size, I imagined that they would only be for the petite individuals out there. Then... a day came that I was feeling brave. These stockings found their way into my cart, and a few days later, onto my body. It was love at first sight. Or... well... to be more accurate, after the tedious assembly was completed, it was love.

Now then, let's discuss this sexy pair of opaque thigh highs!

The Basics:
This pair of opaque lace-up thigh highs is brought to us by Leg Avenue. They are only available in black, and they only come in one size fits most.

Where to Wear:
If you're like me, you might struggle with determining where you can wear your sexy thigh highs. The truth is, you can wear them anywhere. These stockings look fantastic with lingerie, or even with nothing at all. They also look fabulous when paired with a cute dress or skirt; throw in a sexy pair of heels, and you have a look that's too sexy to resist.

The only downside to these stockings is that they don't really look right with a garter belt (in my opinion). That being said, they do stay up on their own, so the garter belt is purely optional anyway.

Material & Care:
The thigh highs are made out of 88% Nylon and 12% Spandex.

The material here feels surprisingly strong, although it probably won't hold up forever. For the price, though, the material is great. As with all stockings, you should be careful not to snag it. Like I said, the material is strong, but it's still "snag-able", so be careful.

The fabric is also very smooth, and it's quite comfortable on. I typically find that stockings irritate my skin, causing me to itch after just a few moments, but I can easily wear these for extended periods of time. Oh yes, they're comfortable!

The material of the stockings is also quite stretchy, which is a good thing as these are not available in multiple sizes. Be aware that if you really need to stretch these to their fullest possible potential, you may lose some of the opaqueness. That being said, they should remain fairly opaque on everyone that they fit.

The other bit of material to these stockings is the little ribbon that is included. The ribbon laces up the backs of the stocking. The ribbon is decent quality, but it's not as soft as it could be.

To care for these, I recommend hand washing them in cold water and then allowing them to line dry. The material is durable, but machine washing them will likely mess up the lacing.

Sizing:
The packaging states that these are intended to fit individuals that weigh between 90-160 lbs. Now, I think that weight is the worst possible measurement to tell if something will fit. So, let me provide my measurements and see if that helps you out...

I am 5'6" tall with a 33" inseam. My thighs measure 26" around the widest point, so they're pretty thick. The great thing? These stockings actually fit me! They don't go right up to my bum like some stockings, but they do fit fairly high up on my legs.

Also, the lacing in the back does make these stockings fairly adjustable, as you're able to loosen or tighten them as needed. "Custom fit" one size fits most stockings? Yes, please! These stockings could easily adjust/stretch to fit someone with larger or smaller thighs than myself.
Experience
Design:
The design of these stockings is oh so sexy. Firstly, they're thigh highs that fit snugly, with a beautiful ribbon lacing up the back. The ribbon is awesome because it enables you to adjust it as you need to. The lacing also makes these stockings very eye catching.

There are some drawbacks that come with the ribbon, however. For instance, you need to lace the stockings up yourself. This can be extremely tedious to do, but it is worth the effort. To lace the stockings up, you simply weave the black ribbon through the little eyelets that are found on the back of the legs.

While having to lace up the stockings yourself is tiring, it can also be a good thing. For instance, if you want the lacing to lay in a different pattern than is shown on the model, you can easily do that yourself (provided that you know how). So, pretty much worth the extra effort, right?

Quality:
The stockings are about 4 on quality. There's no major problems; the stockings just don't appear to be the type that will hold up to rough abuse. Also, the ribbon could be softer.
This product was provided at a discounted price in exchange for an unbiased review. This review is in compliance with the FTC guidelines.
Thank you for viewing
Opaque thigh highs with satin lace up back
review page!