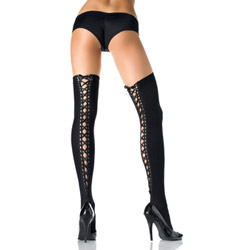 Opaque thigh highs with satin lace up back
Thigh highs
by Leg Avenue
Some Assembly Required
I was so done with this product by the time I finally got to put them on. They fit nice and I liked them very much but when you have to spend a couple hours lacing something up you lose pretty much any interest in it. This company should really consider hiring some people who aren't lazy to already put this completely together. It does not state anywhere that you have to personally do all the lacing yourself. Not even on the packaging.
Published:
Pros:
They look nice and sexy once you have them on.
Cons:
It just takes way to long to lace these things up yourself.
The quality of these nylons is really nice and smooth. I enjoyed the fabric against my skin. The funny thing is though it took me over 2 hours to lace up the back of them though. When they send you the package it comes in what you would consider the typical nylons package the nylons wrapped around the cardboard and then two very long ribbons barely put into the nylons. So I pulled them out and looked at the nylons then the picture on the package. And I handed one stocking to my boyfriend and I took one and between the both of us two hours later we finally got them all laced up. So I tried them on.....again you have to adjust the lacing once they are on. By the time I got to try them on I was so tired of messing with them.

But in order to do the review I had to complete the whole thing. I tried them on and they feel great. I love the fabric but I was so tired of them that I didn't get the big huge thrill you would normally get from getting all dressed up in something sexy. and I can tell you that my boyfriend was pretty much done with them by that point to.

I have never been so frustrated with something that I got in a long time, let alone something that you are supposed to feel sexy wearing. When you spend so much time prepping the item it loses all suspense and thrill to it. They also need to put labels in the information on the product as well as on the packaging just in case you don't read the entire description. It should have a warning saying assembly required or some assembly required. It made the product so not sexy and I literally am done with it and won't bother with them again.
Follow-up commentary
2 months after original review
I love the fabric of these, and think it would look so hot to have them all laced up. I swear, every time you use them you have to adjust the lacing, re-lace and adjust. I don't like having to spend so much time on a product to make me feel nice.
This product was provided free of charge to the reviewer. This review is in compliance with the FTC guidelines.
Thank you for viewing
Opaque thigh highs with satin lace up back
review page!