Not for the anal retentive type...
If you have about 3 hours to assemble and prepare these (and at least two of you, because finishing on your own will probably take twice as long in every regard) then these MIGHT be for you. The tops are flimsy, and definitely leave something to be desired. I'll try again now that the agonizing part is over, but I don't have high hopes they'll be better.
Published:
Pros:
Great for killing time (and lots of it)
Cons:
Cheap (as in, do-it-yourself lacing)
I absolutely loved the look of these stockings. I'm always looking for something out of the ordinary, especially something sexy like the lace-up back of these stockings, and for $14.99 I figured I'd really enjoy wearing them with some of the outfits I have. (BUT DON'T RUN OUT AND BUY THEM YET... READ ON FIRST!!)
Fresh out of the box the package looks ordinary, like most of the stockings you'd find here, adorned with the "perfect" photo of the stockings perfectly modeled for your enjoyment (and much needed reference later on).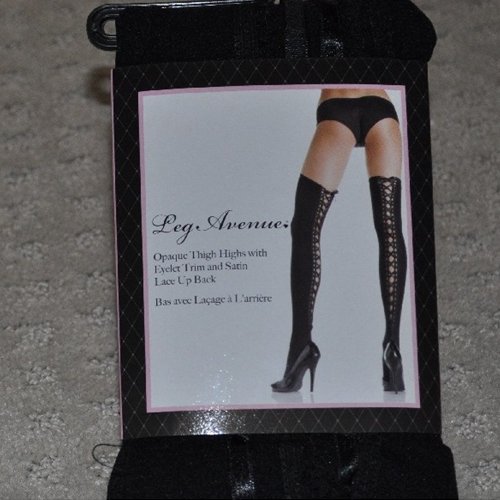 But that's where the surreal feeling ends, and the regret begins...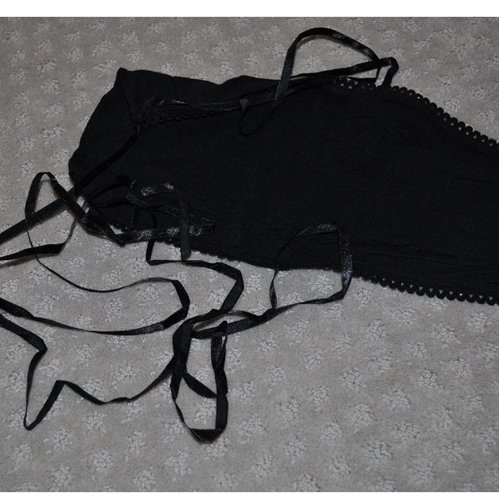 As soon as the stockings are un-packaged, you realize that the cheap laborers simply attached the lace to the fabric, and then threw it all in a pretty pink package to ship off to the Americas. It literally has nothing pre-assembled. In fact, the daunting task of "lacing" up the stockings (much like the shoe salesman does for you each time a new pair of sneakers is brought out for you to try on) falls entirely on you, the buyer. OK, not a big deal, we can do this... right? So we each take one stocking and begin lacing, pausing every few seconds to stare at the details of the packaging photo, to make sure the lacing is starting off generally close to what the finished product should look like. And an agonizing hour+ later (OK, probably 30 to 40 minutes to be realistic, times two people of course), they're (ALMOST) done. And now for the finish work. While I lay on the sofa, he works diligently with a knitting needle to adjust and tighten the ridiculous ribbon rows, to as closely as possible mirror the package. And in the end, what do you have?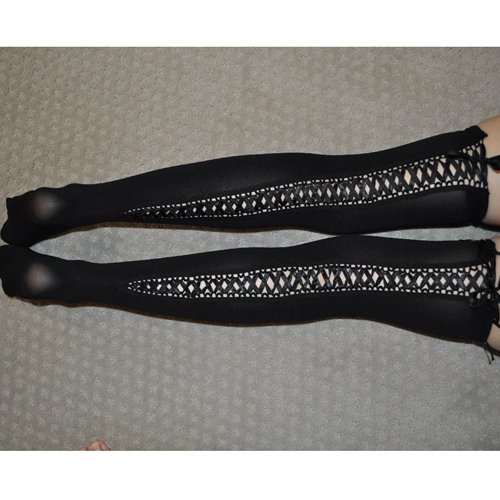 A HUGE DISAPPOINTMENT! That's what! Sure, I don't expect them to match the model (after all, I'm not a model), but I'd expect something better than what we got. After over two hours, we threw in the towel. The tops of the lace, which is also used for the holes to lace the ribbon through, are finished poorly. One set had about 1 1/2 inches extra of lace on each side, while the other pair had no extra and was ready to break. The only upside to these are in the fact that the material, and lace to some extent, are fairly sturdy so you're less likely to experience a run or tear.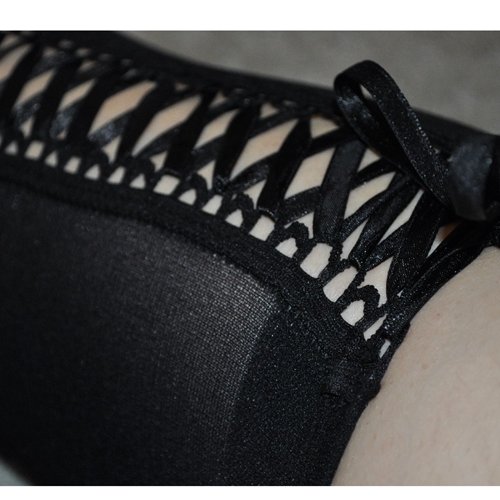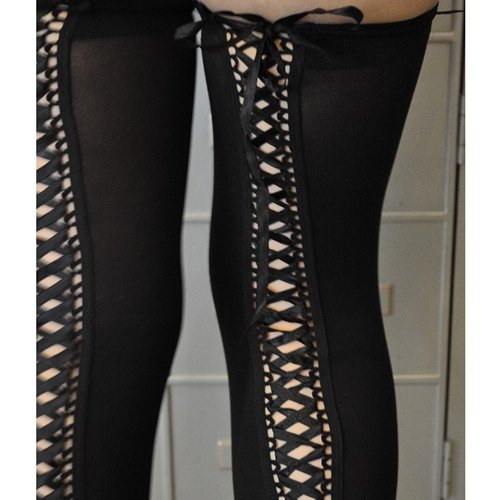 Follow-up commentary
17 days after original review
After another two hours of adjusting the lacing (what a waste of time), the overall look is slightly better. They still look nothing like the stock photo, but they're better. Personally, I don't think I'd recommend anyone without a ton of time and fairly thin legs should attempt these.
This product was provided at a discounted price in exchange for an unbiased review. This review is in compliance with the FTC guidelines.

Thank you for viewing
Opaque thigh highs with satin lace up back
– hosiery review page!