Beautiful Black Bustier
This is definitely worth having in my lingerie collection. You could dress it up to make it even more sexier. Maybe add leggings, boots, gloves or whatever you prefer. Very stretchy and breathable. It's all around sexy!
Published:
Pros:
Great sizing, breathable and stretchy
Cons:
Boning doesn't stay in and not very good breast support.
This is the Coquette black lace bustier. It's a stretched lace bustier with laced trim under-wire cups and a lace ruffled hem. It features boning, adjustable straps, removable garters, center back hook & eye closure, elasticized waist and 3 satin bows.
The black lace bustier is very gorgeous and appealing. If you added some other things with this bustier, it would look great. Maybe add some tights, boots or gloves to make this even sexier. I wore mine with some knee high tights.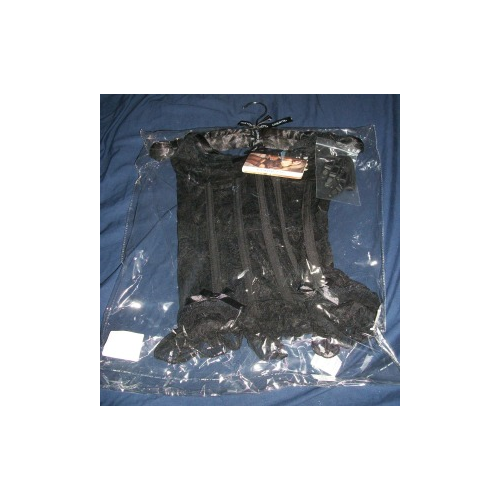 It came in a plastic package along with a hanger and four straps. It was very well packaged. Sometimes the packaging makes clothing wrinkle or look terrible. This packaging kept everything nice and neat.
The hanger is a big plus. Not many clothing items come with hangers. It's a really nice hanger too, not like any of those boring hangers. This hanger is very soft and it has two silver knobs on top. The knobs make it easy to hang the bustier on. My clothes usually fall off the normal hangers. With these knobs, I shouldn't have any problem with my bustier falling off. I want to keep it hung up in a nice place where it doesn't get ruined.
Sizing:
I ordered the small sized bustier. It fit true to it's size. Below is the Coquette sizing chart.
Cup Bust (in) Waist (in) Hip (in)
Small 4 - 6 B 34 - 36 26 - 28 36 - 38
Sm/Med 6 - 10 B 34 - 38 26 - 30 36 - 40
Medium 8 - 10 B 36 - 38 26 - 30 38 - 40
Med/Lg 10 - 12 C 36 - 40 28 - 32 38 - 42
Large 14 - 12 C 38 - 40 30 - 32 40 - 42
X Large 14 - 16 D 42 - 44 34 - 36 44 - 46
One Size 4 - 14 B 34 - 40 26 - 32 36 - 42
1X/2X 18 - 22 D 46 - 50 38 - 42 46 - 52
3X/4X 24 - 28 D 52 - 56 44 - 48 54 - 58
Oueen One Size 18 - 26 D 46 - 54 38 - 46 48 - 56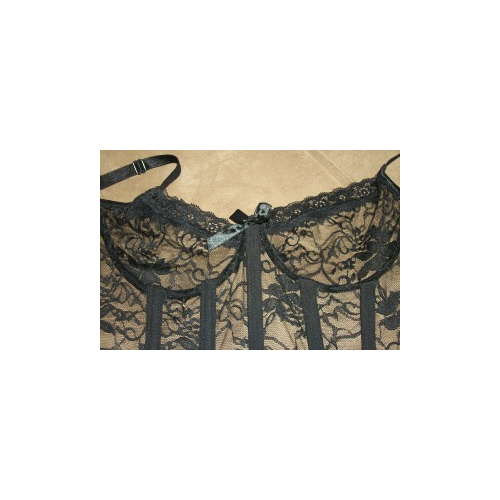 I didn't care to much for the cups. It seemed that you had to lift up your breasts just to get them to sit right in the cups. My breasts kept wanting to fall out, but other than those couple problems, the cups seem to be nicely supportive. The lace is very stretchy so it can easily support your breasts. The under-wire is also very supportive. It doesn't hurt either. I know some bras that have under-wire can really hurt and dig in to your skin.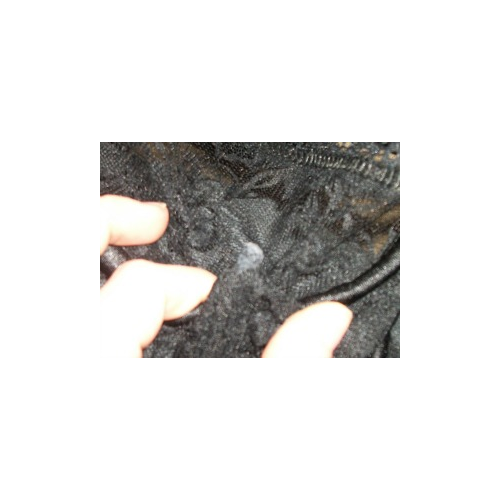 There was one problem I had with the bustier. The boning started to come out around the cups. Luckily, I wasn't able to feel it coming through while I had it on. Other than the boning starting to come out, I don't have any other complaints. I really love this bustier and it's the first one I've ever owned or worn.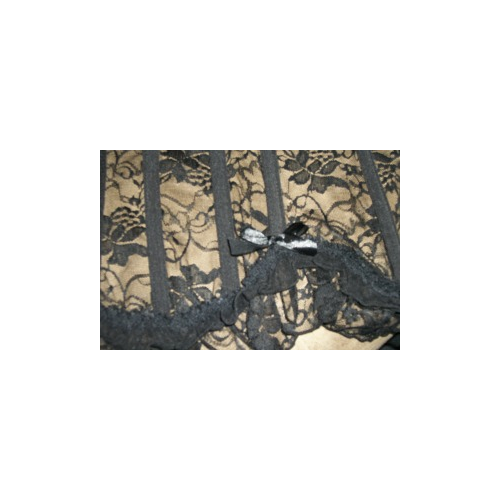 It also comes with a few bows, which I think make it even sexier. I really love all the lacy material. It's also made from 100% nylon. I was very surprised that it didn't make me too uncomfortable. I always thought of these as being a bit uncomfortable because they tend to be tight on the skin. I didn't get that at all from this bustier. It was very comfortable and I could move around easily in it. It wasn't scratchy or itchy either.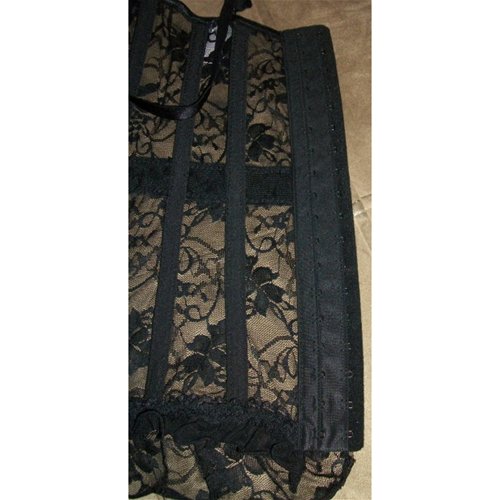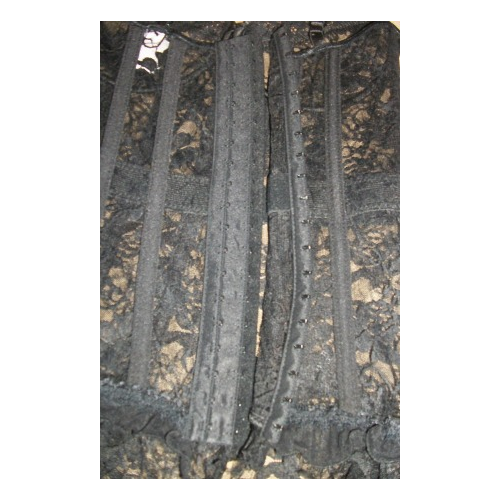 The bustier comes with a hook and eye in the back. This way, you're able to adjust it to the way you would prefer. There are two sets of eyes and a set of hooks so that you can tighten or loosen it easily. The tighter it is, the more support it seems to have for your breasts. This is why I like to keep it as tight as possible.
Experience
Overall, I really love this bustier. They come in red and black, but I wish they had more colors to choose from. I'd love a blue or pink one. I really love how stretchy and non scratchy/itchy it is. I've had problems in the past with clothing being really scratchy or itchy. There were only a couple problems I had with this, which was the boning and the cups. I mentioned about those earlier. The cups don't sit very well for your breasts and the boning was coming out of the bustier. Other than that, I really enjoy this bustier. It's very sexy and could be used anytime. You don't need a special occasion to bring out this sexy outfit. Wear it anytime!
This product was provided free of charge to the reviewer. This review is in compliance with the FTC guidelines.

Thank you for viewing
Black lace bustier
review page!