Black Beauty!
My overall impression of this item is that it is well worth having in my lingerie collection. It can be dressed up with gloves, jewelry, thigh highs, heels or worn by itself since the garters are removable. With my thigh high stockings, the garters fit me perfect at the shortest length.

I really like it and would definitely recommend it to friends, contributors and to anyone else. This piece gets 5 stars from me and my partner. It is more along the lines of a higher quality piece.
Published:
Pros:
Gorgeous,
lovely lace,
Stretchy
Cons:
One boning piece arrived sticking out.
Introduction
The Black lace bustier by Coquette is very alluring in appearance. From the daring black lace to the flirty ruffles, this bustier delivers in the sexy department! Pair this with your favorite lace top thigh highs or a classic black sheer pair. This bustier would look riveting on its own. I wore my long, black satin gloves with it and it brought out the bustier and kept me warmer now that the nights are getting colder.
The bustier comes on one of the nice, padded hangers that Coquette offers with their more expensive pieces.
These hangers are my favorite because they have the silver knobs which hold on the most delicate of lingerie pieces without the risk of snagging or tearing the item.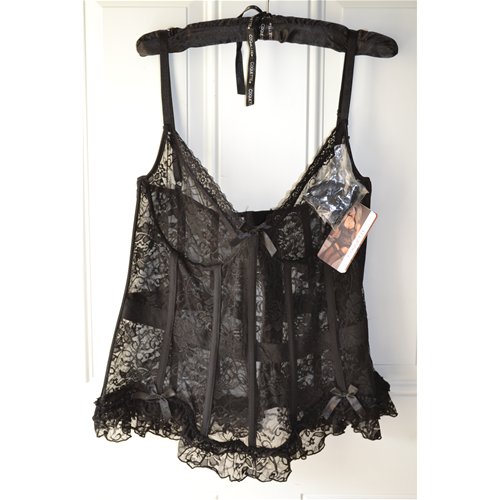 The padded hanger is:
15 1/4" long.
Sizing
I ordered the 1X/2X size and it fits true to size as show from the Coquette sizing chart below:
Cup Bust (in) Waist (in) Hip (in)
Small 4 - 6 B 34 - 36 26 - 28 36 - 38
Sm/Med 6 - 10 B 34 - 38 26 - 30 36 - 40
Medium 8 - 10 B 36 - 38 26 - 30 38 - 40
Med/Lg 10 - 12 C 36 - 40 28 - 32 38 - 42
Large 14 - 12 C 38 - 40 30 - 32 40 - 42
X Large 14 - 16 D 42 - 44 34 - 36 44 - 46
One Size 4 - 14 B 34 - 40 26 - 32 36 - 42
1X/2X 18 - 22 D 46 - 50 38 - 42 46 - 52
3X/4X 24 - 28 D 52 - 56 44 - 48 54 - 58
QN- O/S 18 - 26 D 46 - 54 38 - 46 48 - 56
Coquette has the sizes Small, Medium, Large, XL, and 1X/2X.
It fits me perfectly and my breasts do spill over a lot but not as much as other brands. It can still be worn and it's sexy on.
My sizes are:
Breast/Bra Size- 38F
Waist- 37.5"
Hips- 42"
Height- 5'2"
Torso length from collar bone to top of pubic bone- 25"
Bustier Measurements
Total length from bow to bottom ruffle- 17"
Total length from top of breast cup to bottom ruffle-20"
Under bust area unstretched- 37" across
Under bust area stretched- 44" across
Each underwire length- 12"
Hip area is 42" unstretched
Hip area is 50" stretched
Elastic band running long waist is 1 1/4" thick
Elastic band length is 38" unsretched and 49" stretched to maximum length
Garters are 6 1/4" at the shortest length and 8.5" at the longest length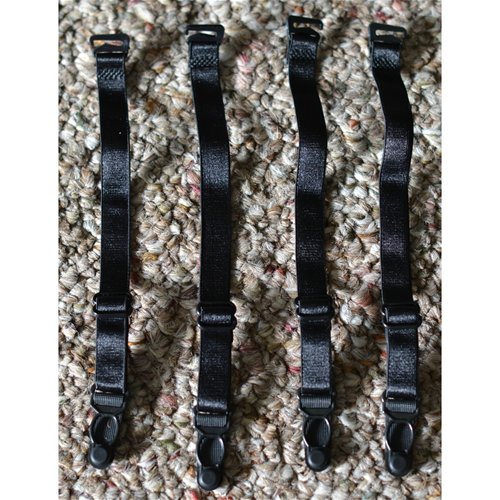 Shoulder straps are 9.5" at the shortest length and 17.5" at the longest length
Ribbon bows are made with 3/8" ribbon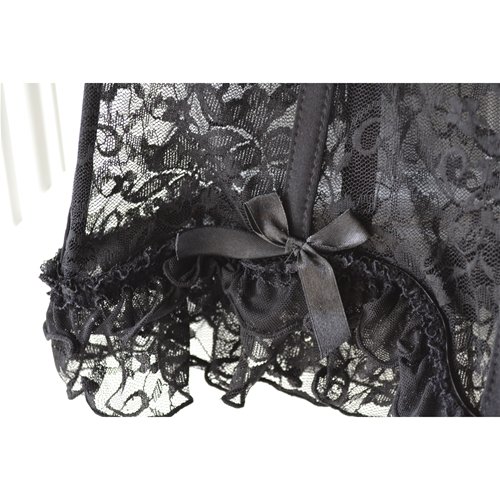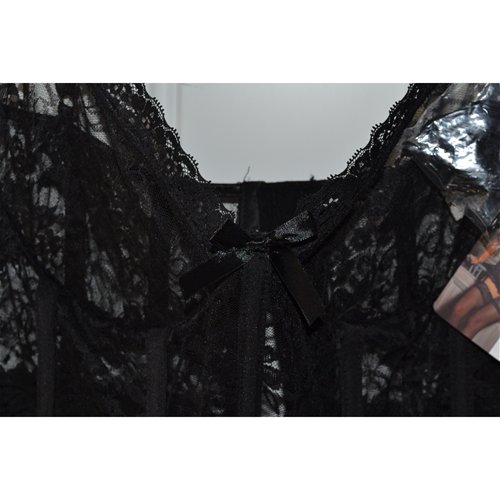 Material/Performance
This bustier by Coquette is made from 100% nylon.
The lace used in this has the sheer, floral patterned lace. This lace is not itchy on my skin but it may be somewhat itchy on someone else. The same lace is the main fabric used on this bustier and the lace is very stretchy. This piece stretched both horizontally and vertically.
There are 11 total plastic boning pieces in this bustier. They all vary in length.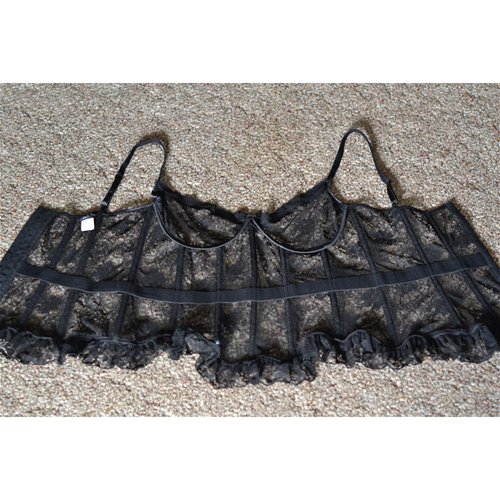 This bustier closes in the back by a hook and eye system. There are two rows of eyes on the back to help in adjusting to fit tighter or loose. There are 18 hooks on the back. The area in which the hooks are placed is 12.5 inches in length.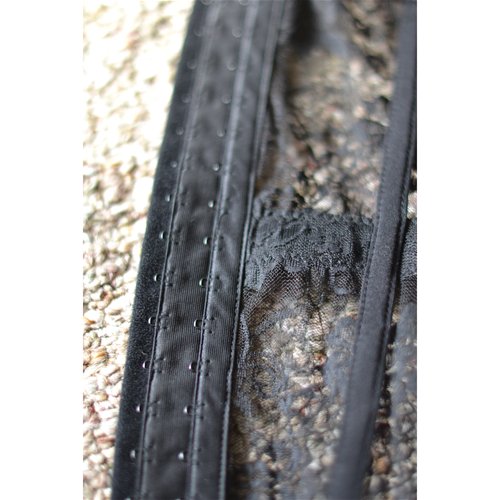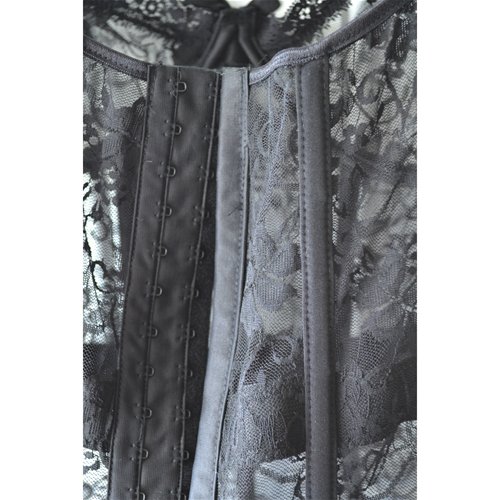 I wore it on the tighter setting for more breast support.
The underwires are very supportive and feel like they are a metal material. The straps support the underwires well and they do a excellent job at supporting my massive breasts. An even better part is that the straps do not cut or dig into my shoulders, and these straps have some serious weight to hold. I know that you ladies with larger breasts know about my pain.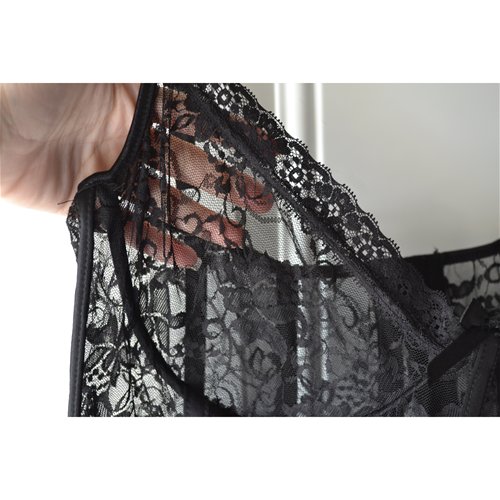 This bustier has 3 bows attached to the front side. One is directly in the center between the breast cups. The other two are located near the front bottom near the hips. These are sewn on by two thin strands of thread and if you would like them removed, this will be an easy job. Just snip the two threads and you are good to go. Another option is that if you are crafty, you could always take off the bows and sew some of the basic pins onto them like Coquette usually does with their larger bows. This is a great idea if you would only like to use the bows on certain occasions.
Experience
(Continued)
Problem areas
Upon reviewing the lingerie, I noticed that one of the plastic boning pieces had come out through the material that was supposed to be encasing it. It had poked out through the solid material but not through the actual lace material yet. I'm sure that this is an isolated incident but check yours upon arrival to verify that yours doesn't have this issue. I can fix it by sewing up the edge when it finally does poke through the lace.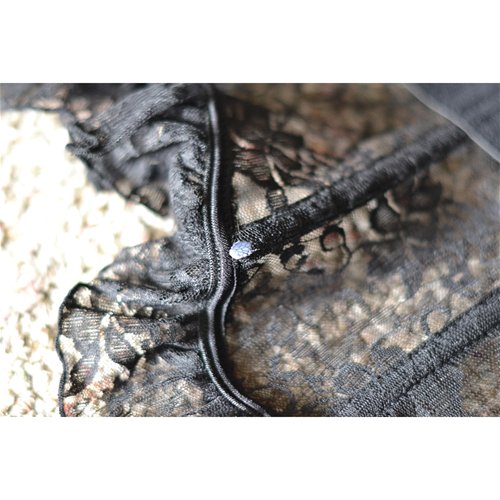 The one thing that I didn't particularly like was the elastic band going across the waist area. It didn't bother me in the comfort area. It just wasn't very aesthetically pleasing to look at. I do understand that it must be there to hold everything in place but I just wish that it was thinner or not there at all.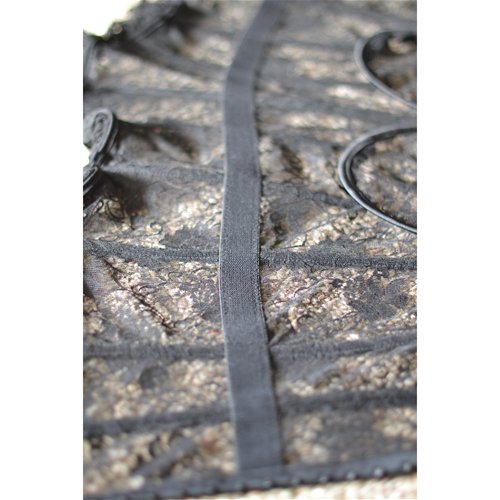 I would definitely buy a few more of these if they were offered in other colors, besides red and black that are offered on here. I would love to see blue or white.
The sizes that they offer are : Small, medium, Large, Xlarge and 1X/2X. These will fit a wide range of individuals.
I think this piece has a lot of potential for nights such as Christmas eve or other special nights. You don't have to wear it on a special night but to me, this is nice enough to do so.
Pair it with some sexy gloves, thigh highs and some sparkly heels and you have an outfit that will definitely leave an impression!
My partner commented about the sexy ruffles along the edge and how nice the garters looked. The bustier stopped right above my behind and made it look super sexy.
Follow-up commentary
27 days after original review
This is a very beautiful bustier. When you pair with sheer thigh highs and heels, it really makes a statement. You are going to be seen when you wear this!
This product was provided free of charge to the reviewer. This review is in compliance with the FTC guidelines.

Thank you for viewing
Black lace bustier
review page!