Bringin Sexy Back (XL)
Coquette is at it again with their Black Lace Bustier. The material is breathable and stretchy while still conforming to your figure, and the pattern is sexy as hell. There are tons of sizes too, so most(if not all) women will be able to have it.
Published:
Pros:
Breathable material conforms to your body, functional and comfortable, sizing is perfect.
Cons:
Plastic boning doesn't stay in, no breast support.
*Material*
This is stated as lace and mesh on Eden's product page, but the tag on mine says, "100%
NYLON
". It obviously has a lace and mesh pattern but I'm wondering if the whole thing is just nylon.
Nylon
The fact that this piece contains nylon changes things up a bit in terms of durability. While working on this review, I had originally talked about how delicate the lace and mesh can be and how you should be cautious wearing this out(parties/rough sex/things that involve a lot of friction on your clothes). Now that I realized there is Nylon in this it makes me feel a lot better and able to wear it more places without fear of ruining it... for the most part(more on durability later).
Anyways, nylon is definitely more resilient and able to handle a little bit of abuse so have at it!
Mesh/Lace
I used to think that a mixture of polyester and spandex was the perfect combination for comfortable, sexy lingerie but I am pretty sure that I have a new favorite: lace and mesh.
(fun fact)
When I looked these 2 materials up on Eden I realized they have the same descriptions and are used interchangeably. I decided to dig a little deeper and found that they are very close in nature; seems to me that the only difference is that lace is a little bit more delicate. Mesh really seems to be the netted pattern made out of lace.
I always thought mesh was a type of stretchy, netted polyester but I guess I learned something today!
*Caring for your bustier*
Now both mesh and lace are made with
synthetic fibers
so this piece has a few housekeeping properties to it: it is sensitive to heat and can pill up(when you see those little fuzz balls accumulating on your clothes it is called pilling---something else I learned from this review!)if not washed or handled properly.
I would recommend hand washing this but it can also go in the washer on a gentle cycle with cool or tepid water. Let air dry--- it won't take that long since the material has low absorbency.
Coquette seems to have upgraded their lingerie packaging in that they now provide hangers! This came with the straps wrapped around cute little nobs on top of the hanger. It's nice to have a hanger that actually keeps the clothes on it.
*Design*
There is a gorgeous floral pattern in the lace that highlights any skin tone. A nylon(mesh?) band goes across the stomach about 2" under the bust line and helps conceal love handles/smooth out curves.
Sometimes lingerie boning stays bent out from sitting down/bending over/etc and doesn't look right after a couple of wears. The boning(about 10-11 of them) on this is perfect in that it is plastic and flexible enough to be comfortable, yet it is strong enough that it won't bend weird if you have a bit of a stomach or do lots of different positions while wearing.
The *only* real con I have for this piece does lie with the boning though. The plastic rods keep sliding out of the fabric and poking me/my guy. This happened the second time I wore the piece and made me quite sad because I HATE when boning doesn't stay put! I thought that stuff was sewn in!
Boning in the cup: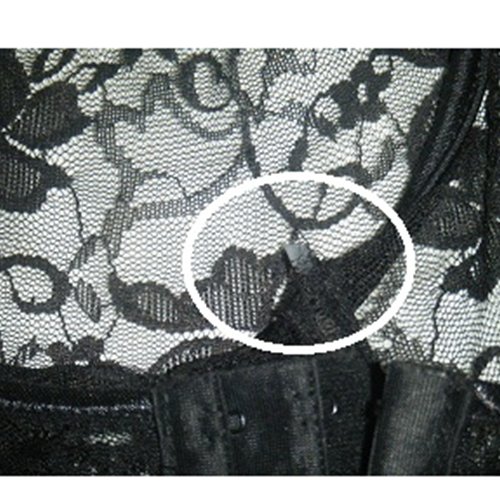 Boning sticking out of the bottom: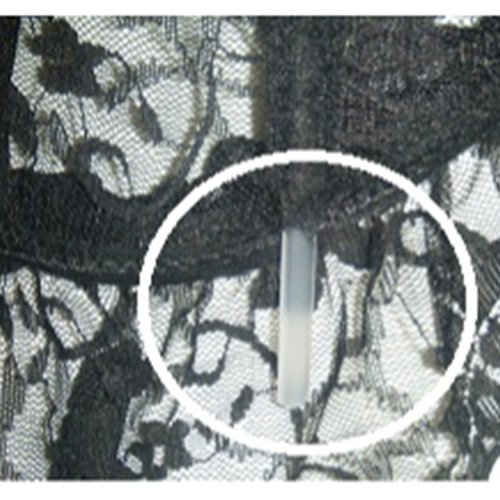 *Sizing and Fit*
Size charts never really seem to match up and this one is no exception. I am a size 38D in the chest and this does not fit my breasts right. According to the size chart, it should fit a 42-44 D. It is too small for me and definitely lacks the support needed to keep the girls in check.
Despite the issue of breast support, Coquette has been one of the most consistent manufacturers here at Eden in terms of fit. They really do make lingerie comfortable for most and tend to have many different size options. I don't think I have come across a piece from them that didn't fit me right. The size chart was off a little bit from this piece but I think the purpose of a size chart in the first place is to give a broad idea of what their pieces typically measure. Here are my measurements compared to theirs.
Coquette's size chart
Size: 14-16
Chest: 42-44
D-Cup
Waist: 34-36
Hip: 44-46
My measurements
Chest: 32-38 B-C
Waist: 32-38
Hip: 34-42
Experience
*Sizing Cont*
I ordered the size XL and it still fits me perfectly with a (current) measurement of 38D chest, 34" waist and 42" hips.
This isn't too short for me (I'm 5'5), measuring in at just under 19" long from the top of the cups to the bottom of the hem.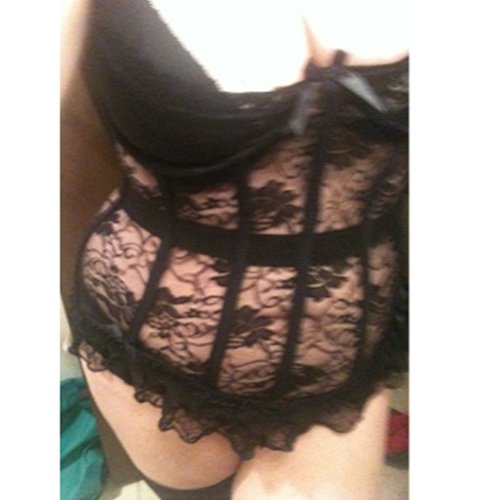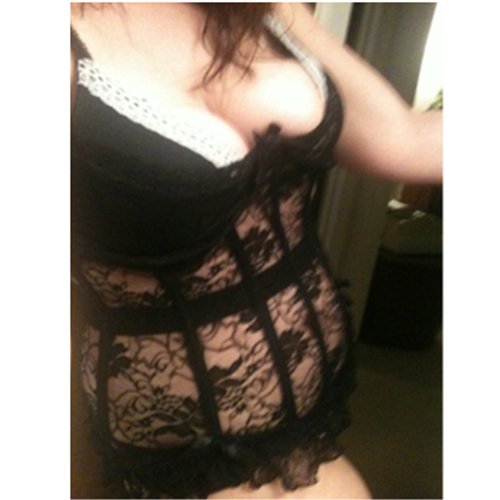 These measurements are taken with the hook and eyes on the tightest row. You get an extra inch if you put the hooks on the looser one, making the measurements a little more lax. Don't forget the material is really stretchy and comfortable so it's not going to cut into your skin anywhere.
If you are not familiar with lingerie sizing, this is how to find your fit with a piece: lay it flat and measure it across. Double the length and viola! We have the size around it is estimated to fit. IE 16" across the bust generally fits a 32(insert cup size here). Results may not always be exact but it's always close for me.
All in all this sucker still gets its stars because I will wear it as long as I can! The breast support issue doesn't bother me too much because I am used to it with lingerie. I like to wear my black bra under this to keep the girls perked up; it still looks sexy as hell. You can also make this like a demi cup and just pull your breasts half way out to switch up the design a little bit.
I hope that Coquette can get their bonings stitched in good for future pieces because it really irritates me when they come out so easily.
This product was provided at a discounted price in exchange for an unbiased review. This review is in compliance with the FTC guidelines.

Thank you for viewing
Black lace bustier
review page!