Coquette Does Stockings
After two tried with these stockings, I've determined that because of the netting quality, they are worth buying. Both sets of mine were a little different, but it's not a huge deal.
Published:
Pros:
Netting is very high quality and is even on all parts of the leg, Good for many heights
Cons:
Band is inconsistent in size and not wide enough
Foreword: A lot of this review was written months ago when I got my first pair of Coquette stockings. They weren't perfect. I got a second pair recently and I have the same issues, although not as severe. This review will explain my issue with quality control while maintaining my love for all things Coquette.

I was really excited when I saw these come on Eden. I am such a fan of Coquette lingerie, but until now (months a go), had not tried any of their stockings. These are, without a doubt, the highest quality fishnets I have worn (if it weren't for the sizing/quality issues which I will get to). Their top band may not be anything special, but the quality of the netting is unmatched. The size is great too. The band seems small, but it stretches decently (in one leg...). I swear you will understand the (...) soon!

*Overview:

This pair of stockings is from the magnificent Coquette. They feature a finer fishnet pattern that I like to call macro-netting. In order of sizing this is what I call them: mesh, micro-netting, macro-netting, fishnet, industrial netting, fencenet, and lastly, diamond netting. Some of these terms I have coined and ordered myself. All you need to know is that these "fishnets" have smaller holes than what you probably have seen before. If you look at the picture

*Material: Strong material

Hmmm...Coquette seems to have stopped putting their material information on their packages! From my experience, I believe the bulk of this (if not all) is nylon. There may be spandex. The band feels strong ans is stretchy. So are the fishnets. It's much like of a scratch material that is expected with Leg Avenue stockings. It's smoother, more uniform, and the netting is thinner. This creates a neater and more crisp look to the pattern. The material stretches well and keeps its shape too.

*Design/craftsmanship: Good, but...

The top band on these stockings is thin since there is no lace. It is only 1" wide. That means that it can roll easily if it is stretched too much. It seems to have two layers of nylon. It's solid and cannot be seen through. It's easier to take the entire band into a garter attachment, but it can be done by just attaching it through the band. There is no seam through the band.

The leg is unshaped and just a straight tube. They look tiny when they come out of the package, but stretch really well. They keep their shape too. The stocking does not have a back seam. The toe is reinforced with a smaller netting size. The interesting this about this fishnet (which also shows good quality) is that when it is stretched, it doesn't change hole size. It stays uniform.

*Cleaning/care/storage: Hand wash

The stockings come on a small cardboard insert. The insert slides between a folded cardboard piece with pictures of a model wearing the product. All of this slides into a plastic wrapper. If you are careful, you can keep it for storage.

The package says to hand wash these in warm water. Let them hang dry. Store folded in on each other like socks.
Experience
*Sizing/Application:
Limited for an Os, but not that bad
These stockings come in OS - one size fits most. According to the size chart that will fit sizes 4-14. These don't roll on my thighs, but they do dig in a bit and fold under my butt (in the back), if I pull them up that high. For most between sizes 2-10 they won't roll. At 10, they may roll. For me they slightly dig in but are not uncomfortable where my thigh is 22" - where I like to wear them.
I'm 5'6" and I'm able to pull these to right under my butt with no issues. They can look good on a huge range of heights, even the petite.
The weird thing is that twice now the max thigh circumference has differed from one to the other. One stretches over an inch more than the other and the difference isn't slight when worn. For this reason, I wear them under my butt because it looks funny and uneven otherwise.
Preferred Sizes
Thigh circumference: 18"-23"
Dress: 4-10
Height: 4'8"-5'10"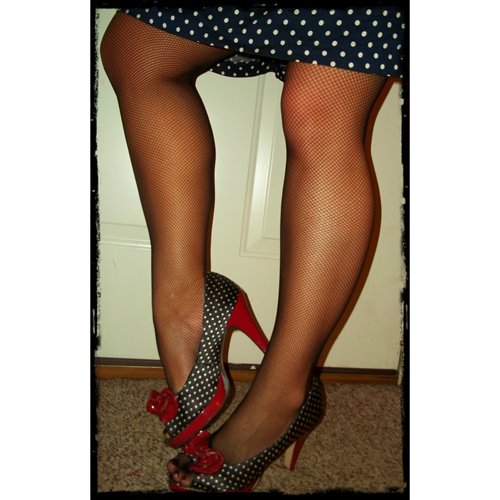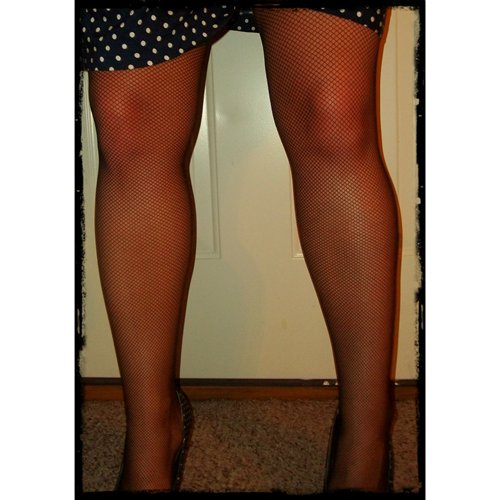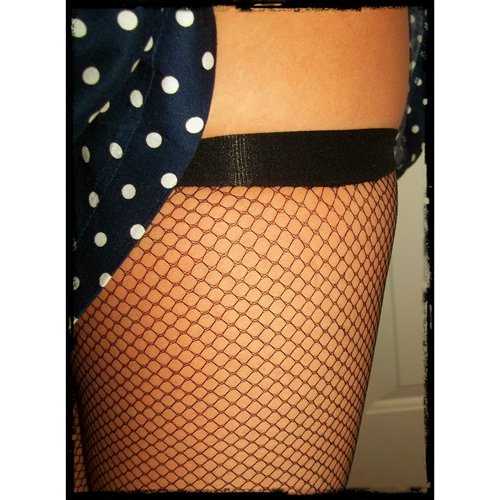 *Conclusion:
★★★
With how great the netting is, I'm not sure why the band isn't consistent. It's not biggie though. However, if you're on the high end of the range it's possible one will fit and one might not. I really like the classic look the netting and how it lays flat on my legs unlike those by Leg Avenue. They're worth buying especially if you're not high up on the range.
Follow-up commentary
14 months after original review
I still love a lot about these stockings and since I've lost 2.5" off my thighs, I like them even more! The difference in size isn't as much of an issue.
This content is the opinion of the submitting contributor and is not endorsed by EdenFantasys.com

Thank you for viewing
Fishnet thigh high stockings
– thigh highs review page!