Here's a Decent Pair...
Although these won't WOW you, they are overall worth the price. I've owned many worse pairs for the same amount of money. With some creativity, you can make these into something much better.
Published:
Pros:
- Soft Material
- Worth the Price
Cons:
- Band Rolls
Coquette's Black Fishnet Stockings may not be the greatest pair, but they are decent enough. I got mine as a free gift with a lingerie purchase which makes me much happier with it then I suppose others would be if they paid for them. But honestly, I have been purchasing and wearing fishnets and stockings for over fifteen years, and these aren't horrible for the price. It really comes down to price versus quality. There are much nicer stockings that you will pay much more for, but there is the rare nice pair you will get for the price of this pair. There are much worse pairs you can also get for this price, or under which is to be expected.
This arrives in a heat sealed plastic bag. There is a cardboard card inside that opens to reveal another smaller piece of cardboard that has one stocking pulled over it and the other lays loose inside. I really hate this method with any stocking, especially fishnets, because it snags material. However, it seems most non-prestige brands do this. The overall package is 9" x 6 1/2".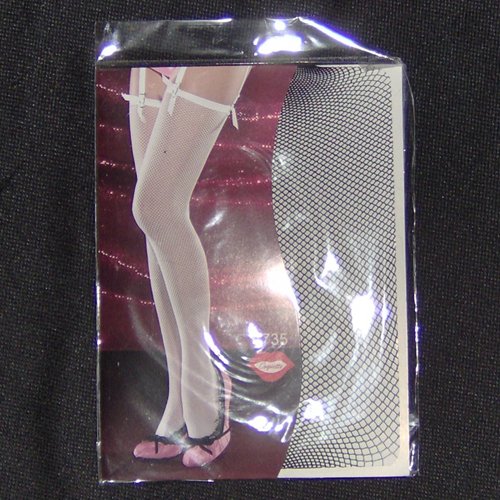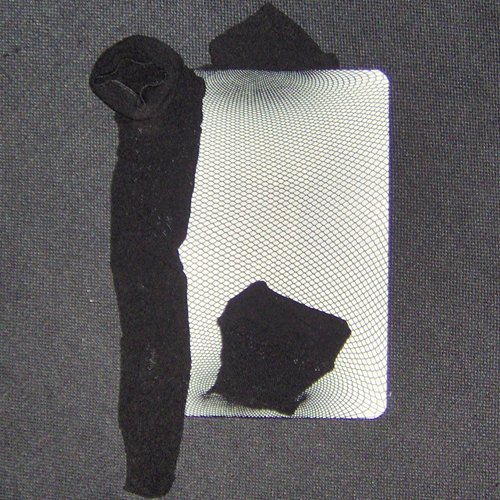 Once I got these off the cardboard (make sure to remove the mounted one slowly) I checked them for damage. Overall I didn't notice many imperfections. There were a couple small strings from the seam of the elastic (one shown below) that were easily trimmed and didn't cause any other tearing. Some of the fishnet diamonds seemed off, but I think this can easily add to the character of wearing them. Simple stockings overall, and what I expected with typical fishnets at this price.
I am 5'3", 220 pounds, and a size 20. However, my legs have always been tiny for my size. I was able to pull these up to my mid-thigh comfortably. The band at the top isn't the most comfortable though, and will roll up. Even with garters, the sides will have some issues with my plus sized thighs. I have a feeling they will roll even with average sized thighs. This is the biggest problem with these for me, as a band rolling on my thigh is NOT flattering.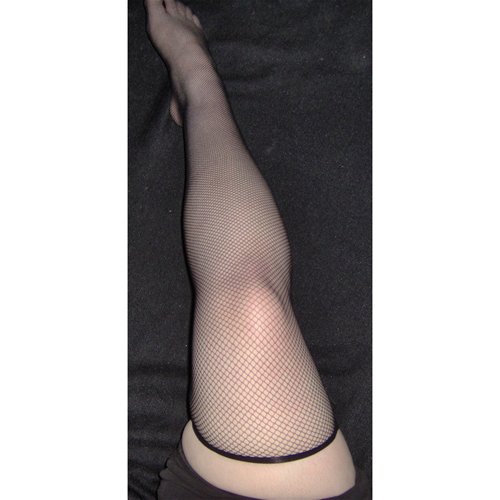 I am actually a fan of knee highs anyways because they always flatter and wear comfortably when I'm not in the mood for more restricting pieces. I was able to bring these up to knee high level to make use of them. As shown below, there was actually no bunching of extra material at my ankle! That is usually the case but I cover it with calf high boots. With these, it's only a case of the material being less stretched and showing more color. Although I will wear them out with my calf high boots, I don't feel frumpy when I wear them with other lingerie in my bedroom. This situation increased the rating of these for me a LOT!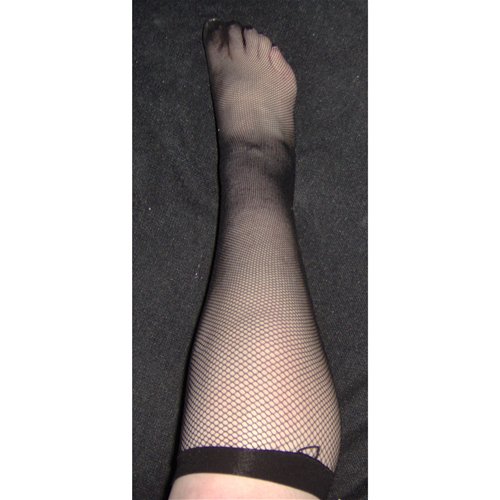 In the picture above you can see how nice these will work as knee highs, and also one of the loose strings that I removed. The material of these are super soft and not the cheaper version of cloth some companies use. I have no idea what type of material these actually are, as the package doesn't say, but I'm assuming NYLON since they feel the same as other nylon fishnets I own. BE AWARE, these are lint and hair collectors!
Stocking Length: 16"
Stocking Length Stretched (without over extending them): 34"
Top Band Height: About 1"
Overall, these aren't the worst or the best stocking I've owned. Because they work as knee highs, I will still get plenty of use out of them. I even found a way to wear them as thigh highs by using bondage tape to hide the rolling. This was such a sexy success that I'll probably be doing it for other thigh highs!
Follow-up commentary
2 months after original review
Although they aren't useful as thigh highs for me, I still get plenty of use out of these are knee highs. These have stood up pretty well with weekly wear and washes. I did get a small run on the ankle but only because my nail got caught while I was putting on my boots. Overall, if you have thinner thighs you will find these worth the price. If not, knee highs are always an option!
This content is the opinion of the submitting contributor and is not endorsed by EdenFantasys.com

Thank you for viewing
Fishnet thigh high stockings
– hosiery review page!