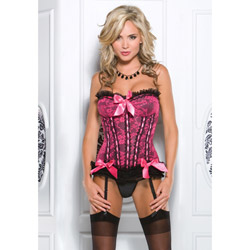 Stretch lace corset
Corset
by Coquette
Coquette Likes To Abuse Bows
You definitely get what you pay for, and this gorgeous piece from Coquette is well worth the money. It's stunning, will make you feel extremely sexy, and the boning will create a slimming effect. With proper care, this piece will last you for a very long time.
Published:
Pros:
Very well made, will last a long time, beautiful, boning offers a slimming effect, multiple sizes.
Cons:
Hooks can come undone easily, price?
I've always wanted to indulge in a more expensive piece of lingerie, so when I had the chance to review this piece, I jumped at it.

The packaging was simple, coming folded in a plastic bag, inside some lovely pink tissue paper.

I received a size small in this corset. To Coquette, this means I should be a size 4-6, with a B cup, a 34-36" bust, 26-28" waist, and 36-38" hips. Personally I'm about 5'2, I weigh about 105, around my bust measures 31" and underneath measures about 28 1/2". I've got about a 25" waist with 33" hips and wear a B cup. It fit me like a glove without being painful in the least bit.

For the other sizes available, Coquette has the following measurements listed:
Medium: size 8 - 10, B cup, 36-38" bust, 26 - 30" waist, 38 - 40" hips
Large: size 12 - 14, C cup, 38 - 40" bust, 30 - 32" waist, 40 - 42" hips
X Large: size 14 - 16, D cup, 42 - 44" bust, 34 - 36" waist, 44 - 46" hips
1X/2X: size 18 - 22, D cup, 46 - 50" bust, 38 - 42" waist, 46 - 52" hips

This corset does have a bit of stretch to it, so if you're right on the border, you could probably be safe ordering a size down. But use your best judgment.

The inside is all black and very soft. There are 11 pieces of boning, visible as the sleeves the boning is in. They're covered in a satiny material and have slightly more sheen to them than the rest of the inside, which is all matte. Across the middle from edge to edge is a 1" band of elastic. This is also black. The edging along the bottom has some curves thrown in with the lowest peak being right in the middle then curving up and then back down symmetrically to a height higher up than the lowest peak. There's about 2" of black ruffles that extend down below that. The garter straps are removable and attach to the bottom lining where the ruffles start. The lining along the top side panels looks almost like a satiny ribbon. It's very soft and has a lot of give to it, where the trim along the bottom is more rigid. Right where each side panel meets the front panel is a strap like most strapless items come with for hanging on a hanger. The inside of the cups is a black foam-like material that isn't itchy at all.

The outside is made up of a black background with the fuchsia floral lace over it. On each of the side panels there are two pieces of boning. The middle panel has five total pieces of boning with one going straight up and down in the middle of the front, going from where the cups meet at the bottom to the center of the ruffle peak at the bottom of the piece. There are two on each side angling down towards the center. Each piece of boning is accentuated by black lace and a weaving ribbon the same shade as the lace. Where each outermost piece of boning on the front panel hits the bottom, it meets a large fuchsia bow, approximately 5" across, leaving 2 of these large bows on the bottom of this piece.

The cups are made with the same black background and fuchsia lace and are padded. This, coupled with the boning, provides a surprising amount of support for breasts. Each cup has a rounded outer edge meeting at a flat edge in the center. From the center of the cups to the outer edge is about 6". Each cup from the lining to the bottom seam is just under 5". Both cups are lined at the top not only with the same black lace and weaving fuchsia ribbon, but also with one layer of the same lace that makes up the ruffles. Where the cups and all that meet in the center of the top is another large bow, just like the ones on the bottom.

This piece uses a hook and eye closure. There are 18 of them going down a 13" piece of fabric on each edge. There are two eyes, 1/4" apart, and the whole edge with eyes is 1 1/2" wide. The hook side measures the width of the trim, which is just about 1/4".

I have found that the best way to get this piece on is to start with it on backwards and do the hooks up starting at the top, then twisting it around when you're done. I find that pierced nipples can cause a problem here. Also, the hooks will come undone easily if you're not careful.
Experience
*****Continued from above****
I laid it down open and flat to take the rest of the measurements, so the measurements listed would be used to match your own measurements if applicable.
- From bottom corner of one closing edge to the bottom corner of the other: 29", stretching up to 34 1/2"
- From top corner of one closing edge to top corner of the other: 27" but stretches up to 32"
- Along the strip of elastic in the middle: 26" but stretches to 31"
- The bra straps are adjustable and measure 16" at their longest, but stretch to 19"
- The front garter straps measure 6" from their base to the clip at their shortest and 7" at their longest, but stretch up to 10"
- The back garter straps measure 6" as well at their shortest and 8" at their longest but stretch up to 11"
Both the bra straps and the garter straps are removable, and can be done by unhooking them at their base.
There is one tag located on the inside along the top trim. It tells you that your new corset is 80% Nylon and 20% Spandex. You should only hand wash this and never throw it into the dryer, or bleach it. I recommend laying it flat or hanging it from its hanging straps to dry it.
For storage, I recommend hanging it in your closet. If you're going to fold it, make sure to never fold against the boning, you'll very likely destroy your very nice expensive top in the process.
***Onto the experience***
Ok, whoever at Coquette decides on all these bows needs to get smacked. The one at the cups is ok, but the two at the bottom are definite overkill. At least in my opinion.
My only real complaint with this 'corset' (It is my opinion, that you don't have to agree with, that a corset has a lace up somewhere. If it isn't laced up, I classify it as a bustier), is the garter straps. I tried them with a few pairs of thigh highs that happen to have a reinforced top, and they're pretty much useless for this. If you can even get them to clip on, they snap right back off as soon as you put any real strain on the straps. I think that if you have a pair of fishnets or thigh highs that are intended to be used with garter straps, you'll be fine. Or you can just remove them.
Other than that, I have absolutely no complaints about this top. It's gorgeous and sexy and beautiful. It's tight enough to let you know it's there without being constricting in the least bit. I wore it for hours at a time and never got itchy or had a hard time breathing.
My fiance absolutely loved it too. This is the first piece that he actually lunged at me while I was wearing, and made mention of for days afterward. You'll have to pardon the dirty mirror and the dirty bedroom, but here's a little
picture
of me in it.
If I missed anything, please feel free to ask.
Follow-up commentary
10 months after original review
I still absolutely love this bustier. I don't get to wear it very often because it is just the slightest bit over the top, but I still highly recommend getting it if you're interested.


This product was provided free of charge to the reviewer. This review is in compliance with the FTC guidelines.
Forum
| Discussion | Posts | Last Update |
| --- | --- | --- |
| corset | 28 | |
Thank you for viewing
Stretch lace corset
review page!