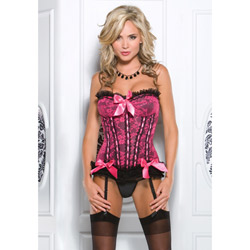 Stretch lace corset
Corset by Coquette
Hot Pink! But where did my boobs go?
Coquette's Stretch Lace Corset made me feel like I should be dancing a Can-Can when I put it on- it has a certain element of burlesque design that makes it fun. It does fall short on bust support, though.
Published:
Pros:
Attention grabbing colors, sexy design, includes removable straps, garters and bows.
Cons:
Zero bust support
The Stretch Lace Corset arrived wrapped in hot pink tissue paper. I was kind of amused that the paper matches the pink of the corset *perfectly*, even though it is the same paper that EdenFantasys uses for all lingerie. I was a little overwhelmed by just how pink the corset was! It is obviously pink in the photos, but there's something about holding it in my hands that made me kind of go "Wow, that's pink!"
The corset comes with removable straps and garters, which are attached via safety pin in little plastic bags. Both the garters and the straps are plain black, and look exactly like the ones that come with most other Coquette items. The straps are exactly like bra straps, stretchy and adjustable. If you're going to use them, put them on BEFORE you put the corset on- they're quite a challenge to hook on the back if you already have it on!
One thing that I found interesting is that while I remember reading in a few other reviews that the bright pink bows were sewn on, mine are actually removable and attached by safety pin. That makes me happy, since I like the bows but like the freedom to take them off even more! Taking the bows off tones down the "OMG PINK!" effect of the corset a little bit. I found myself wishing that the bows on this were black instead! The only Coquette corset I can think of that has black bows is the Polka Dot Mesh Corset, but the bows on that one aren't removable. I may have to break out the seam ripper and borrow one from that for this one! (Dear Coquette- black bows, please!)
The other fun thing about the bows being removable is that you can stick them wherever you want. Have a plain old black bra? Surprise your lover with giant pink bows on the nipples! Pin them to the tops of thigh high fishnets! Decorate the cat's collar! The possibilities are endless!
In terms of construction, this corset is solidly put together, and should hold up through lots of use. As long as it isn't super tight on you, keeping it on for sexy fun time shouldn't be a problem. In fact, the soft bra cups are easy to pull down without disturbing the rest of the corset, making it easy to access your boobs if needed.
The cups don't have an underwire, which kind of drives me nuts. Unless your boobs are fake or incredibly perky (in which case I am super jealous of you), the soft fabric cups are not going to do much to hold them up. I usually take photos to show the difference between wearing a corset with straps and without, but my boobs were so far down around my ankles when I wore this without straps that I'm soooo not posting that photo. Trust me, not a good look. The other thing I wasn't fond of is that if I DO wear this with straps, or even with a strapless bra underneath, my boobage is smooshed flat as a pancake. From the side, it's like hey! Where did my boobs go? I have a pretty substantial D cup, so I'm totally not used to turning sideways and not seeing anything poke out!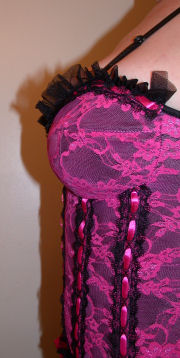 Side View
One thing the cups of this corset actually do manage to do better than others I've tried is to create cleavage. On a lot of other corsets, the cups are placed so far apart that my boobs are in different zip codes. This design manages to smoosh them together, so at least if they are flat, they still have that line of cleavage to say "We're in here! Send help!"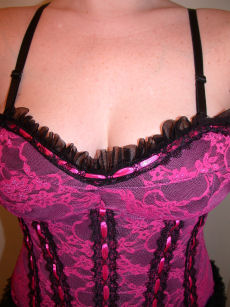 The care tag is sewn inside the back, right under where one of the bra straps connects, and says this is 80% nylon, 20% spandex. Due to all the frilly lace and plastic boning, hand washing is the way to go with this piece, partnered with hanging or laying flat to dry.
You have a few different types of fabric working together on this piece. The inside is lined with soft black nylon that feels a lot like swimsuit material and has a good amount of stretch to it. The inside also features a band of black elastic sewn in to help shape your waist a bit. Loops of ribbon are also sewn inside to use for hanging this on a hanger. The inside of the bust area is a different fabric, similar to what you would find inside a padded bra (although there isn't really any padding here, just medium thick lining.)
Experience
(Continued)
The outside of the corset is mostly covered in hot pink floral print lace, through which you can see the black nylon that is inside. The lace is soft to the touch, and I worry that some of the more delicate parts could easily catch on something and snag. In addition to the pink lace, there is also black lace which is threaded with pink ribbon to cover each piece of plastic boning (4 in the back, 5 in the front. There is also a piece down each side under the arms, but these don't have ribbon and lace.) If that isn't enough decoration for you yet, add in a ruffle of black mesh atop the bust and three layers of mesh ruffles along the bottom hem to finish things off. The bottom of the corset does dip down in a sort of V shape at the bottom, creating a more flattering shape.

I have several other corsets by Coquette, and found that this one fit a little on the small side. Maybe I just ate too much cake? Who knows. (Actually, I weighed myself to check and I've actually lost a few pounds and about an inch on my waist since my last review, so it isn't me. This corset just fits smaller.) The waist boning doesn't do anything to pull me in, unfortunately, but that seems to be standard when you have plastic boning and a back that doesn't lace up.

I ordered the XL, which according to Coquette fits size 14-16, D cup, 42-44" bust, 34-36" waist, 44-46" hips. I'm size 14, 5'11", 165lbs, 38 D, 35" waist, 41" hips. It fit me pretty much perfectly on either setting, I just had a little more breathing room in the looser one.

This corset doesn't come with matching panties, but if you have the lace mesh babydoll (also by Coquette), the G-string that comes with that set matches this perfectly.

The day I got this one, I was surprised to find that I wasn't all that excited about it. I usually rush to try new lingerie on and get all excited to write my review, but this time I was just kind of meh. I thought I might just be having an off day, so I waited a few days and tried it on again, and I still just can't get that excited about it. It's a gorgeous corset, but something about it just isn't giving me that "oooh, awesome!" feeling.

I think I would like this a lot more if it had underwire or firmer cups. I do appreciate that it doesn't put a giant canyon of separation between my boobs like a lot of corsets do, but that just can't make up for the lack of support.

I'll probably wear this on occasion, but it won't be my first choice. I'm giving it 4 stars because other than the lack of bust support and weird boob squishing, it is a pretty good piece.
This product was provided at a discounted price in exchange for an unbiased review. This review is in compliance with the FTC guidelines.

Forum
| Discussion | Posts | Last Update |
| --- | --- | --- |
| corset | 28 | |
Thank you for viewing
Stretch lace corset
review page!