Cut It Up 80's Style!
For anyone who has found that this shirt is a little small or has no idea what to do with yet another free t-shirt, ask yourselves this: what would 1985 do?
Published:
Pros:
great for cutting up, advertises your favorite sextoy website!
Cons:
seams are cheap, runs small
I got my first EdenFantasys t-shirt and knew just what to do with it as soon as I removed it from its plastic: cut it to pieces.
I've read other reviews of this t-shirt that say it is of cheap quality and makes a good free gift but would not be worth the $15.99 the site sells them for. Though I think it's fair to say that the shirt is indeed of cheep quality, I find that there's more than one way to wear a free t-shirt.
I busted out my trusty pair of scissors and got to work making this little freebie my own. For the record, you can do a quick Google or Youtube search for "how to cut up a t-shirt" for proper instructions on how to deconstruct a shirt and style it with a few different techniques.
First I cut the neck nice and wide, sort of boatnecked. Then I cut off the sleeves.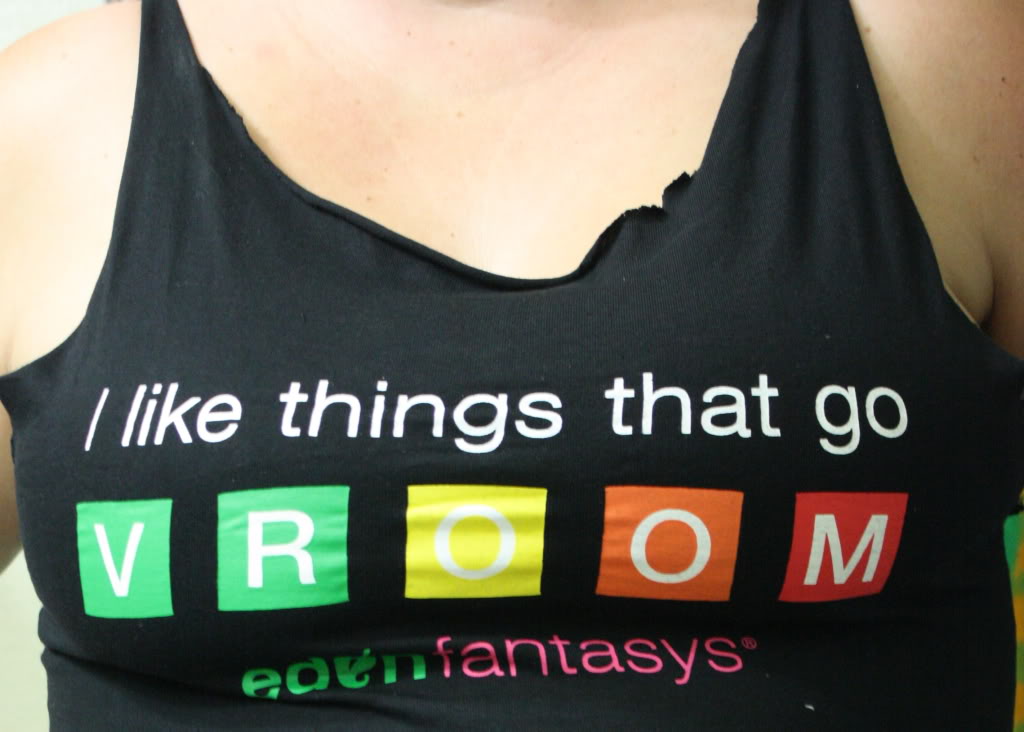 As you can see, this is not open heart surgery. You can get a little bit of a crooked cut going, have jagged edges, it really won't matter unless you're in for exact cuttings, in which case you should make markings on the shirt according to your measurements. The material of this shirt doesn't curl as much as I'd hope but after a few washings it should look a little better. If you cut off the sleeves, make sure you don't cut too much of the armpit lest your boobies be hanging out, unless of course that's the look you mean to go for.
I found though that the seems of this shirt come apart really easily so I wasn't planning on doing too much more to it as I feared for its structural integrity. Also, by this point I had tried it on and found that the XL was fairly tight. This also limited a bit of my options.
When it came to the back, I was going to do a ribbing pattern (again, Google t-shirt cutting and you'll know what I mean) but as I said, the shirt was tight so ribbing would have made it tighter. On the other hand, ribbing would be a good option for you if your shirt is too large.
I instead cut the back of the shirt into ribbons, which opened it up a little bit.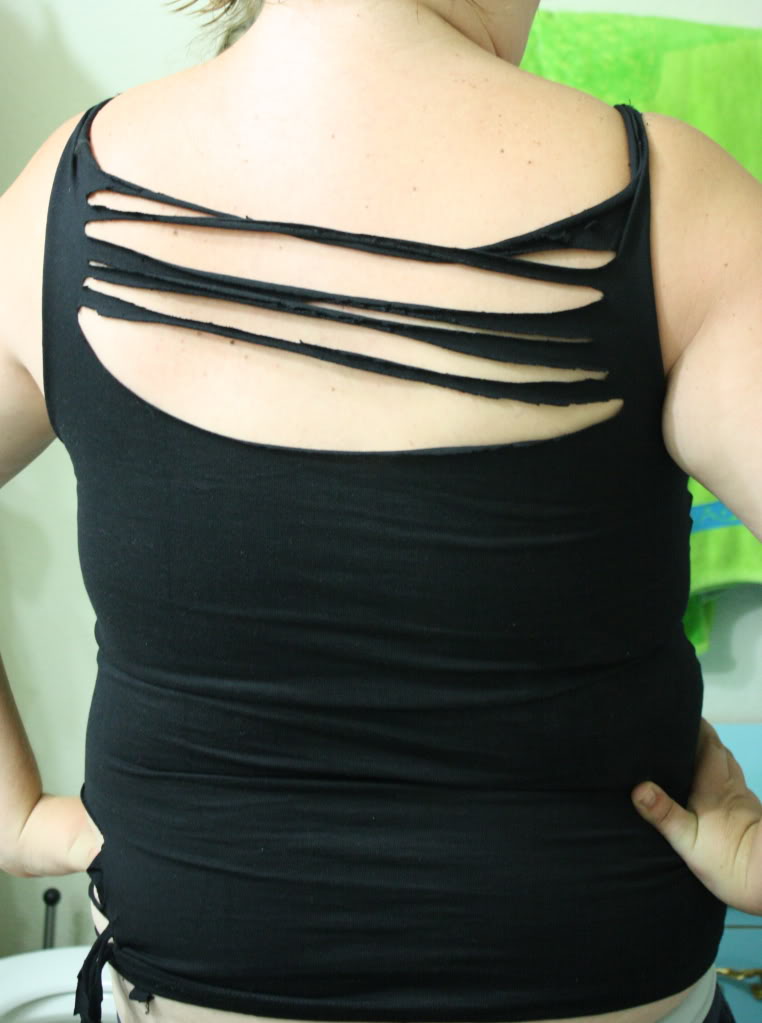 Overall, the shirt is not the best of quality, as others have said, but there's something to be said for the fact that it is offered free! I love things that are free, and I love deconstructing shirts. I will report back after a few washings as to how well it held up and if the ribbons curled.
This content is the opinion of the submitting contributor and is not endorsed by EdenFantasys.com

Thank you for viewing
EdenFantasys t-shirt
– party costume review page!