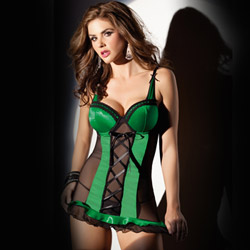 Enchanted forest open-back chemise
Chemise by Escante
Finally! Green is Sexy!
Green is sexy. And it's about time. The Enchanted Forest Chemise is a lovely addition to any girl's lingerie collection. It's flattering, nicely made, and is sure to please a partner.
Published:
Pros:
Green!
Pretty
Comfy
Cons:
Might not work for everyone
Alright, Mwar, what do we have here?
I'm pleased to present you with the Enchanted Forest Open-Back Chemise (referred to from now on as Chemise or Forest Chemise). Compared to other lingerie colors, I find green to be one of the rarest ones. Blacks, reds, whites, and pinks tend to dominate the lingerie world. While lingerie should make a lady feel sexy and be for her, it is important to note that green is one of the top favorite colors of men. Yes, it is true men, on average, find red as a more attractive color on women (it's a visceral reaction dating back to our caveman times), there should be more green, dammit!
Enough Science, Mwar, just tell me about the lingerie
Sorry. Okay. The Forest chemise defiantly has some detail going on, but I don't think it's overdone. When I got it, it came in a thin, plastic garment-shaped bag and was on a hangar. Here's a picture of it laying on top of the bag. You can see the pretty sheen the material gives off. It gives a shine, but not a cheap shine.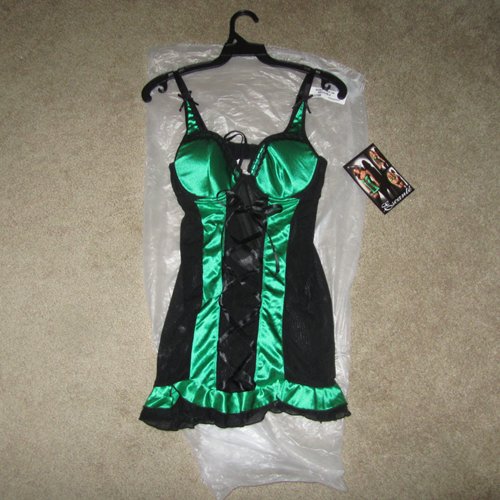 The straps start thin and widen a bit as they reach the bra cups and are accentuated with little black bows. It has underwire in the bra cups to better support the girls. The top of the bra cups have a nice framing of stitched lace that adds a feel of quality to the fabric. Going lower, you see both green and see-through, smokey mesh, side panels. It alternates between the mesh and green, with three mesh panels and 2 green. The center has a bow in the front with some black lacing. The lacing is nice because it shows some stomach, but also has a slimming effect.
Unless you're short, this chemise is meant to come up a bit and show some of your booty (and if you have my butt, most of it). I think it's cute. If you're looking for full booty coverage, this one isn't meant for you. The bottom of the chemise has a little black/green ruffle, which makes the ends stick out a bit (but in a good way). The back is also pretty cute. The top part is like a thin bra strap. The bottom is more smokey mesh and has more criss crossing lace by the butt. The back is very sheer, so unless you're wearing full coverage undies, your butt will be out.
Overall, the make on this is pretty good for the price. Because there is the mesh, it would be careful not to snag it with a broken, unkept nail or anything.
Got it. So how did this fit you, Mwar?
I LOVE this Chemise. I don't have much in my lingerie collection and have been meaning to add something. I'm more of a corset girl, but my guy like how this one looked so I gave it a shot. According to the size chart, a size medium is sizes 6-10, with a bra cup of B-C with hips at 32-34 inches and a waist at 28-30. I wear around a size 4-6, am a D cup, have 28" waist with latina hips. So I went with a size medium and picked right. The bra cups worked for me, and even though I have a bit of spillage, it's sexy, not sad or too much. The chemise goes on easily enough and I'm able to move around and enjoy sexy time with it on. Here's a picture with it on. I wore full coverage undies because while I'll show cleavage, I don't want to moon you guys. Here's a picture showing some of the details from the front.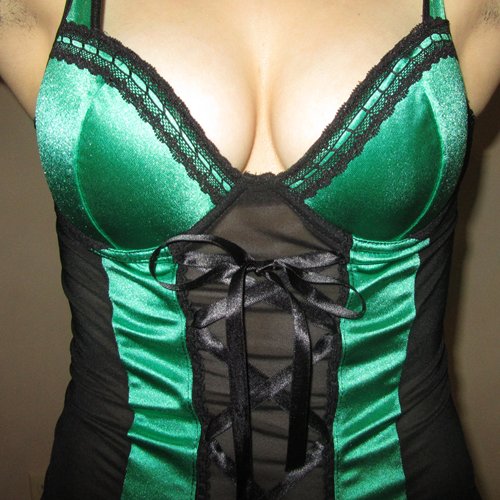 You can see here that my boobs are very present. The cups on the bra have a light padding, but it's an even padding (not push up style). I wish the cups were a little wider, but overall, it's nicely done. Oh, and the G-string fit allright, but I'm not a fan of them. I prefer a thong or nothing at all when rocking this one.
Here's a bigger front picture and a profile. I tried to take a picture of the back, but they didn't come out great. Just know that it is accurate to the product page picture, other than I think it rides higher on the butt.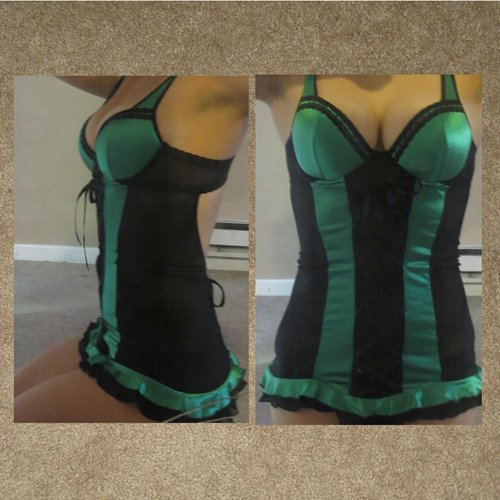 Experience
Nice! So give me the specs. How do I take care of this thing and care for it?

The forest chemise is made of approximately 90/10 nylon/elastic. It stretches to accommodate the figure but won't make you feel like a stuffed sausage. If you're self conscious of your tummy, the lacing and designs help smooth you out. However, since there are no details on the sides, it may not be the most flattering if you don't like how your sides look.

For washing, you can either hand wash or put in the wash. If you throw it in the washing machine, I would recommend washing it by itself or inside a pillow case. I personally wash my lingerie inside a pillowcase (only one piece per pillowcase) so it won't be damaged my anything directly. To dry, I hang it up in the laundry room. It's always best to let it dry away from sunlight so the colors don't bleach out (it is a lovely emerald/forest green)

Do you have anything else to share, Mwar?

The tag is annoying on this garment, so one you've read it, cut it off with scissors.

As I said, I don't own much lingerie and this is my second chemise. The main reason I chose this item was because it was green and it is my partner's favorite color. I got it as a surprise and had it on when he came home from work (but sans undies). He actually spent a solid minute admiring it and had me turn and model before he got to sexy time. Generally wants me to keep it on during sex because he likes how it looks (and has a thing for dresses). He was very happy with it, so I might look into the other products this line has.
This product was provided at a discounted price in exchange for an unbiased review. This review is in compliance with the FTC guidelines.

Thank you for viewing
Enchanted forest open-back chemise
review page!