Oddly, I Actually Feel Enchanted in This...
This stunning set by Escante fits great, actually offers breast support and will look hot on thin, curvy, tall or short people. It's design is gorgeous and this is one set that I am glad that I did not pass up. It is stretchy and forgiving too so if you gain a little weight that is okay since this set can accommodate that. Plus it is one of the sexiest sets I own! I love this and desperately wish that it came in other colors too!
Published:
Pros:
Great Quality
Comfortable
SEXY!
Sizing is correct
Adjustable, and did I mention sexy?
Cons:
Huge tag, but it can be cut out easily.
The Enchanted Forest Open-back Chemise is made by Escante lingerie. The first thing I must say about this is that it actually looks the same in person as it does on the product page, which in my experience is a rarity. With this I expected something less, something mediocre, and got a beautiful and flattering piece of lingerie instead. I also must say that this is totally hot! I love it! That being said I can now further discuss the finer points of this lovely set.
MATERIAL/QUALITY
This set is made from a 91% nylon/ 9% elastane blend or a 90% nylon/ 10% elastane blend. The tag actually says both of these things. Either way, the material itself is very soft, stretchy and surprisingly super comfortable. The green portion of this are a slightly shiny, with silky soft feel. The black portions are mesh and sheer. The only portion of this that are a different material is the ribbon that creates a "lacing up" design in the front and on the butt of this. I think the ribbons are satin or something like it. This is stretchy and breathable, and I already mentioned comfortable but I will say it again because it truly is, especially in this summer heat. This material will hug your curves but not in an unflattering way. I am pregnant which is starting to be noticeable and you can clearly see my little belly in the pics below. So if you are curvy I say go with this anyway because this is a set that will accentuate your curves and still be flattering, likely because of the design and material. Also because this will make your boobs look great.
BRA PORTION
Lets talk about how this will make your boobs look. One word, Awesome. This is lightly lined, just as lined as the cotton bras I have from Victoria's Secret are. This is great because it offers support and some shaping. Also this has underwire, sturdy straps that are adjustable and a double hook and eye closure on the back that has three sizes. It gives me a lift and a great shape and my boobs feel,... well contained. They don't flop out this this and if my tummy weren't so poochy at the moment I might even consider wearing this in public with a pair of jeans and heels as a top. It could definitely be pulled off. One last plus about the bra portion is that the bra band is stretchy and forgiving as well. It does not dig into my back fat but stretches over it rather so that I don't end up with love handle looking things on my back that I do have with other bras/lingerie sets. If I was rating the bra portion alone it would get 5+ stars.
CUP LINING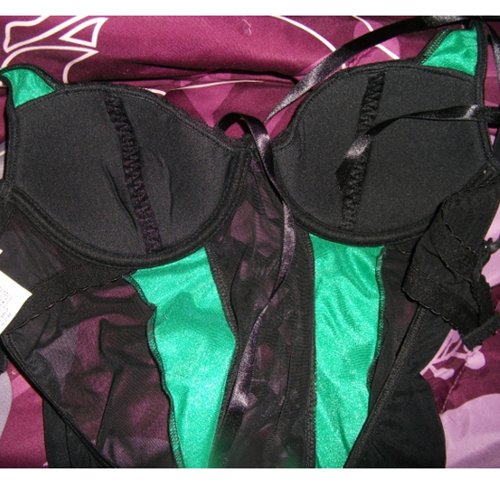 FIT/SIZING
Per
Escante's Size Chart
a size small will fit someone that is a size 2-6, 90-120 lbs, with a bust of 32-34, A-B cup, 24-26" waist and 30-32" hips. When I got this I fit right into this category except my hips are a bit wider and I wore a 34C. This fit me wonderfully. Now, when the pics were taken I might add, I weigh 123lbs., with a 36C a 28" waist and 35" hips, plus a little belly and it still fits me well. It does come up over my ass a bit as you can note in the pics and is a short chemise. I actually like that about this set though. And it probably is shorter on me now due to the growth of my belly and butt. It is stretchy and forgiving and will fit what the size chart says plus someone a bit bigger too. In this case I say if you are right in between sizes it's probably safe to go with the smaller one if you wish since it is stretchy and forgiving. Right on Escante for making this according to your size chart. A+
Experience
UNDERWEAR
The butt floss that come with this is plain black and just what I said, butt floss. It does come with a small cotton liner which is placed well and does serve it's purpose. These are also very comfortable for butt floss and these could be worn all day comfortable. I have done it and didn't even notice that I was wearing a g-string, which I feel is the point of a good g-string, to not even realize it's there. These are sheer and see through on the only portion where there is legit fabric, in the front.
DECENT CROTCH LINER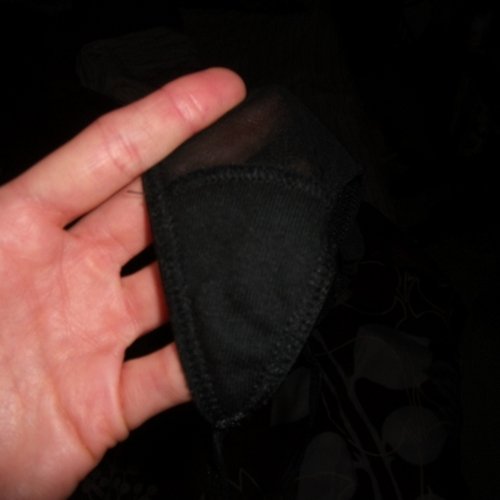 OVERALL QUALITY
This set is made very well, I noticed not one loose thread. The design of this is perfect and the way that it is cut will work for someone with a more boyish bod and probably add some curves, and if you are already curvy like I am this will accentuate those curves attractively. I was initially unsure about the green but I love green so I thought I would give this a try and I am glad that I did. This green is a shimmery emerald and not at all cheesy. I think this lingerie set is gorgeous and it is worth every penny. I wish this came in other colors too!
CARE
This should be hand washed with gentle detergent or
lingerie wash
, and hung to dry. No dry cleaning, please don't wash this in a machine even in a lingerie bag on the gentle cycle. It may work, but I won't risk it since what would probably get wrecked is the lace up ribbon and that would be a terrible shame. I store mine in a bin for lingerie I keep in my closet. This won't wrinkle at all. It could be hung but it doesn't necessarily need to be.
HOW IT LOOKS ON ME - TOP FRONT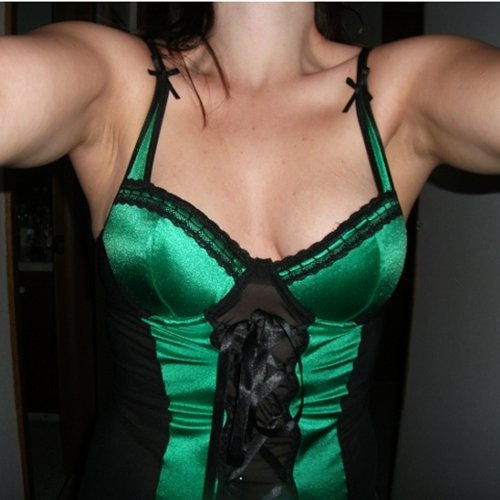 BOTTOM HEM IN THE FRONT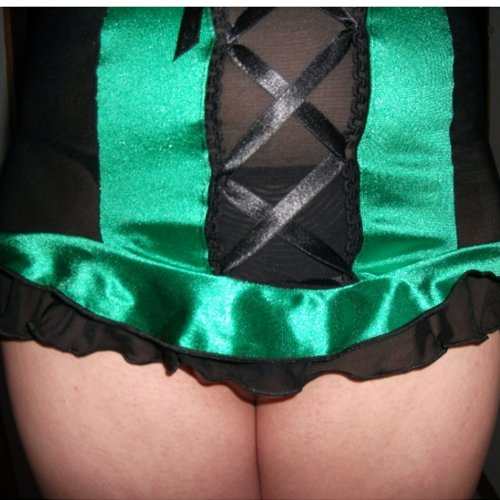 LENGTH IN BACK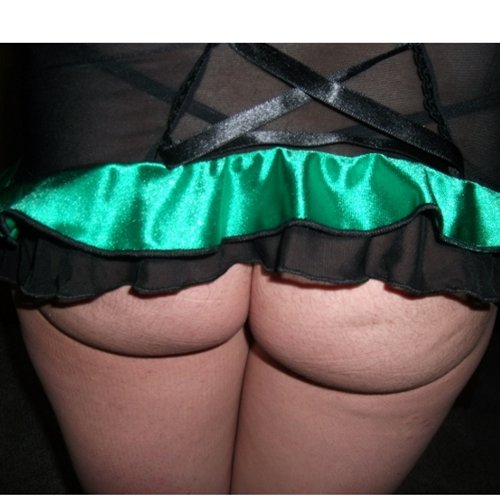 PROFILE - ACCOMMODATES MY GROWING BELLY FOR NOW ANYWAY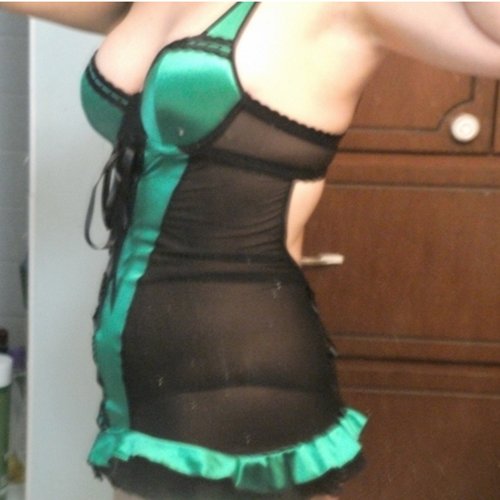 I TRIED TO GET AS MUCH OF THE BACK AS POSSIBLE (THE OPEN BACK IS REALLY SEXY!)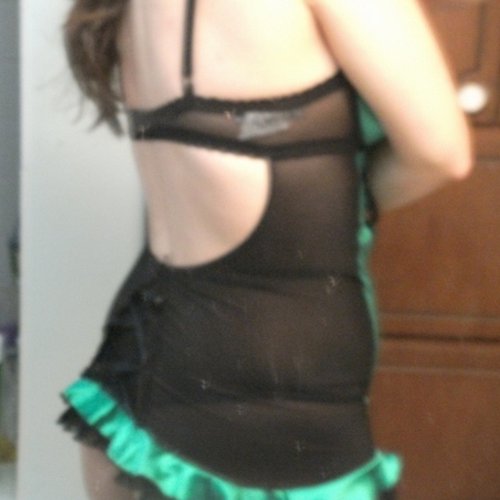 This product was provided free of charge to the reviewer. This review is in compliance with the FTC guidelines.

Thank you for viewing
Enchanted forest open-back chemise
review page!