Functional and Comfortable, but Not the Most Flattering
All in all, this is a decent bra that sells for a pretty unbeatable price. The fit could be better, so it's not the solution to all my strapless problems, but it's better than most bras—and since I've yet to find a convertible bra I really, truly love, that's saying a lot.
Published:
Pros:
Inexpensive, comfortable, stays in place, pretty good quality
Cons:
Slight imperfections in padding, style may not fit smaller busts very well
My past experiences with strapless/convertible bras have not been particularly good, so I didn't expect much from this one. Add to that the fact that it doesn't come in my usual size (34A), and I was suspicious. On the whole, however, I am satisfied with my purchase and would recommend this bra to others. It has its problems and can't be worn with all clothing, but for an $11 bra, it's pretty good.
I bought this garment impulsively when it dawned on me that my black Victoria's Secret 7-way bra could in no way be discreetly worn beneath my current dress of choice—an off-white, semi-sheer dress with a halter-style neck. Although Baci's bra didn't come in my normal size, my cheapness was ultimately stronger than my desire for well-fitted clothing, and I decided to gamble on a larger cup size (34B).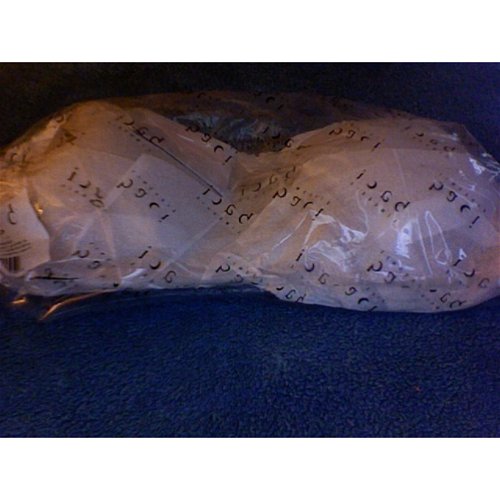 The packaging of this bra was nice, but nothing worth raving about. It arrived wrapped in white tissue paper, which was in turn wrapped in clear plastic with "baci" written all over it. Attached to the bra was a tag illustrating some of the ways that it can be worn (strapless, halter, crisscrossed in the back, and, of course, as a regular bra). The bra has an underwire, light padding, and rubber strips on either side that ensure it provides support and stays in place when worn without straps. The closure is the rather standard hook and eye style (with two hooks) that gives you three options for band size. Baci's convertible bra is 90% polyester and 10% spandex and is machine-washable; although the tag says it should be washed by hand, I have experienced no problems running it through the washing machine on the "delicate" cycle. I would, however, recommend that you let it air-dry, since putting it in the dryer could cause it to lose its shape.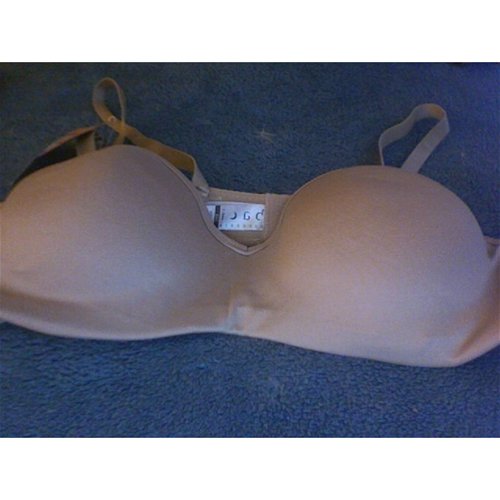 I was also impressed by the quality of this bra. Considering the price, I had expected a cheaply-made but functional garment. The workmanship was much better than I anticipated—sturdy-looking seams, no loose threads, etc. My one complaint is that the cups are not entirely smooth and uniform; if you look closely, you can see some grooves/dents in the padding. Fortunately, these slight imperfections weren't noticeable under clothes. Besides, I've had similar problems with the padding of bras that cost two or three times as much.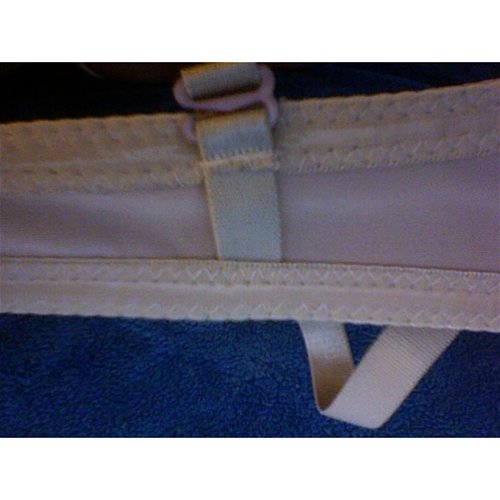 Stitching on inside of band
Experience
I got lucky with the size; as other reviewers have noted, Baci's lingerie seems to run a little small, so the cups are only a tiny bit bigger than I'm used to. The band size, moreover, is spot-on; although I've worn a 32B bra in the past, it has always been an uncomfortable experience—I can manage it using the loosest closure, but it feels like the band is digging into my ribs. Since strapless bras feel more constricting to me anyway, I went with the 34" band and it paid off; as strapless bras go, Baci's is second in comfort only to my 7-way—not bad, when you consider the latter is about five times as expensive. It performed admirably as a strapless bra when put to the ultimate test—a night dancing at a club—and stayed in place without digging into my skin or chafing.

Unfortunately, the right size does not always guarantee a good fit, and that's been my experience with this bra. The main problem, for me at least, is the design of the cups. To be fair, I don't like or need cups that provide a lot of coverage; I pretty much only wear demi or balconette-style bras, because I find them more comfortable and more natural-looking. The cups on this bra provide much more coverage; their shape is almost circular.

I suspect that this style would be less of a problem to more amply-endowed women. For me, however, the cut does two things, neither of which is particularly desirable. First of all, the unusually wide (from top to bottom, that is) band between the cups eliminates what little cleavage I have—annoying, but not unforgivable, since I expected this bra to be more functional than sexy. More problematic is the way the bra disrupts the natural lines of my chest. I'm not used to wearing cups so full that they actually curve in a bit at the top; most of mine stop somewhere around the fullest part of my bust. In any case, the cups—though not uncomfortable—sort of dig into the area of my chest below my armpits, which simultaneously pushes my breasts down and creates a kind of bulge just above them. This is a problem I have encountered with several other strapless bras, and I haven't found any solution except to avoid wearing them with form-fitting clothing. On a related note, I find that I cannot wear anything particularly low-cut with this bra, since the cups and the band between them sit so high on my chest.

Still, I can wear the bra with looser clothing—including the dress I originally had in mind when I purchased it—and it's serviceable. I was pleasantly surprised at the color of this bra, which is closer to my natural skin tone than I expected it to be; the unfortunate "one-color-fits-all" mindset of lingerie makers usually results in a "nude" shade much tanner than my normal color. This bra, on the other hand, truly does blend into my skin when worn underneath light-colored clothing. Bear in mind, though, that this means that Baci's "nude" bra will only approximate the complexion of those with fairly pale skin, so if your skin tone falls anywhere between this and the rich shade of brown that Baci also offers, you're out of luck.
Follow-up commentary
2 months after original review
I'm still not super enthusiastic about this bra, but I do wear it (though not under tight clothing), and it's useful. The thing I actually find most irritating is how high-cut the bra is; I'm most likely to need a strapless bra if I'm going out to a club or someplace similar - in other words, somewhere where I'm also likely to be wearing a low-cut top - so the fact that I often can't wear this bra under those circumstances is frustrating. I do think, however, that the bra would sit lower on women with larger busts, so I'm sure many women would find it a great piece to have.
This content is the opinion of the submitting contributor and is not endorsed by EdenFantasys.com

Thank you for viewing
Nude four-way convertible bra
review page!