No-way convertible bra (34DD)
Don't get your hopes up on this polyester dud. While it holds up well enough as a strapless bra, it is uncomfortable, itchy and digs in. The cups size is smaller and the band size is larger so order up a size, if at all. Unfortunately, the quality reflects the price of this bra. If I can find someone to take it off my hands, that'll at least save it from the trash.
Published:
Pros:
Stays up,
Invisible underwire,
Price
Cons:
Small size,
Poor fit,
Uncomfortable material,
Bad quality
Every woman should have a good convertible bra. Unfortunately, this isn't it. It does have some good qualities but they're few and far between.
There are four predetermined ways to wear this bra. Other strap combinations can also be made to suit other styles. The straps can be worn over the shoulders, crossed in the back, as a halter, or without straps as a strapless. Conversely, a single strap can be worn over one shoulder, or cross the straps in the front. This bra will suit any style but backless or low-cut necklines.
The bra arrives in a clear plastic bag with Baci printed all over it. Inside the bag, the bra is wrapped in white tissue paper. There are balled up pieces of tissue paper under each cup. These are intended to maintain the shape of the cups during transit but fail to do so. The cups already had several creases and wrinkles that we all know are impossible to smooth out. They weren't so deep to make the cups look odd or misshapen but they do take away from the look of the bra.
Material/Design
The tag reads 90% polyester and 10% spandex. The material feels especially cheap.
The bra is designed to look like a bandeau while providing hidden underwire support. Although the bandeau style is nice, this limits the versatility of the bra. The middle section between the cups is about 3 inches tall. While some low cut tops will still work with this, the bra will show under deeper plunging neck lines.
The bra cups are lightly lined. After standing in front of the A/C until I was good and frozen, I did a nip-check. My nipples were visible through the bra and my tee-shirt.
To aid in support when being worn as a strapless there are rubber strips that run along the top and bottom edges of the back band. Flimsy shaper rods are sewn into either side of the bra. These are meant for shaping and added support.
The front portion of the band, up to the shaper rods is lightly padded. This padding is not heavy or thick by any means. On the other hand, the back band past the shapers is an extremely thin, almost see through material.
The back fastens with hook and eye closure. It has two hooks on the right side and three rows of two eyes on the left side. With half an inch between each row of eyes, this allows the fit to be adjusted more easily.
The shoulder straps hook in easily without any fuss. A loop is sewn into the inner edge of each cup and another loop is found in each side of the back band. The straps stay in their loops well, no matter the style being worn. They do not slip out when wearing the bra either.
Quality/Craftsmanship
Prepare to be unimpressed. The quality is severely lacking on this one. From loose threads to puckers in the fabric, the price is most definitely reflected in the craftsmanship.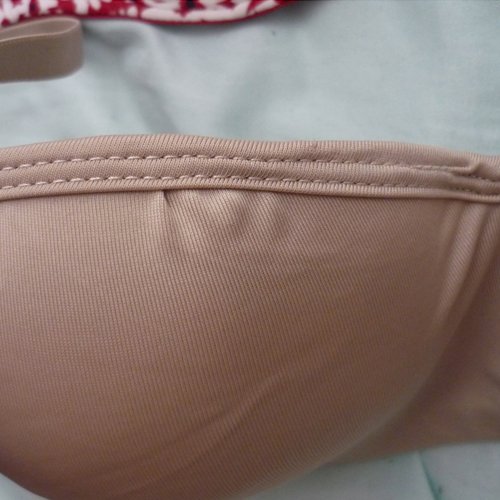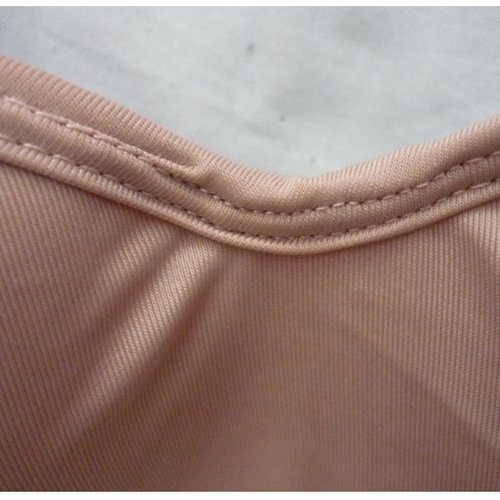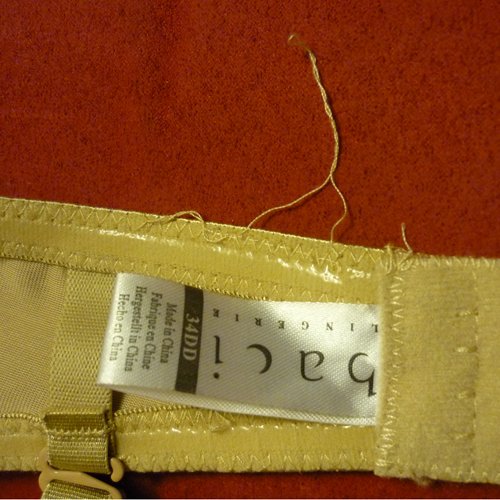 Although the puckers and threads do not detract from wear and how it looks under clothing, the lifetime of the bra may be shorter than others of higher quality.
There are several uneven seams. For example, one of the shaper rods is about 1/4" further away from the cups than the other. This is pictured below.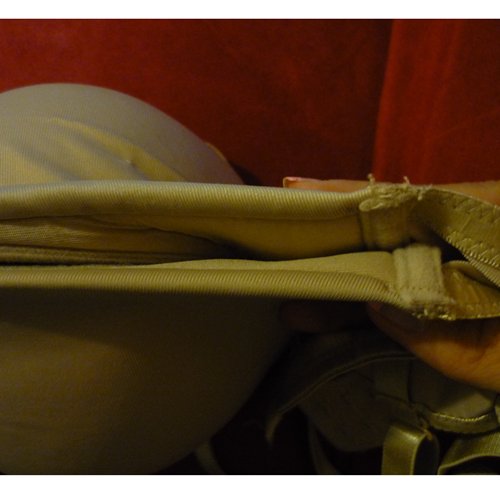 Just under the left cup, there is more fabric than there is under the right. This is demonstrated below.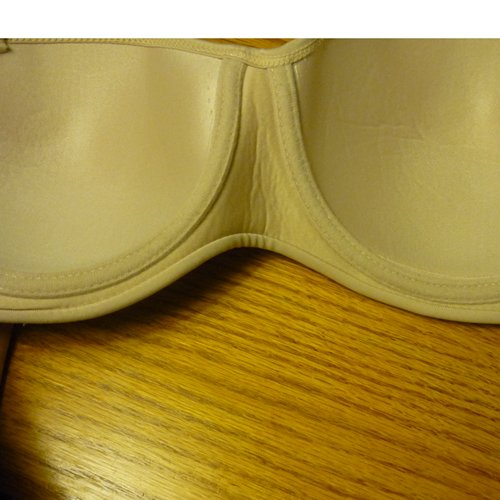 Bras eventually stretch out; there is no getting around that. However, the fabric of the band is exceedingly thin. Evidently, this will not do well in the long run.
The fabric that lays over the entire front, covering the cups is loose and can bunch up under clothing. This leads to lines that show and might attract sideways glances at the girls.
The seams along the inner edges of the cups are quite bothersome. It relentlessly itches and rubs everything the wrong way.
Sizing/Fit/Comfort
This bra can be purchased in black, brown, white or nude. It is available in the following sizes: 32A, 32B, 34B, 36B, 38B, 32C, 34C, 36C, 38C, 34D, 36D, 38D, 34DD, 36DD, 38DD.
Oddly, there is only one A cup size offered and the D and DD cups are not available in 32 as the rest are.
Being fairly petite, under my bust measures 26". As such, I would be more comfortable in a 32 but that would put my size at a 32E. This is not a readily available size. However, I wear a pretty solid 34DD, as every bra I own and love is that size. When I ordered this bra, I had not anticipated in not fitting me.
Experience
...Continued.
It's pictured below with a 34DD from La Vie en Rose.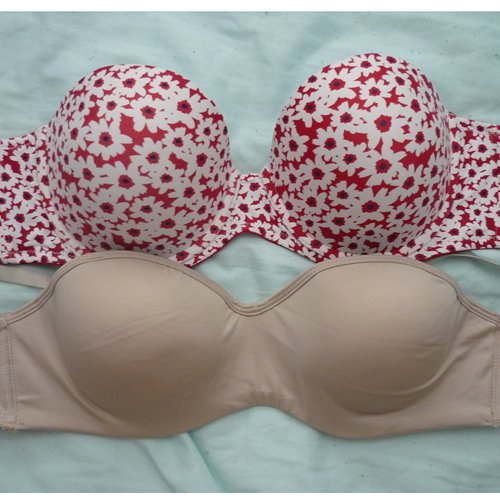 The bra is 27" total. From wire to wire, the cups are roughly 5.5" wide. They are about 6.5" high from top to bottom. The wires separate the breasts and keeps you from achieving sexy cleavage.
I can get away with wearing it if I strategically place my breasts in the cups. Otherwise, I spill over in an incredibly unflattering manner. See for yourselves.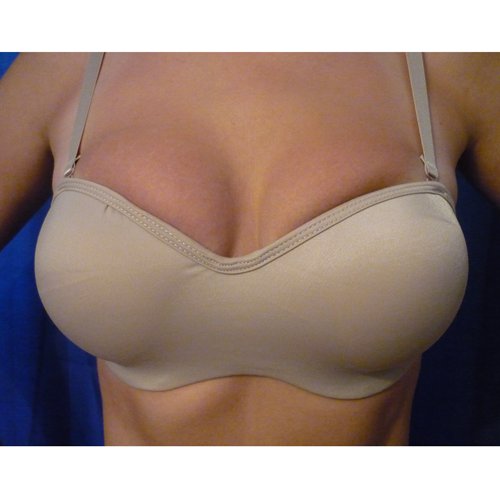 This is the most uncomfortable bra I own. It may only be a cup size too small but it feels even smaller than that to me. The rough, itchy fabric and seams are just awful.
The back doesn't ride up and the rubber lining the top and bottom functions well to hold it up. The band could stand to be a little tighter yet the side shapers rest uncomfortably against me. The middle doesn't lay flat against my sternum as it should. This may be due to the cups being too small for me and the band being a little big.
Proper bra fitting is important for comfort, support and visual appeal, but also for health reasons. If it is too tight, it can restrict the flow of lymph fluids leading to lymphedema.
Remember that when going up a cup size, you'll need to go down a band size. Based on my experience, this would be a good idea when selecting your own size for this bra. Unfortunately, going up a size is not an option for me as the next size up is not available.
The straps stay up well and don't dig in. They are adjustable up to 17" unstretched. I'd give them a maximum stretch capacity of 25" so this should accommodate most women.
Care and Maintenance
This bra should be hand washed and hung up or laid flat to dry. Machine washing and drying will deform the cups. The tag also states not to use bleach on it.
It can be placed in a drawer for safe keeping. Be careful not to fold the cups as this may also cause them to deform. Take the same care when travelling with it as well.
Experience
I ordered this bra hoping to find a strapless bra that would work under a new shirt I had just bought. Sadly, this bra failed miserably and my search goes on.
In a last ditch effort to make it work, I tried it with just about every top and dress in my wardrobe. I only found a couple tops that looked decent enough that I wouldn't be embarrassed to be caught wearing in a car accident. Among them was a halter top, some looser fitting tee-shirts and one strapless dress.
Though it feels like it won't, it does stay in place when worn as a strapless. I have worn it an entire day as a strapless without having to adjust it too much. I was, however, fully aware of it all day long. It did not feel secure and made me feel insecure.
My sister may have better luck with the fit of this bra than I did so I'll be passing it along to her next time I see her.
This content is the opinion of the submitting contributor and is not endorsed by EdenFantasys.com

Thank you for viewing
Nude four-way convertible bra
review page!