I Am Honeycomb SEXY! (1X)
The fetish honeycomb bustier from Escante is a well made piece of lingerie. I feel sexy in it and it fits really well. The size chart for Escante is off, so order your usual size. The material is stretchy and the straps are adjustable to the bustier for a better fit. Included with the bustier is a thong and stockings that are sized to your bustier size. Overall this is a great buy.
Published:
Pros:
Sexy, fits well, adjustable and stretchy, includes stockings and thong, and well made.
Cons:
Size chart off and hand washing for some.
Function
The Fetish honeycomb bustier set has a hardcore look to it. This is an ideal set for those who like BDSM/Fetish/Dominant play. The set is not something that would go over well in public, but it is a nice addition to anyone's lingerie collection. The only appropriate setting for this set would be an all adult event. You might be able to pair the bustier with something underneath to make it more appropriate for public use, but I just don't think that would look right.
Material and Care
There are three types of material that make up this set. The first is a wet look material that is made of 100% polyester coated in polyurethane. This material is stretchy with a slick feeling to it. It does not appear to be cheap, so I do think cracking will be an issue. The second material is the net look for the honeycomb design. This is made of 94% nylon and 6% spandex. This material is really stretchy, but thin like usual nylon. It is not itchy like some nylons. The final material is 100% nylon which is what the stocking are made of. This is like any other nylon that is stretchy, soft, and non itchy. They will snag and rip over time, but they are comfortable. These materials are exclusive of the decoration. There are a few elastic bands, plastic adjustors, a metal O ring, and metal clips that also make up this set. Everything should be hand washed in cold water separately. You should not wring or twist any of these pieces and then line dry. You can iron on low if needed. (There is also instructions in Spanish.) I like to use my
Dona Lingerie Wash
for regular cleanings. The set holds up well to regular cleanings.
Design
The
bustier
starts with straps that meet together in the back about mid shoulder blade area. They are brought together by a single metal O ring. This metal O ring also has to adjustable straps (via plastic pieces) that is attached to the back of the bustier. It is attached to an elastic band that wraps around the straps and around the cups. The tag is found stitched to the back at this elastic band too. The shoulder straps and the cups are the wet look material. They shoulder straps start at the metal O ring and continue down to the cups. These cups start at the seam on the side and are split in the middle of the front. They can be brought together using a hook that is similar the hook on removable bra straps. These cups have a stitched seam in the middle of them that can give a pointed breast appearance. Under the cups is stitched to the honeycomb net material. This honey comb material is broken into three sections that are broken up by seams. There is a front right panel, back panel, and a left panel. Th left and right panels can be brought together using the 12 metal hooks and loops. The right side has the loops and the left side has the hooks. These are attached to the same material as the honeycomb design, but without the honeycomb pattern. There is a seam on both the right and left panels that starts at the cups and continues down to the final material variation. The final material to end this bustier is The wet look material. There are seams that mark to original three panels. This is the same material as the cups. The wet look material is finished off with an elastic band that has four elastic band loops stitched on it. These are for the removable garter belt straps. The garter belt straps are adjustbable with plastic pieces. They can be attached to your stocking using the piece piece with the rubber back. There is a silky ribbon stitched to hide these clips.
The
thong
is made of the wet look material. This is the same material that is found on the bustier. The thong is a large triangle front that has an attached panty liner. There is an elastic band stitched from side to side for the waist band. Then there is an elastic band stitched from the bottom of the panty liner and looped around the waist band. Since this is looped, the floss can be adjusted side to side. There was and extremely large tag attached to the waist band. This will need to be removed, as it is itchy and large.
The
stockings
are thigh high length. There is no unique pattern to them. The top does have a folded over layer to give them a darker black look. And the toes has the same thing going on with and seam for toe placement.
Experience
Quality
All the stitching on the bustier is really nice. The metal loops are very well put in. I don't even think I could pull one out. There is a minimal amount of fraying. The thong is not the greatest quality, but that is replaceable. The stockings are really nice. I am basing the quality on the bustier alone because thongs and stocking are easy to replace. If you have to replace the bustier than that is not a quality product. I am very happy with my purchase from Escante.
Sizing
According to Escante the 1X should fit those who are dress size 16-18, D cup, 40-44" bust, 44-48" waist, and 50-54" hips. Well, I have to call bull shit on that. The Escante Size chart is inaccurate at least for this size.
Measurements of the Garments Laid Flat
Bustier
Bottom of Cups- 9"
Height of Cups- 7.5"
Bust- 16"- 24"
Waist- 17"- 26"
Hips- 20"- 27"
Mid breast to bottom- 18.5"
Back Adjustable Straps- 5"- 9"
Garter Belt Strap Adjust-ability- 5"- 9"
Thong
Waist Band- 17.5"- 33.5"
Floss- 19" (top of back to top of front)
Triangle- 8" wide and 9.5" tall with a 3.5" long panty linger
Stockings
Top Thigh- 6"- 13.5"
Length- 24"- 35"
Personal Fitting
My Sizes
Dress- 13/14 (XL or 1X)
Bust- 40"
Cups- DDD
Waist- 35"
Hips- 40-42"
Thighs- 21" (around)
Height- 5ft 3in
Weight- 160-170lbs
I am very pleased with the fitting. I feel sexy in this set and it was a well worth it purchase for me. My partner also really liked it. The only issue I had was my breast would fall out if I bent over, but my breast are a little too big for this piece. A DD or smaller would fit better than my DDD's. The piece is a tight fit on me, but it is not so tight I can't move. The material is meant to be clingy on anyone who wears it. The stockings do not stay up without the garter belt. They come in plus size when you order plus size pieces, which I needed. I did not need to adjust the straps on the back of the bustier, but they would come in handy for those with a stockier build. I found my thong to be too big for me, but that is fine, I don't wear them most of the time anyhow. The thong comes in the same size as the bustier. I am smaller on the bottom than top.
Overall ★★★★★
I am giving this set 5 stars overall. It is really great quality and it fits nicely. I feel sexy in it and my partner thinks so too. The price is reasonable for what you get as well.
Photos
Front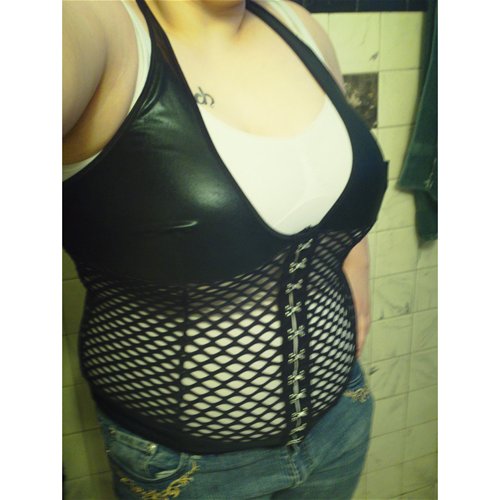 Side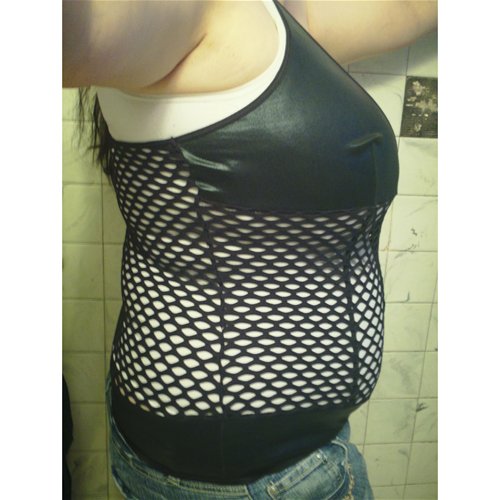 Loops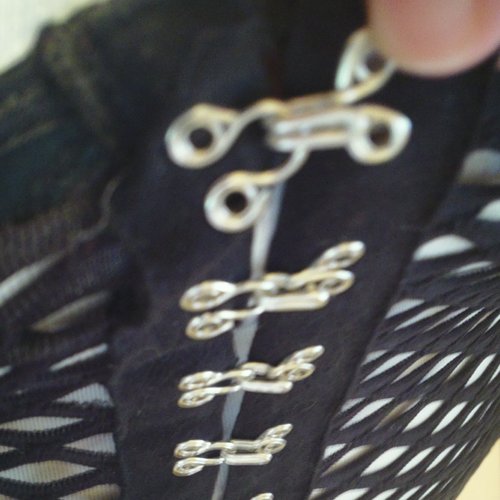 Stockings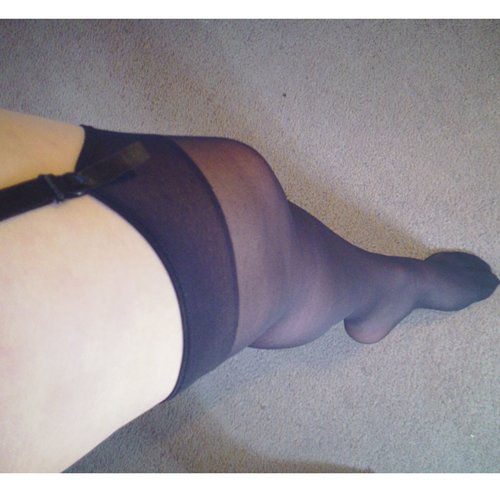 Toes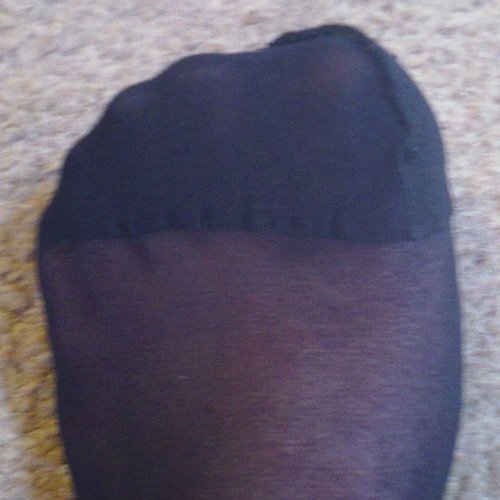 Thong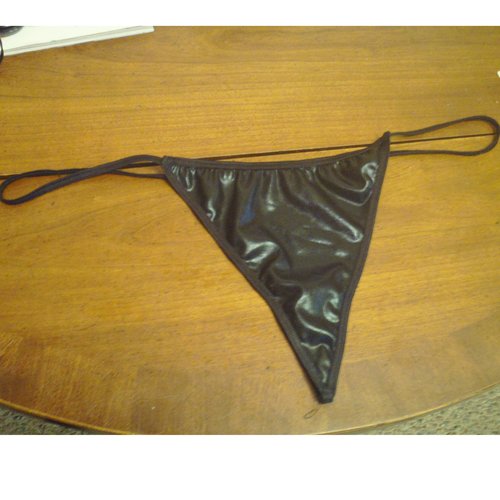 Follow-up commentary
9 months after original review
I wish I could rate this "I still love it!" This is one of the pieces I wear most often. My only issue is with the cups. They don't fit me properly, but I can wrestle my ladies in there. There has been no damage to this piece what so ever. It's a fabulous by! I highly recommend it.
This content is the opinion of the submitting contributor and is not endorsed by EdenFantasys.com

Thank you for viewing
Fetish honeycomb bustier set
review page!