Oceanside bustier and g-string
Bustier by Coquette
I Love It!!! But....
Despite the minor comfort and quality flaws I found in this piece, I am in love with it. It's the type of set that makes you FEEL sexy with it's bright Spring colors and flirty attention to detail. I don't regret the purchase even with the flaws. My man loves it, I love it, and the design is capable of flattering lot's of body types. An easy 4 stars for this beautiful, feminine set.
Published:
Pros:
+ Flattering
+ Flirty
+ Bright Colors
Cons:
- Not great construction for wear-ability [i.e.- Plastic boning has tendency to bust through fabric]
First Look
Oh my goodness is the Oceanside Bustier and G-string pretty! You take it out of the package (simple plastic, sealed at one end), and the color just screams Spring/Summer love fest. I was instantly in love! There is no hanger included, and the bustier will have two tags. One with a picture of the model, and the other stating that Coquette's newest line is supporting the TaTa's foundation, fighting breast cancer! How awesome is that! I couldn't wait to get this piece on, I knew it would look awesome with my blue-green eyes and blonde hair!
Details
I think it is the pretty, feminine details that really sold me on this set. The pictures do not do this set justice at all. Below you can find some close ups of the 18 hook closure, the lace, and the ruffles so you can get a better idea.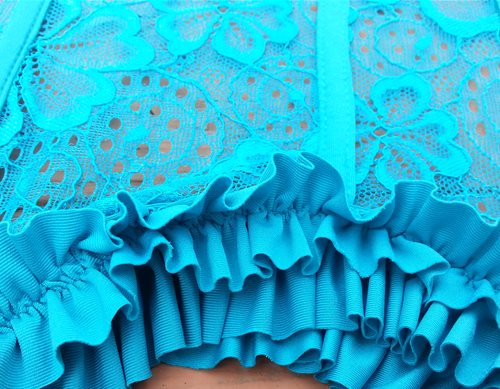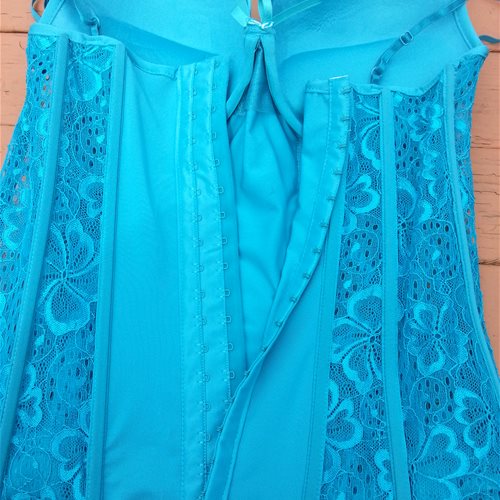 Sizing and Fit
Ordering Lingerie online is a worry for most of us. You never know if it is going to fit the way you like. Keep in mind Eden has a pretty generous 60 day return policy if this piece doesn't flatter you the way you want. But let's take a deeper look in to how THIS piece will fit.
My Sizes/Measurements
Bra: 36C (but I almost always order 38C because I am between sizes)
Panties: Medium at Victoria Secret (although, again, I am between sizes, and sometimes I go Large)
Height: 5'8
Hips: 40"
Waist: 31"
SIZE ORDERED: L
Coquette Size Chart

How It Fit
For me, an average C cup, there was a little bit too much boob room in the cups. However, a large C breast would fill out the cups on this piece very nicely. The design is slimming, but I am glad I went with the large over the medium. Reviewing the size chart, my measurements put me close to in-between sizes. If you fall in-between, order up, not down for a better fit. It may not support your breasts as well, but the rest of the piece will be more flattering. This is also a bustier that gives you some coverage! All girls hate when the piece stops before covering their "problem area" in the tummy region, and this piece doesn't have that problem. I am pretty tall at 5'8, and it was nice to order a piece that fit my body more of the way I like it to. The g-string also fit decently, and it is fairly comfortable.
Experience
Continued...
Material and Care
The Bustier is made out of a 90% nylon and 10% spandex material. It is accented with Lace and Microfiber materials. There is an 18 hook closure on the back. The G-sting has a satin like feel to it, and it is not itch nor uncomfortable. It is not lined. It's very stretchy, mostly spandex material. It's sheer in color and the tag is visible through the front, so you might wanna cut it off!
As far as care goes, like most of your lingerie, the Bustier will need to be hand-washed to prolong it's life. Very gentle detergent and mild water temperature are ideal for cleaning. However, my G- String has survived the washing machine =)
Quality
And here in lies the reasons the Oceanside Bustier set gets only 4 stars from me. The very first time I put this piece on and moved around in it(had to have a little self photo session to send my man!), one of the pieces of plastic boning busted through the material. Now, I could sew it back in, but it still looked okay without it, so I didn't bother. The first time I wore the piece during sex, another piece of the boning came out. If this piece fit me too tightly, I might understand the busting out of the plastic boning a little better, but it's not like my body is busting at of the bustier. I simply can't be moving around a lot if I want the piece of boning to stay in place. My solution? I've removed the plastic boning. It wasn't worth the fuss, and I still adore the piece.
The other downfall? The under-wire of the cups isn't exactly the most comfortable I have ever felt. I have a feeling if I am rough on it (and well, quite frankly...we have the tendency to be a little rough on my lingerie), the under-wire might bust through the fabric as well.
Yet, despite these minor flaws in comfort and quality, the rest of the piece is VERY well put together. The lace is strong, the ruffles gorgeous, and the fabric and hook closure are high quality. Not to mention it is one of the more flattering and sexy pieces in my collection. The flaws are overcome by how sexy I feel when I slide in to this piece!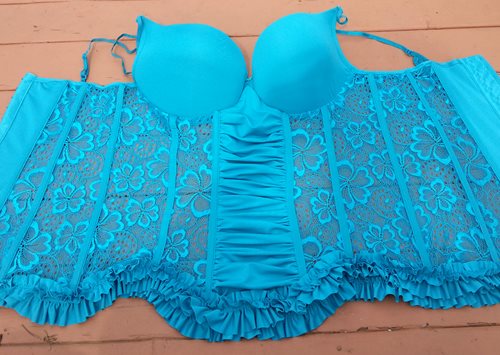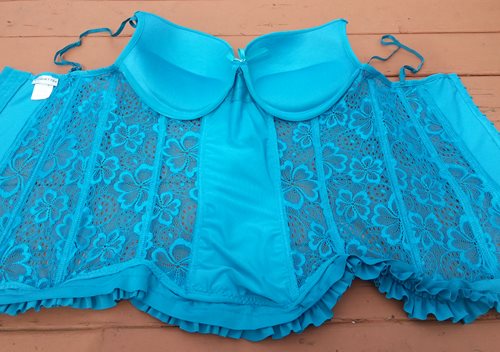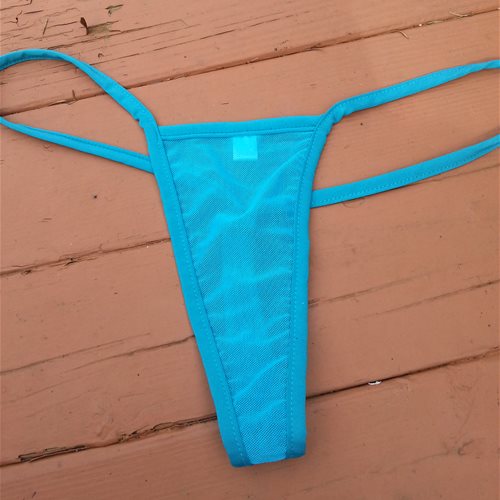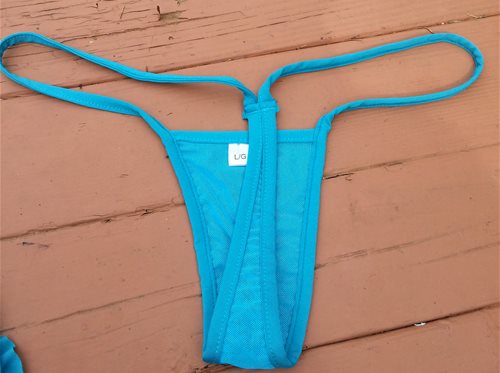 His Opinion
Even with the flaws in quality, as listed above, his exact words "Um...Babe? You think you could maybe where that again tomorrow?" Haha, he loved it. The bright color, the flirty and feminine details, and the flattering look of the piece won him over. He rates it a 9.5/10 on the hotness scale.
How I Rocked It!
Now, the best way to make a piece special is accessorize! I paired mine with a black and blue garter set I own, and some sexy black pumps. Check it out =) This could also be darling with white or nude stockings/fishnets/ect. and a little jewelry can make it classy ;)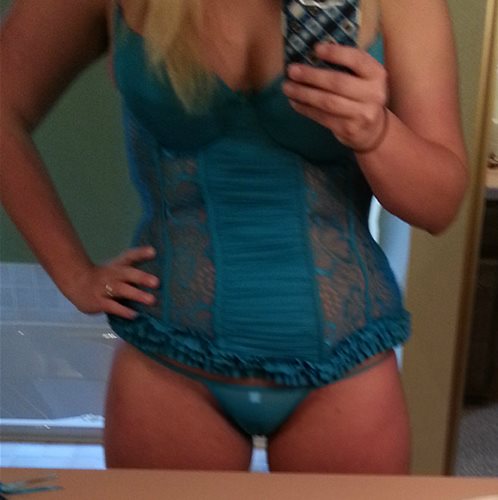 Final Notes
I know guys, I failed to include all the exact measurements of the piece...woops! But, my measuring tape is missing! Soooo, maybe I can get those added at a later time! Happy shopping =D
This product was provided free of charge to the reviewer. This review is in compliance with the FTC guidelines.

Thank you for viewing
Oceanside bustier and g-string
review page!