-Ocean Bliss-
My overall opinion of the set is that it's a beautiful. The color, and ruched middle panel is what stands out the most. The ruching makes the tummy look slimmer. This is great for camouflaging those problem areas. The ruffles on the Bustier give it a feminine look, which many women love.
Published:
Pros:
-Gorgeous teal color.
-Comfortable.
-Sexy
Cons:
-Cups are very close together.
The Oceanside bustier and G-string set by Coquette in 1X/2X arrived in a clear packaging/bag that was sealed at one end. There are 2 tags that were pinned to the bustier. The first tag shows a model wearing the bustier. It also states the size, material, and other helpful information. The second tag has some information about how Coquette now helps with proceeds for breast cancer. Buying Coquette's newest line of lingerie helps with out the save the Ta-Ta's foundation. Just by doing this, it makes me support Coquette even more than I already do now.
There was no hanger included with my set.
-Bustier Details-
The bustier is a teal color. It's also accented with a darker teal lace. It's very feminine, and it accentuates some of our best accents, our breasts! Whether they are real or natural, this piece should make your breasts look wonderful.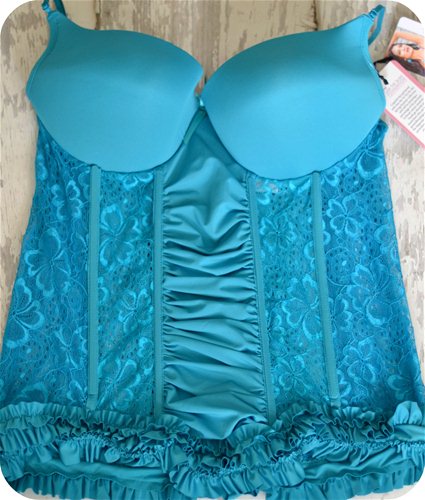 The bustier can be worn during sex, and it can be worn with or without the G-string. The bustier and G-string are both teal in color; but the lace is a little darker than the other fabric. Check out my bottom photo for a better view. There is extra thick padding in the bottom of the cups. It feels almost like it's close to 1" thick. The padding gives great amounts of cleavage. The padding works well for any size breasts. It's also only on the bottom 4" of the cups. The padding is oval shaped. The underwires are metal, and thin; they hold up my DDD breasts well. The inside of the cups aren't itchy, or irritating. They are teal inside. There is a teal satin bow in between the cups. The bow was made with 1/4" satin ribbon. It's about 1 1/2" wide.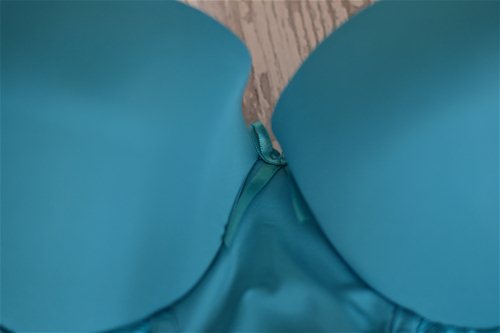 In the front of the bustier, there is an opaque spandex panel that runs down the front of the bustier. This area is 14" long. The rest of the material on the front is a stretchy lace. This lace has the patterns of large flowers. This material is sheer. My skin shows under this lace. Holding in the lace together is 10 boning pieces. The boning are all plastic, and flexible. They are all different lengths. They range from 11" to 13". On the full bottom of the bustier, there are 3 layers of ruffles. Each layer is almost 1" wide. These ruffles go all the way around to the back.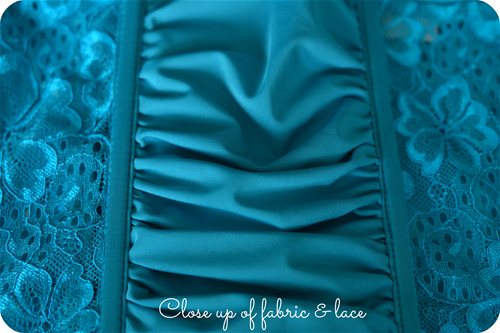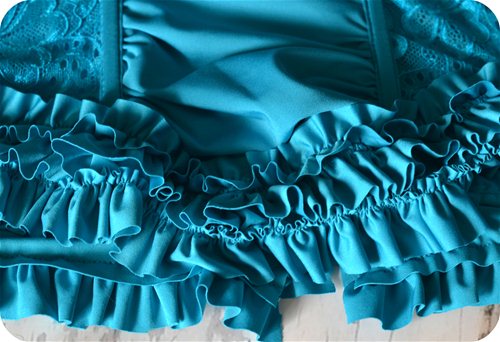 On the back of the bustier, it closes with a hook and eye system. On each side of the system , there is an area of spandex that is 2 1/2" wide. This gives a little more stretch to the bustier. There are 18 hooks on the back, and two rows of 18 eyes. Each hook and eye is 1/2" apart from the other.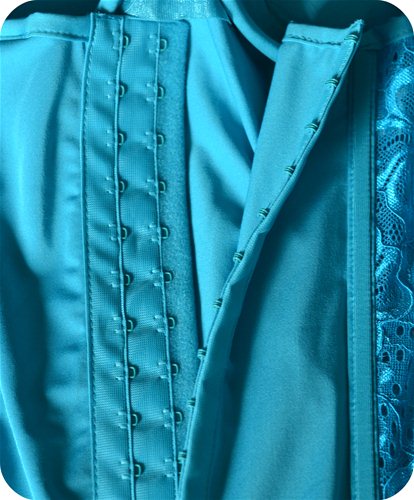 The shoulder straps are the adjustable kind, and they are not removable. They are sewn in well. I do like the adjustable straps better than the halter style straps on the new pieces from Coquette. These hold up better, in my opinion. They also don't hurt my neck, like the halter style does. Even with the straps being thin, at 1/4" wide. They didn't dig into my shoulders. The straps are made of an shiny elastic, and they are stretchy. The adjustable hardware is made of metal.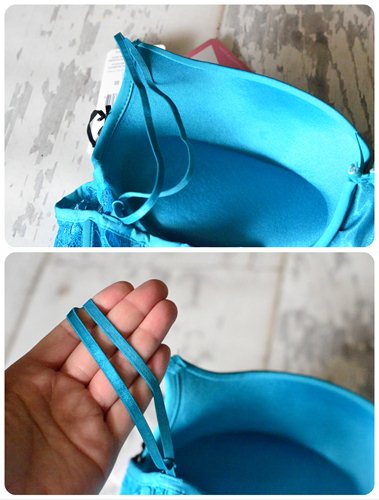 I have size DDD/F cups, and you can see from my photos that my breasts are spilling out. These would fit D-DD the best, or a large C cup. I don't see how anything larger would fit in there, with my breasts barely fitting in. I didn't like my breasts falling out, but my partner said it looked great.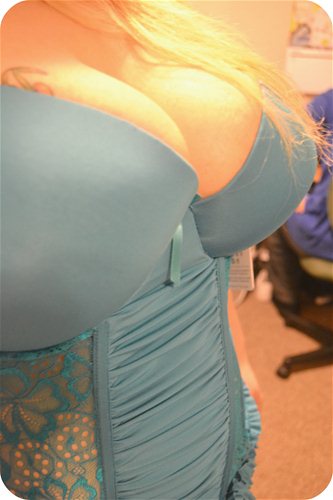 The G-string is made from 2 types of materials. The first material is a mesh fabric. This isn't on the bustier anywhere, but it's similar to the color. The mesh is actually soft and thin. It's not itchy, and doesn't irritate my skin, even after a fresh shave. The trim is made from the same spandex material that is on the bustier. The trim is almost 3/8 wide. The G-string is more of the V-style cut in the back. This actually looks sexier than the T-style G-strings.
This kind of cut is actually more comfortable than any other kind, in my opinion. There is no cotton crotch lining. I would have liked to see that included. The material used is light and airy, so it would be alright to wear for moderate lengths of time.
There is a tag in the front of the G-string. It's 1/2" wide and it has the size on it. It feels satiny, so it's not really itchy. It's visible through the front of the panty, so I will be cutting it off.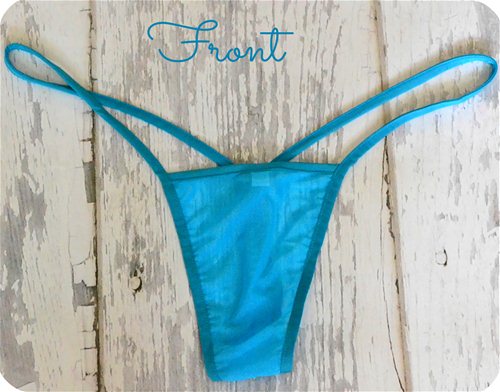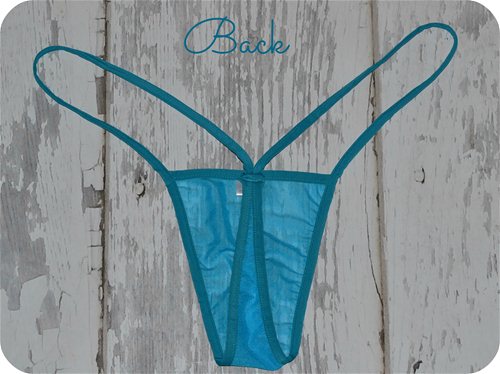 Experience
(Continued)
- My Sizes-
Breast/Bra Size- 38 DDD or F
Waist- 36"
Hips- 41"
Height- 5'2"
Usual panty size- 7
Size L in Victoria's Secret panties
-Bustier Measurements-
Total width across front of bustier: 18 1/2"
Full width of bustier: 37"
Total length of hook and eye closure on back: 12 3/4"
Length of bustier from top to bottom: 17" in front & 15" in back- Including ruffles.
Waist measured across stretched: 21"
Bra area measured across: 20"
Cup diameter: 9 3/4"
Full underwire length: 10 1/4"
Length of shoulder strap, at longest: 17"
Length of shoulder strap, at shortest: 9"
Padding width: 5 3/4"
Padding Length: 3 3/4"
Distance between cups: 1 1/2"
-G-string Measurements-
Waist measured across unstretched: 19"
Waist measured across stretched: 22"
Top front to top back where 'V' starts, unstretched: 13 1/2"
Top front to top back stretched: 17"
Length of total crotch area: 4-6"
Width of crotch panel: Ranging from 1/4" to 1 3/4"
There are no bows and no details on the G-string.
These panties stretch both vertically and horizontally.
-Material-
The bustier is made from 90% nylon, and 10% spandex, exclusive of trim.
-Fit-
The bustier hits a little below my hips. It's also a lot more comfortable than I thought it would be. It sits a little higher above my behind, which is great for showing off the G-string.
This bustier doesn't have any garters included. The cups on this bustier sit close to each other. They sit closer than any of my bras, or other bustiers.
The bustier seems to fit like a 1X/2X. Here is the Coquette sizing chart.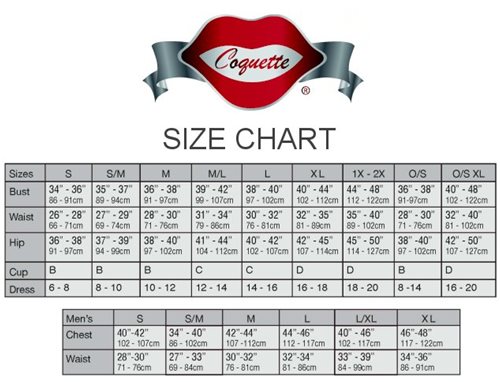 The bustier and G-string fit loose on me. I would rather it be loose, than tight. I guess it's from my weight loss.
The G-string is actually very loose. It doesn't itch me, and it's not irritating against my skin. I'm able to wear it for long periods of time, without any problems. I really like the color of the bustier. It goes great with blue or gray eyes.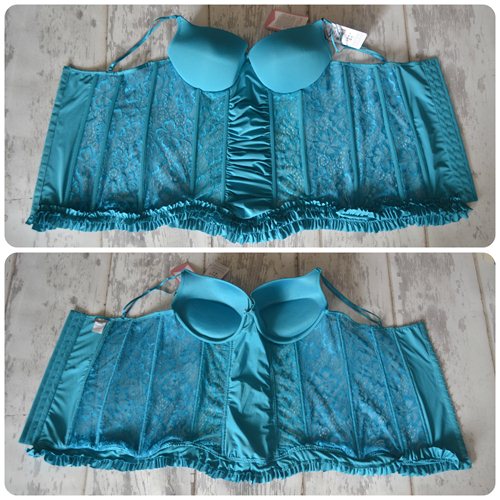 -Partners View/Rating-
My partner loves the color of the bustier. He says that it goes great with my blonde hair and blue-gray eyes. He just didn't like that it was loose on me, and the cups were a little small. That is only because of my body shape. It has nothing to do with the quality. He gives it a 9, on a scale of 1-10. I'll try to update with a better photo of me in the bustier.
-Care/Washing-
The care tag inside the bustier states to hand wash only, and hang to dry. There are no care instructions inside the G-string. I would suggest washing the G-string by hand, because of the thin mesh material. It can rip, or get damaged, if you pull too hard on the fabric.
-Accessories-
I've added in a photo of what I wore with the Bustier and G-string. I bought nude thigh highs with a lace top and also some nude heels. These looked great with the outfit, but white or black thigh highs would look great, too. Pearls also look really nice with the set.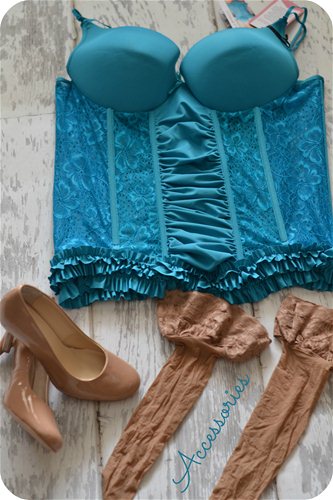 Follow-up commentary
3 months after original review
The color on this bustier is very soothing and seductive. It shows all of my curves and fits well. I wish they made corsets in this material.
This content is the opinion of the submitting contributor and is not endorsed by EdenFantasys.com

Thank you for viewing
Oceanside bustier and g-string
review page!