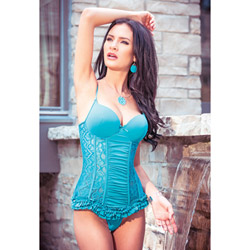 Oceanside bustier and g-string
Bustier by Coquette
Sexy blue bustier, for a woman or a man!
If you're looking for a flattering bustier to wear a couple times before it rips, this would be an excellent choice. It's beautiful and flattering to people with a curvy midsection. When it does fall apart, it doesn't detract much from the beauty of the wearer. Don't expect to keep wearing it for years to come, but for a cheap thrill, it is worth every penny.
Published:
Pros:
gorgeous color, ruching flatters fuller tummies, very forgiving material, looks amazing on a man.
Cons:
Material is not durable, plastic boning will rip out after a little use, g-string mesh unlined.
I LOVED this bustier and I think I got more than enough entertainment out of it. I tried it on myself, and I also put it on a man who was attending Rocky Horror with me, and they gave him a trophy, so that's a shining endorsement. The molded cups of the garment gave him the illusion of breasts where none existed, and the ruching on the front is very flattering to stomachs that are less than flat. I did not think I would be able to get this to fit on a man, but it was surprisingly stretchy. The straps are thin but adjustable.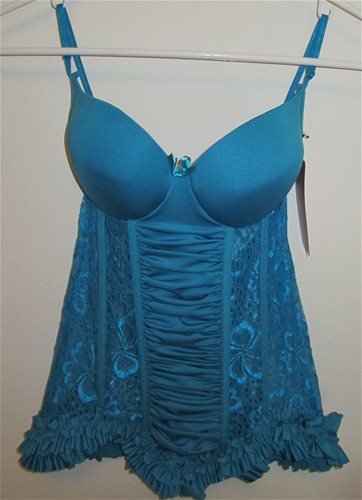 Often, I find lingerie can dig in where it ends at the waist, or accentuate body fat that usually looks wonderful on a naked, curvy girl. This bustier was amazing at complementing my curves. The ruffle at the bottom was cute and did not dig in at all, and the lace material is super stretchy. There are two rows of hooks in the back to ensure a good fit. I have a little bit of a tummy, but you'd think it was completely flat if you saw me in this. If you're trying to decide which size to buy, I'd pick according to your cup size, remembering that the fabric is very stretchy outside of the bra area.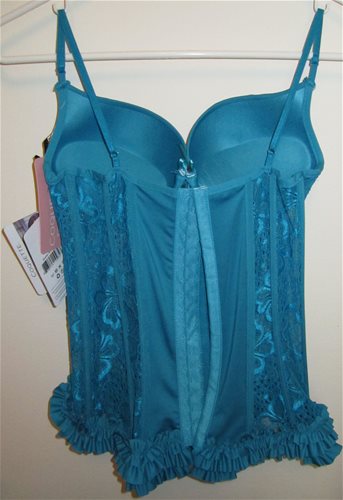 The biggest downfall of this garment is the plastic boning. The delightfully stretchy material, while flattering and gorgeous, does a terrible job of supporting the boning, which easily rips out at the top or bottom. In fact, to try this on, I put it on backwards to hook it up and then carefully twisted it around to the front, and that process was enough to cause one of the plastic bones to break through the fabric and poke me in the armpit. Woops. The side boning seems especially prone to escaping. Fortunately, it is easy to pull out the plastic pieces and forget about them, especially since the boning in the front and back do a fine job of keeping the garment from riding up.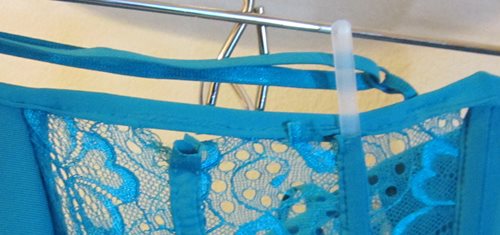 The g-string is made of a thin mesh material, and it does not have a cotton lining. Although the bustier was plenty stretchy to fit a curvy person without digging in and creating bulges, the g-string is less stretchy and therefore less flattering. Then again, it will almost certainly outlast the plastic boning, so I don't feel justified in complaining too much.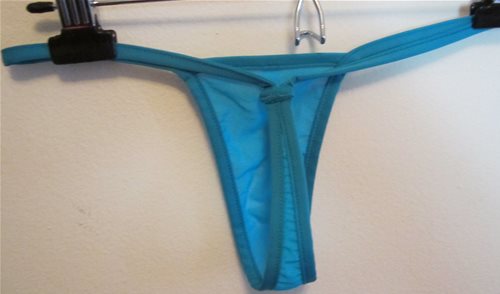 Don't buy this as a gift for a significant other, unless he/she has a thing for cheap lingerie that is worn once or twice before being thrown out. It comes packaged in a crinkly plastic bag, with pictures of a model wearing it attached with ribbon and a safety pin. Very cute and flattering for an inexpensive sexy outfit, but it's not made to last. You might get away with hand washing the g-string, but I doubt that the bustier will last long enough to deserve a washing. The tag reads "90% Nylon, 10% spandex, exclusive of trim. Hand wash only, hang to dry. Made in China."
Experience
I personally had a problem with the cups. I'm a 32C who ends up wearing a lot of 34B bras because they're sister sizes, so I figured the small would fit me fine. The cups looked really weird with my breasts, and it was probably because the garment was designed for a person with a larger band size. If you're petite in the breasts, this probably isn't the bustier for you.

It does, however, look great on a man who has no breasts at all. I put this on a friend of mine for a Rocky Horror midnight showing, along with a short skirt, tights, boots, a fishnet shirt, and a mask, and strangers were not entirely sure whether he was a man or a woman. I had serious doubts about getting the bustier onto him, because he's got a bit of a stomach, but fortunately the material was quite stretchy and the ruching on the center panel seriously minimized his stomach. He left the performance with a trophy for looking so amazing, and he couldn't have done it without this bustier. An amazing success. After an evening of time warping, the plastic boning had poked out in two places, but the bustier still looked fabulous. Simply pull out the plastic boning strip, make an inappropriate joke about the word "boning," and continue with your evening.
This product was provided free of charge to the reviewer. This review is in compliance with the FTC guidelines.

Thank you for viewing
Oceanside bustier and g-string
review page!