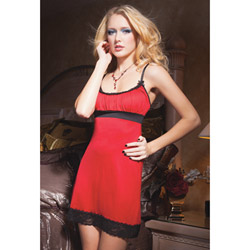 Red cotton chemise
Chemise
by Coquette
In a word... Perfection!
This isn't the sexiest piece that I own, but it's one of my favorites. It's sexy while still appearing effortless, and it's comfortable enough that I can sleep in it. It's one of the few lingerie items that I can justify wearing without my partner around because it doesn't scream of "sex". Honestly, it's just absolutely amazing.
Published:
Pros:
Comfortable, Sexy, Opaque, Soft material
Cons:
Hand wash only, Limited bust support
I recently took a trip to visit my partner, which meant that I was "needing" quite a few sexy outfits to sleep in. When I was shopping for this item, I was looking for something that was sexy without being too revealing. I wanted a piece that was comfortable yet sexy -- but I didn't want it to be obvious that I was trying to be sexy. This chemise was absolutely perfect for my needs, and honestly? I love it so much that I am thinking of ordering another one. It is, without a doubt, a must-have in my collection.

The Basics:
The Holiday Chemise is made by Coquette. It is only available in one color combination, red and black.

How to wear it:
This is a great item because you can wear it multiple ways. My favorite way to wear it is simply as a nightgown -- it's super comfortable, and it looks good. You could also wear it to seduce your partner, of course -- it works fabulously for that!

If you're in a situation where you need to be a bit more covered but still want to wear this sexy piece, no worries! You can do as I have, and pair it with a pair of leggings, making it look more like a long tank-top instead of a chemise.

Or, if you're more daring, you could wear it out. It is opaque and covering enough to be worn out, but it is kind of obvious that it's lingerie (in my opinion).

Material & Care:
This item is made out of 50% cotton and 50% polyester, exclusive of the trim. Despite the fact that this item does not contain spandex, it's still very stretchy.

The main body of the chemise, the red material and the black band that goes underneath the bust, feels like a very soft cotton. It's lovely to touch, and a dream to wear. It's not as sexy as, say, silk, but it's soft enough that it's very "touchable."

The material is a bit thin, but it feels very durable. It is also truly opaque, so this chemise will actually give you some coverage. That being said, you might find that your nipples show through the thin material. For me, that wasn't really a problem (or a concern), but it is something to keep in mind if you're bothered by your nipples showing through your outfits.

There is also a bit of lace trim on this item. In fact, there's two different types of trim. There's the little lace "ruffle" that is found on the front of the neckline. That trim is a bit stiff and rough to the touch, but it doesn't irritate my sensitive skin at all. Then, there is the floral lace trim that is found at the bottom of the chemise, which is quite soft.

To care for this item, it's recommended that you hand wash it, and then allow it to hang dry.

Sizing:
This item is available in two sizes: one size fits most, and one size XL. I purchased the one size fits most.

Now, this is where it gets tricky... You see, the size chart provided on here for Coquette is not the same size chart that is provided on Coquette's actual website. For purposes of this review, I have listed the measurements from Coquette's websites size chart first, and then the ones from the size chart on Eden Fantasy's website in parenthesis.

Coquette's Site Eden Fantasy's
Cups: B (B)
Bust: 36-38" (34-40")
Waist: 28-30" (26-32")
Hips: 38-40" (36-42")

I wear a 34d bra, and have a 32" waist. My hips measure 40". This piece fits me well, but it's snug. The piece doesn't hang loosely on me like it does on the model, but this is because I am closer to the end of the size chart. If you're a bit smaller than me, you will get a looser fit.

The chemise could certainly stretch to fit someone a few inches larger than me (on all measurements), but you need to be aware that it's going to fit snugly. If I wanted a baggier, looser fit, the XL version would've been perfect, however I wanted it to be snug and form fitting.

As for length, this chemise only just covered my bum, and I am 5'6"
Experience
Design:
This chemise is designed to simply slip on and off over your head -- there are no buttons, snaps, or zippers to fuss with. This is a good thing, in my opinion, as buttons and zippers tend to make pieces a little less comfortable to sleep in.

It's a rather simple piece, with no really fancy design features. Sometimes simple is best, in my opinion. Basically, it's a red chemise, with black accents.

The bust of the chemise is sewn in a way that gives it a runched look. This runched look is created by an elastic band that is found right at the top of the bust (the neckline). The more that you stretch this area, the less runching you will get. That being said, even stretching it to the fullest potential should still allow you to have at least some runching. The bust is also accented by the black band that falls directly underneath it, and by the slight lace trim that lines the neckline.

There is no padding or underwire, so you can't expect a great deal of bust support from this piece. All the same, I didn't feel as though my breasts were being unsupported -- they just weren't getting that "push up" look.

The straps of the chemise are not removable, but they are adjustable. There are also two little bows found on the front of the chemise, where the straps connect with the main body. The bows are small, and they are not removable. They appear to be sewn on very well, and I think it'll be difficult to remove them with a seam ripper.

The bottom of the chemise just sort of lays flat -- it doesn't flare out, and there's no real fancy design details. The only thing worth noting about the lower half the chemise is the lace band that is found at the very bottom.

Quality:
The quality of this item is what you would expect from an item of this price; it's not great, but it's not bad either. There are a few areas where the stitching looks a bit wonky, but so far the stitching has held up wonderfully. There were also quite a few loose threads, but those were easily snipped off with a small pair of scissors.
Follow-up commentary
1 month after original review
I still really love this chemise. I find myself wanting to wear it at least a few times a week because it's so comfortable. I feel sexy in it, but I also feel like I can just hang out in it even when I'm not trying to seduce my lover. In my book, that makes it a great piece.

I cannot wait for this to come back in stock so that I can snatch up one (or two...possibly three..) more! I LOVE it.
This product was provided at a discounted price in exchange for an unbiased review. This review is in compliance with the FTC guidelines.

Thank you for viewing
Red cotton chemise
review page!