Sexy and chic, but there is better for sleeping.
I like this piece, but I bought it so I could sleep in it and I normally don't. So I am giving it three stars because of the tightish fit. Maybe someone with a smaller chest size would not have these issues.
Published:
Pros:
Cute
sexy
comfy
Cons:
Not comfy enough to sleep in
Tight in the chest
When I fist saw this chemise on EF I knew I had to get it! It is so cute. I love the red color and the lace. I am a big fan of lace. Finally, I thought I found something sexy I could sleep in. And you can sleep in it. But I bought a Gap nightgown right after I bought this and truthfully, the gap nightgown is my go to sexy sleep wear.
So, prior to this purchase, I had some sexy out-of-this-world lingerie, but I wanted something a bit nicer then just a t-shirt and sleeping shorts to sleep in. I like multi-purpose items and this item does fit that list.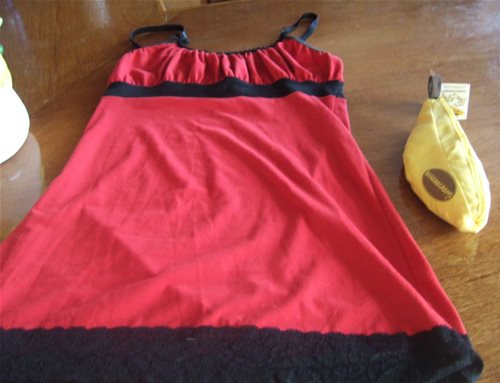 Fit: I am 5'7", bust 36C and about 150lbs usually. I ordered the one size fits most. Not going to lie if you are any bigger then me, it might be too tight. It is short! Which is a plus because my S.O. likes it when I lay down and there is a great amount of butt hanging out. Negative because I can't wear it around others like my Gap nightgown. Depending on your size this will be skin tight, for me it is. I don't mind, I think it also helps shape that unseemly lower belly I think I sport. There is no real breast support but the band under breast will help with sagging maybe if you need it. It shows off my curves, and I think my boobs look great.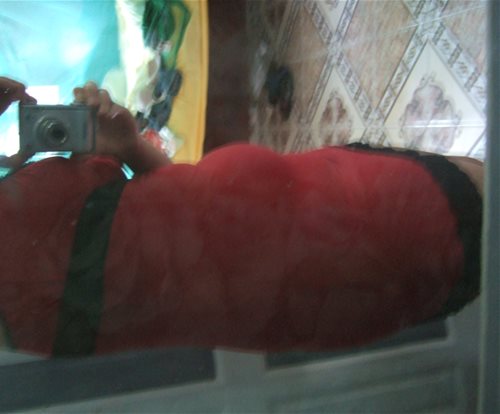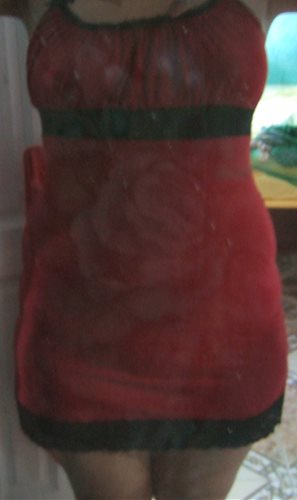 Design: It is well made red piece with three black etchings. Black straps aren't too tight and are adjustable. A black band under the breast which can be slightly supported and a cute black lace bottom trim.
Care: So far I have just been putting it on the gentle cycle with all my other delicates. I don't have a dryer so I lay it flat to try on my ironing board. It works pretty well. I just fold it up, not even nicely, in my drawers. Still comes out great!
Material: %50 cotton/ %50 Polyester. Don't worry it is stretchy enough. And not see through! Quality and workman ship checks out great. I don't see any tears or mismatching stitches.
Packaging: This piece came in a simple plastic bag. Nothing special not wrinkled. I have traveled with it and it stays pretty ironed.
Experience
Experience: This is not one of my "I want sex now" pieces. I bought it originally to work as a nightgown/sleeping piece, so if the moment takes us by surprise, at least I am not making out in a T shirt. But really it does not work as well for a night gown. I still use it, but only when my other stuff is in the laundry. Because it is tight to sleep in. You can wear this during sex, it doesn't ride down or anything depending on what position you use.

Advice for showiness, lay down on your stomach, your love will get a nice view of your legs.

Pros - This Chemise looks great on me. See the pics! I love it. The feel is amazing as well, very comfy.

Cons - The sides of my chest feel a little squished. I don't know why. There is ample breast room but when I sleep in this sometimes I wake up and have to take it off because it feels like it just cuts off the blood supply to the skin on my sides.
Follow-up commentary
3 months after original review
After wearing this a few more times around the house, but not to bed, I have really started to like this chemise more. I still can't really sleep in it, but for lounging around the house right before bed, it is perfect!

It's not too hot, very breathable, and I do not regret buying it.
This content is the opinion of the submitting contributor and is not endorsed by EdenFantasys.com

Thank you for viewing
Red cotton chemise
review page!