Is that MY figure?!
Coquette's polka dot chemise is a garment that may not work on all body types; if you have a large bust, you may find that it provides inadequate support. For women with small to average busts, though, it's an excellent choice; the ruffles and form-fitting fabric flatter hourglass frames and add curves for anyone who needs them. Plus, it's comfortable and cute. Personally, I couldn't ask for more.
Published:
Pros:
Cute, creates illusion of/enhances curves, comfortable, stretchy, relatively unique (polka dots!)
Cons:
Rides up, may not work for larger busts, may inexplicably be missing its bow
The moment I came across Coquette's polka dot chemise, I knew I had to have it. Everything about it appealed to me, from the low-cut cups, to the color, to the slightly retro vibe. Most of all, though, I liked that it straddles the line between "cute" and "sexy"; I'm a bit too self-conscious to convincingly pull off more daring lingerie, so I appreciated the fact that, though black and form-fitting, this chemise also features adorable polka dots and fun ruffles on the bum—it's a good compromise.
My polka dot chemise arrived wrapped in plastic, and came with a padded hanger covered in black satiny fabric that, ingeniously, has two little button-like nobs on either end that prevent the straps of the chemise from slipping off of it. It's a nice touch.
The design of the chemise itself is a little complicated, so bear with me. The cups, hem, front, and back of the garment are made of black spandex, which is form-fitting but can also stretch quite a bit. The side panels are made of nylon mesh with a polka dot pattern, while the ruffles on the butt and on the cups are made of plain-old black mesh. The sides are quite sheer, so I would suggest that, if you choose to wear panties at all with this chemise, you go for a black G-string or something similarly minimal. I'm not especially daring, so I doubt that I would ever wear this outside of the bedroom, unless possibly over jeans. If you're more comfortable with see-through material I suppose you could wear it as a dress, but keep in mind that the material has a tendency to ride up.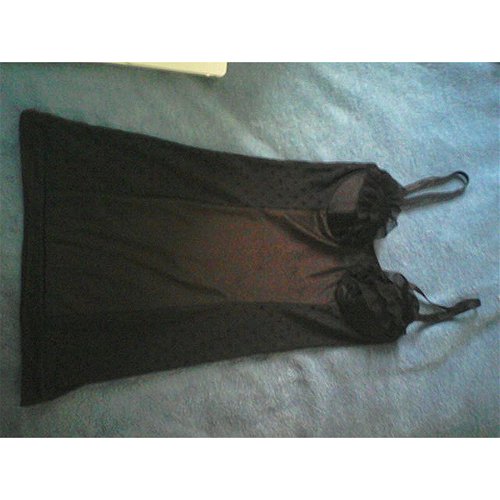 From the front (Sorry for the graininess and weird reddish coloring. It's just my phone; rest assured that it is very, very black.).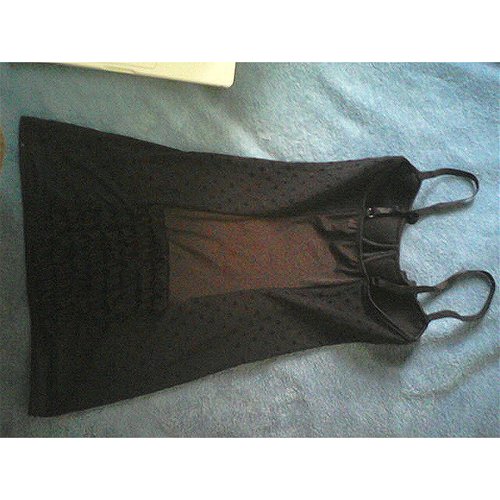 From the back.
The tag on the chemise says that it is 82% spandex and 18% nylon and should be hand-washed. Personally, I'm the sort of person who runs clothing that's supposed to be washed by hand through the washing machine anyway, but if you go this route, I'd suggest using the delicate cycle, cold water, and preferably a lingerie bag. I'd also heed the advice to let it hang dry.
The cups of this chemise are similar to those of a demi cup bra and have an underwire. This could potentially be a problem for some women, because there's no sort of closure in the back of the garment; in other words, you're more or less wearing a bra with a band that can't be adjusted (although, again, the material is stretchy and provides a bit of leeway). Busty women may also have issues with the minimal coverage the cups provide; I can definitely see how women larger than a C or so could find themselves "falling out" of this chemise. Note, however, that the straps are adjustable, so it's possible to alter the fit of the cups a bit by shortening/lengthening them.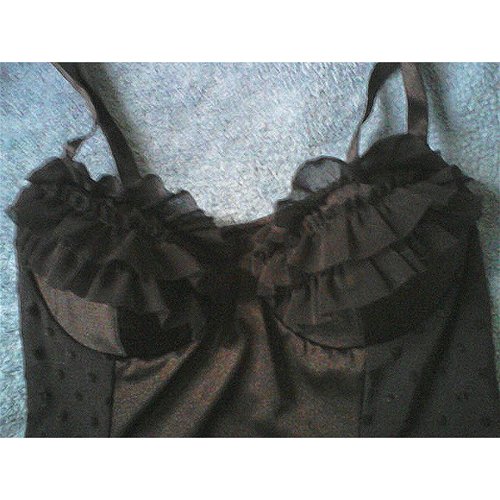 Cups.
One final thing about the design; mine was missing the bow that's supposed to sit in between the cups. I suppose I ought to knock a star off for this, but the truth is that I love this chemise so much that I just can't get that worked up about it—in fact, I hadn't even noticed it was missing until I went back to the product page to write the review. I still wholeheartedly recommend this garment, but you should know that there's apparently a small chance it might come without the bow.
Other than that, I have no complaints about the construction of the chemise. Granted, nylon is a pretty fragile material so it may not prove to be the most durable piece of lingerie, but it was in good shape when it arrived—no loose threads or tears, and good-looking seams. So far, I haven't worn it during anything more energetic than a self-photo shoot. It was, however, a pretty active photo shoot, and the chemise held up just fine, so I'm satisfied.
To top it all off, this chemise is comfortable. I thought that the nylon might be a bit itchy, but so far, I haven't had any problems with it. I was also pleasantly surprised by the ruffles; I fully expected them to be stiff, but they're actually quite soft. Granted, they're on the outside of the garment, so they won't be coming into contact with your skin that often, but I still appreciate their softness and lightness, especially since it means they move with you—it gives a pleasant airiness to an otherwise slinky garment. The one issue with this chemise is that nylon and spandex are HOT (temperature-wise) in warm weather; I was sweating just taking pictures of myself wearing it.
Experience
Now that the basics are out of the way, I'm going to take a few moments to gush.

I'm always a little worried lingerie won't fit me like it's supposed to. I'm tall but thin (especially in terms of my torso/chest), so it's rare that everything—cups, length, etc—fits the way it's supposed too. This chemise, however, fits me like a glove—a very sexy glove.

A lot of it has to do with the stretchy fabric—it definitely hugs the figure, and I think it has enough give to work well even on curvier women. The downside, of course, is that it won't hide "problem areas," so if this is a concern for you, I'd go for something less form-fitting.

The ruffles, though, are where the magic really happens. My hips are sort of wide, but my butt is on the flatter side, so the ruffles create the illusion that I'm more rounded in that area than I actually am. The ruffles on the cups serve a similar purpose; my bra size is a 34A, but when I wear this chemise, I actually look like I have a (slightly) hourglass figure. Plus, the cups actually fit. This may seem like a given, but considering that Coquette considers even "small" to mean, at a minimum, B cups, I consider it a minor miracle.

It's also long enough—and, again, stretchy enough—that I can honestly recommend it to taller women/women with longer torsos. Granted, it JUST covers my butt, and it does ride up (though, weirdly, the spandex rides up more than the nylon side panels), but it works.

Here are my measurements and Coquette's, so that you have some idea of what I'm talking about.

Small, according to Coquette:

Dress size: 4-6
Cup size: B
Bust: 34-36"
Waist: 26-28"
Hip: 36-38"

My measurements:

Dress size: 4-6
Cup size: A
Bust: 34"
Waist: 27"
Hip: 37"
Height: just over 5'9"
Weight: 128 lbs

I'm inclined to agree with Coquette's sizing; if anything, I think there's a little more wiggle room (no pun intended) than the official size guide would have you believe. If a couple of your measurements are an inch or two over their guidelines, I think the fabric is probably stretchy enough to accommodate you. The only thing that I would say is that while the chemise should fit most A cups, I don't know that it would work if you wear a 32A specifically; 34" is Coquette's minimum in terms of band size, and while the fabric does stretch for fuller figures, there's no way of tightening it.

I should note that this isn't a push-up bra, and it only has a thin layer of padding, so if you want something that will give you insane cleavage, this chemise isn't it. If, on the other hand, you're like me, and want something that will enhance what you have rather than add to it, it definitely fits the bill.
This content is the opinion of the submitting contributor and is not endorsed by EdenFantasys.com

Thank you for viewing
Polka dot mesh chemise
review page!