Polka Dots, Ruffles, And Bows, Oh My!
Accented with ruffles and a bow, the Polka Dot Mesh Chemise has a cute yet sexy retro feel. It has contrasting materials that create a slimming effect on the waist. It has underwire for added support, but may not offer as much support for those with larger cup sizes as for those in the smaller range. It looks great on, but does run a little smaller than other Coquette pieces. If you're concerned about clinging or sizing in general, order up.
Published:
Pros
Retro detailing, Underwire, Comfortable, Sexy and cute
Cons
Runs just a little small, Cups won't work best for larger busted girls
After reading
~LaUr3n~'s review
and
Sam's review
of this chemise and lusting after it for a while, I decided I would cave in and get it. It has a retro feel to it and is done in polka dot mesh on the sides and back with cute ruffle and bow detailing. It's just the chemise, so there's no thong included with this piece. It is an underwire piece for added support.
PACKAGING
The chemise arrives on a hanger wrapped in a plastic baggie for protection. It's on one of the see through Coquette hangers, not the thick padded ones.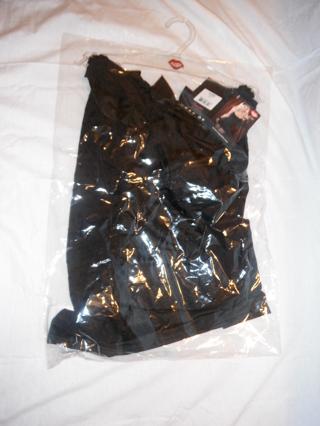 SIZING
This chemise comes in sizes small, medium, and large. I have this in the medium. For the medium, I should wear a dress size between 8-10. My bust should measure between 36"-38" and be a B cup. My waist should measure between 26"-30" and my hips should be between 38"-40". My actual dress size is a 6 with a few size 4's and 8's scattered about. My waist is 28" and my hips are 39". My breasts are 34DD/36D.
The chemise is 22.5" long. Under the bust is 12". The waist is 11.5". The hips are 15.5". Each cup is 5" underneath and 4.25" high. The straps are adjustable. The cups are underwire.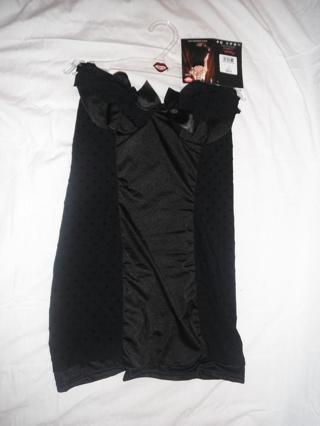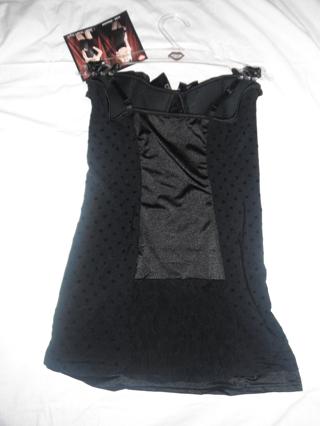 This chemise fit me a little bit snugger than my other Coquette medium sized chemises. It clung at the hips and waist a little more. It still fit okay, it just wasn't the perfect fit that I usually get from the Coquette medium. I would recommend ordering up a size on this for those who are closer to the end of the size range or for those that are concerned about clinging of material. It's also very short. When pulled down, it just barely covers my butt. When I walk, it rides up and doesn't exactly cover everything. For reference, I'm 5'6".
My breasts didn't exactly spill out of this, but it did take a bit of adjusting to get them situated nicely in the cups. I found that if they weren't exactly right the cups either didn't cover my nipple or that the bottom half of my breast would end up under the underwire. After some shifting and lifting, I was able to get the right blend of coverage and support. The underwire doesn't offer as much support as a bra would, but it does offer a decent amount so long as you get your breasts in the cup just right. For smaller cups, it would probably offer support much easier than it did on my D/DD sized breasts.
MATERIAL
This chemise is 82% nylon and 18% spandex exclusive of trim. There are two main sections of material. There is the sheer mesh on the sides and the middle panel that is made of a shiny material.
The mesh is scratchy to the touch but comfortable when on. It's not the softest mesh, but it isn't bothersome to my skin (which tends to be sensitive). I don't know that I'd want to sleep in this, but I can wear it for extended periods and not have to rip it off. The mesh is see through, but not completely sheer. The back coloring makes it a little more opaque. You can still see through it, but it's not as see through as some mesh. The mesh is a little stretchy, which will allow for a fit of this material to more sizes.
The middle panel is made of a shiny material. It feels like bathing suit material. It is about medium thickness. This material is very soft and slick to the touch and comfortable on the skin. It has a bit of an iridescent quality when the light hits it due to the shiny material. This material is also somewhat stretchy.
DESIGN
There are a lot of cute, retro details that make this chemise stand out. The cups begin with three layers of ruffles. These are done in sheer mesh material. The cups themselves are done in the shiny material as a contrast.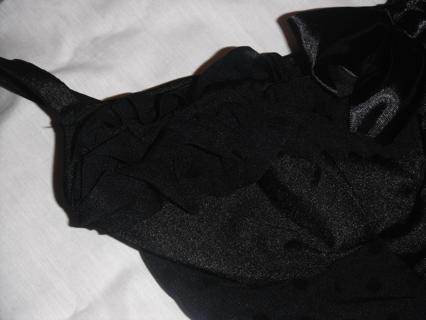 In between the cups is a black bow. Unlike many bows, this one actually stays centered and in place. It's a larger bow at 4" in length. It is sewn on but could potentially be removed by someone with better sewing skills than I have.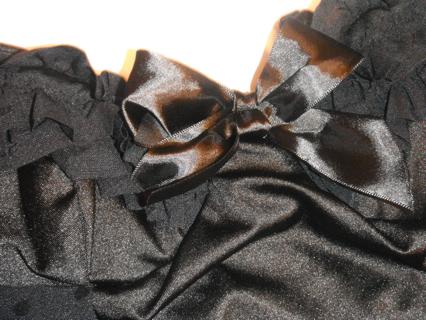 The middle is done in the contrasting materials. The sides are done in black mesh with velvety polka dot detailing. The middle panel is done in the shiny material. This creates a bit of a slimming effect.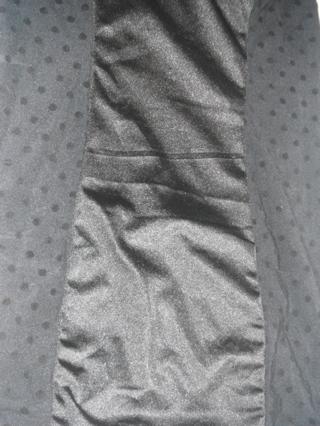 Experience
DESIGN CONTINUED
The back starts out the same way, but finishes with a ruffled area where the butt goes. The ruffles are done in plain black mesh. This adds a nice finishing touch to the back and is one of my favorite things about the piece. I told my husband it was like a little black cotton tail.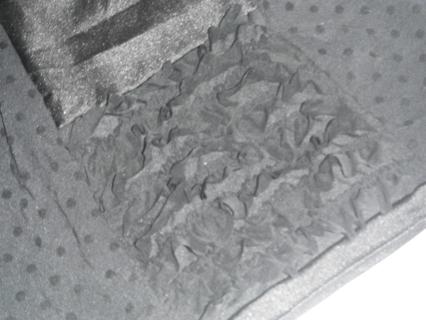 QUALITY
The seaming is all in place and lines up as it should. There has been no fraying of any of the material. The only flaw I was able to find was one loose thread at the shoulder strap. Other than that (which can be fixed with a scissors or lighter), the piece is perfect in quality.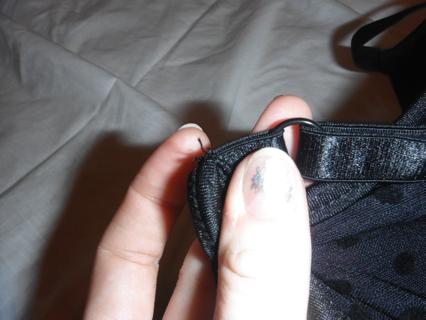 CARE
This piece should be hand washed. It should not be placed in the drier, but rather line dried. It should not be ironed or bleached.
EXPERIENCE
I bought quite a few new lingerie pieces recently and this is my favorite of the ten or so that I bought. It doesn't fit quite as well as other Coquette items that I have, but does still fit. It clings to my hips just a little bit more than I would find ideal, but I still think this looks really good on. It bridges a nice gap between sexy and cute. I love the detailing on it with the ruffles at the cups and rear. It has a very retro feel to it, which I adore.
I wish my breasts fit a bit better into it, but the size chart does recommend this for B cups, which I am not. That's not really a failing of the chemise, just that my breasts are really well past the size limit of the smaller cups on this. The fact that they get in there and don't explode out is fine by me, as I've run into a great many pieces where my breasts just don't go in the cups at all.
Despite the few sizing issues, this is easily one of my favorite pieces. I feel very sexy when I wear it, which is really what matters with lingerie. It's comfortable to wear as well, meaning I'm not running to take this off seconds after putting it on. There's a few little tweaks I would make, but I love it so much that I can't bring myself to take a star off for them (namely the sizing in the hips and cups). I would say my actual rating of this would be 4.5 stars due to that, but since that's not an option, I'm rounding up on looks.
My husband likes this, but not as much as me. He's not a big fan of bows and ruffles and thinks this is a little too cute for his tastes. Well, you can't please everyone, I guess!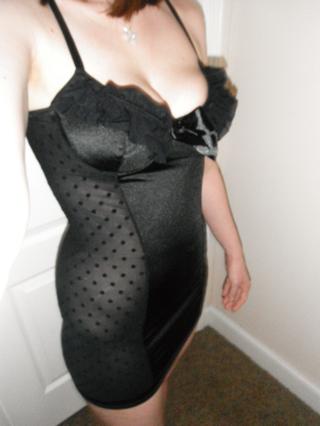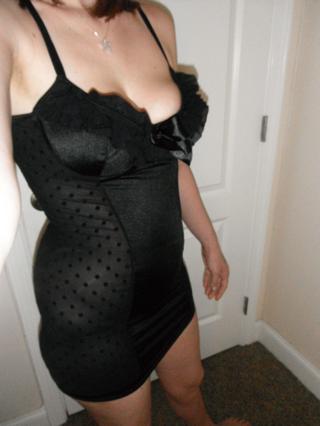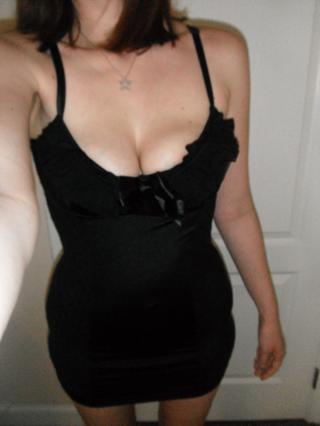 Just for
Coralbell
, I took a front shot photo. Didn't come out too great because I don't have anyone to help me take pictures, but it's there. Sorry it's not the best picture. Maybe I'll get better at taking pictures from that angle with practice!
This content is the opinion of the submitting contributor and is not endorsed by EdenFantasys.com
Thank you for viewing
Polka dot mesh chemise
review page!