La Vie En Rose Bustier...I've Never Felt Sexier (XL)
This stunning item is one that makes me feel like a million bucks, yet it only cost $25.99 (full price)! It's hard to believe that such a high quality item could cost so little, but it's true. If you fit into into the size ranges, I highly recommend this piece! It's comfortable, it's gorgeous, and it's high quality. Every women deserves to feel as sexy as this piece makes me feel.
Published:
Pros:
Gorgeous!, Adjustable straps, Removable garters, Underwire, Molded cups, Suitable to war out
Cons:
Sizing is a little off, No plus sizes available, Elastic band is just weird
When I saw this bustier, I fell in love at first sight. As much as I loved it on the internet...as much I stared at the photographs of it daily, I was hesitant to take the plunge. I worried that the print would be too much for me. I thought that maybe this was one of those items that looks sexy and elegant in photographs, but is cheap and trashy in person. After weeks of drooling over the pictures, I decided that I had to know for sure if this piece was everything that I hoped it would be. In the end, I am kicking myself for waiting so long. This piece does have it's flaws, but the way I feel when I wear this? Lets just say that I have never felt sexier!

What exactly it? What's included?:
Okay, the main piece in this set is the bustier. A bustier is meant to enhance your shape, and to help sort of create an "hourglass" figure. Now, this stunning bustier comes packaged with a matching thong. It also includes removable garter straps, and optional shoulder straps.

How can you wear it?:
The great thing about this bustier is that it can be worn both inside, and outside, of the bedroom. It provides enough coverage that I feel comfortable enough to wear this out with a pair of jeans when I go out on date night.

The bustier can also be worn in the bedroom. The thong, bustier, garter straps, paired with a great pair of stockings and high heels are sure to wow your lover(s)! The only trouble is, you might like the bustier SO much that you don't want to take it of. The great thing about the bustier is that you can (technically) wear it during sex. Personally, I like to take the bustier off during sex, as I enjoy having my breast exposed, but it's certainly possible to have great sex while wearing this. In fact, my guy finds it to be a huge turn on when I leave the bustier on.


How's it fit?:
Seven Til Midnight has made this excellent item available in four sizes: small, medium, large, and extra large. Unfortunately there are no plus sizes available, which means a wide range of women are not going to be able to fit into this. That, in my opinion, is a real shame, because EVERY women should be able to have this sexy number in her wardrobe. Hopefully Seven Til Midnight will make this piece available in larger sizes at some point in the future.

Anyway, I purchased this in an XL, which should fit someone with the following measurements:
Cup Size: D-DD
Bust: 38-40"
Waist: 30-32"
Hips: 40-42"

Personally, I tend to wear a small D cup. My waist is a 32, and my hips a 40. All in all, I found this piece to fit a bit strangely. I mean, it fit, but parts of it were a bit too big, whereas others felt a bit too small.

The bust, for example, feels too big. My breasts have some extra room in the cups, though thankfully this is not noticeable when I have the shoulder straps adjusted properly. The lower portion of the bustier that fits around my hips, on the other hand, feels like it's a bit too snug. Don't get me wrong, it's still comfortable, but I can't imagine anyone with 42" hips fitting into this bustier, as the size chart recommends.

The included thong fits me perfectly. It's very stretchy, and I do believe it will fit up to 42" hips.


What's it made out of?:
Both items are made out of 92% Polyester and 8% Spandex.

The material is very comfortable, and not at itchy. In fact, the material feels silky, and smooth to me. You should also know that this bustier is opaque! Finally, a great piece of lingerie that is not see through!

The black fabric in the center of the piece has a bit of a shine to it, but not enough to make it appear trashy. You'll note in the stock photo that that section in the middle appears sort of wrinkled; it does appear wrinkled in person, as well. The way the middle section is makes this item great for hiding your tummy area, if that's a "problem area" for you.

At the bottom of the bustier, there is a little mesh ruffle. The mesh feels to be of high quality, and I don't believe that it will tear easily.

The thong has the same silky feel as the bustier does, and it is also extremely stretchy. There is a small cotton pantyliner in the thong, making it suitable for everyday wear.
Experience
How do you care for this stunning set?:
It is recommended that you hand wash this item in cold water. Personally, I would follow those instructions for the bustier, but I see no reason why the thong can't be put through the delicate cycle of the washing machine.
It's important to note that you should not iron or bleach this set.
As for storage, I would recommend that you hang the bustier up, and store the thong in your underwear/lingerie drawer. I recommend hanging the bustier so that the cups do not get distorted during storage.
How's the design?:
The design of this piece is gorgeous!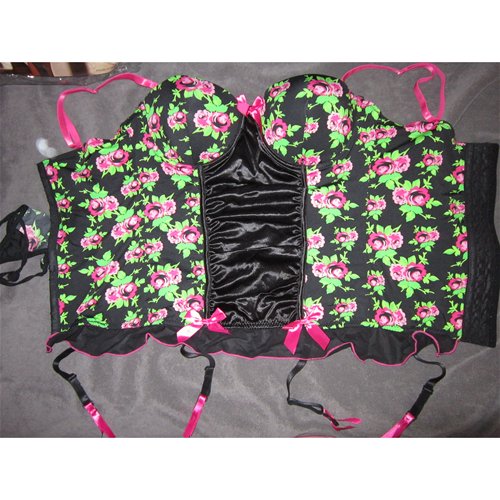 The rose patterned sections compliment the black material nicely, as you can see.
And yes...there are bows. I know some of you are rolling your eyes right now at the bows. Why do lingerie makers put bows on EVERYTHING? This specific piece has three bows, two at the bottom, and one right in between the cups. The bows are not removable, but you could remove them with a seam ripper. As for me, I personally really love how the bows look on this piece.
I don't know if you can tell by the picture, but I want to tell you, there's NO boning in this piece. The product page states that there's plastic boning.. There's not. There's none at all.
Now, I want to talk about the cups. The cups are molded and lightly padded. They also have underwire. Yes, that's right, the cups actually provide support! I can easily wear this item all day without a bra, and still like my breasts are being properly supports. It's truly an amazing thing.
Next there's the middle panel. The middle panel helps to cover any stomach bulges you have, though it does have a weird elastic band at the bottom. I don't personally understand the point of it, but it doesn't really bother me.
As for the closure? It is composed of 17 hook and eye settings. There are three rows of hooks, which enables you to choose a setting that is comfortable for you. Finally, there's the removable straps (both shoulder and garter). Both are highly adjustable, so you should be able to adjust them so they fit you comfortably.
Was the packaging nice?:
The packaging for this set was okay. It came packaged in the sort of plastic bag packaging that a lot of costumes come in. The packaging has a little hook at the top, so you could technically store the bustier in it, and then simply hang it in your closet, but.... well, I wouldn't. I tossed the packaging almost immediately after opening it, as I just didn't find it to be useful, or attractive.
My one problem with the packaging is that it kind of caused the molded cups to flatten a bit; thankfully I was able to fix it.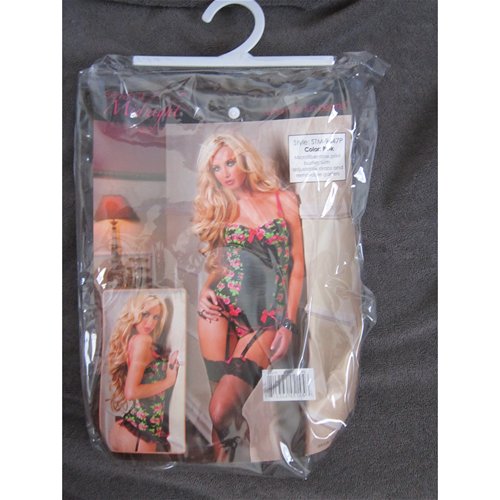 Now, what about the quality?:
Quality wise, this piece is excellent! The material feels to be of quality, and I did not notice a single flaw in craftsmanship. This receives 4 stars from me, with one only taken off because of the somewhat strange fit, and the weird elastic band.
Follow-up commentary
3 months after original review
I still like this, but I'm a little less in love with it than I once was.

The bust is just a little loose on me now. If it hugged my breasts a bit more, I'd love it more. As it is, it's still super cute, and suitable for public. It's just not as well fitting as I would have liked. I know if I would've sized down, it never would've fit my hips.
This product was provided at a discounted price in exchange for an unbiased review. This review is in compliance with the FTC guidelines.

Thank you for viewing
Pink la vie en rose bustier
review page!