Luxurious Lace Lingerie!
This was so fabulous that 2 days after wearing this, my guy comes in the room while I was On Eden reading reviews and what does he have in his hand? This sexy chemise! He proceeded to say, Are you wearing this tonight? Okay, ladies and gents, this never happens. At that point, I knew it was a keeper. He has never picked up one of my items and asked me to wear it. I only wish it came in white with light pink, or even a light pink with black trim.
Published:
Pros:
Beautiful, Well made, no hanging threads or loose stitches, I love this chemise
Cons:
Maybe just a bigger cut of fabric on the cup area to accommodate larger breasts
Alright, by looking at the stock photo online of the Coquette Stretch Lace chemise in size XL, I wasn't very interested in this until I read a review about the look and the quality. That ultimately was the deciding factor for me in purchasing this.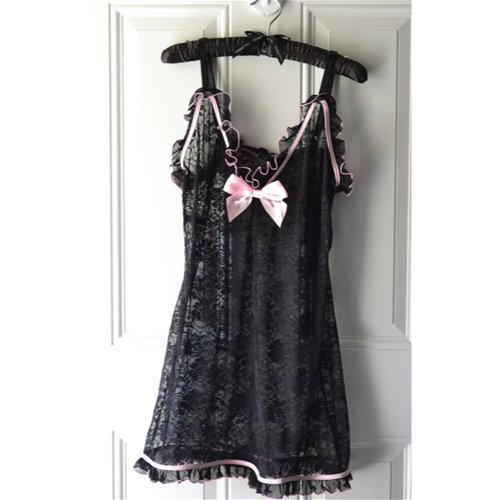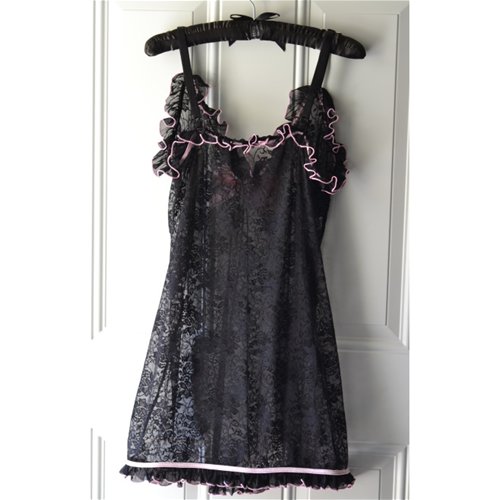 This little number arrived in a clear plastic packaging that is sealed at one end and can be easily opened and shut because of the sticky substance. It comes on a nice black padded hanger that Coquette usually sends with their more luxurious items. I do like these hangers. They keep the lingerie from snagging and falling off. I love to get these with my outfits. Such an added bonus! There was a cardboard picture tag attached to the chemise by a small, black safety pin. It shows a picture of a model wearing the OSFM size.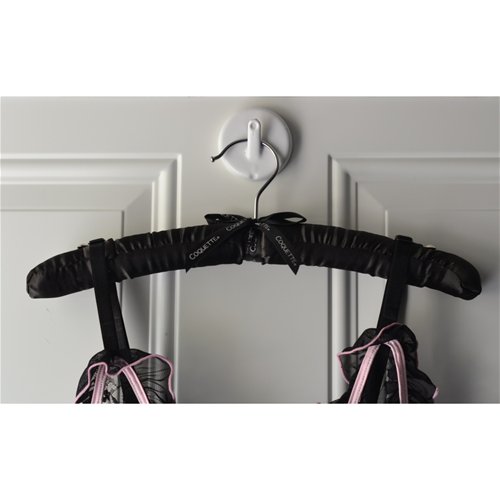 The stretch lace chemise is 100 % Nylon and it is stretchy to a point, it is a sheer lace material. This is too sheer to wear out to a club or out on the town by itself but it could have a tank added underneath or a cami can be worn.. This really looks like it is strictly for the bedroom though.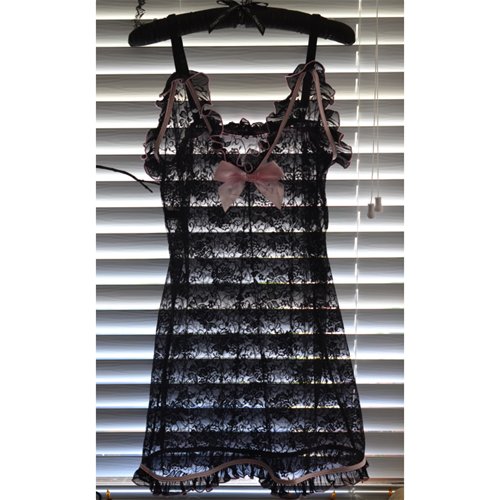 The lace pattern is a rose type and has swirls around the flower. I wouldn't say that it can stretch to fit a variety of sizes because this XL size is just that, XL. It is definitely not a 1x.
It actually falls between a XL and 1X if that makes sense. It does fall on the short side which is a plus for me finally. Most things that I buy are too long. This hit just right on me. It wasn't too tight and it wasn't too short. So what does that make it? Just right.
I really like that Coquette now adds bows that are removable. There is a light pink bow on the front of the chemise. It measures at 4- 3/4" wide. There is a basic pin on the back that is easily accessible and can be removed or moved to another part of the lingerie. The colors in this chemise are black and light pink. The body of the chemise is black lace and the trim and the ruffle trim is light pink.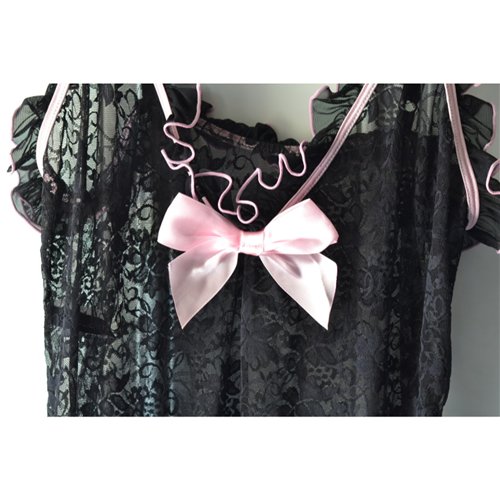 The full length of the chemise from front top ruffle to the bottom trim is 24 inches unstretched. With it stretched, it measures 28 inches.
Measuring it from across the chest is 16 inches unstretched. Stretched is 23 inches across.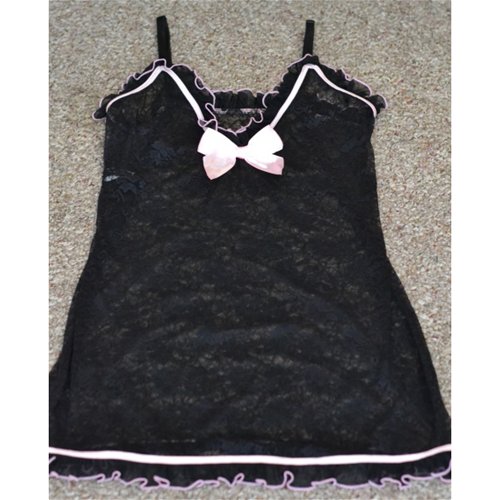 The dress has adjustable bra style straps for the shoulders and they are comfortable and don't dig in. I don't wear them extremely tight. At the longest length, the straps extend to 18 inches long. At the shortest point, they are 10 inches long. The material is smooth and not itchy on the straps. With the chemise having the straps at the longest length, the full length is 36 inches long. With the straps at the shortest point, the full length is 33 inches. This is made from a better quality material. I stretched it out for measurements and it held up well, this is not likely to tear but it can snag as a small piece did on a ring that I was wearing. I snagged it pretty good but it only left a tiny snag.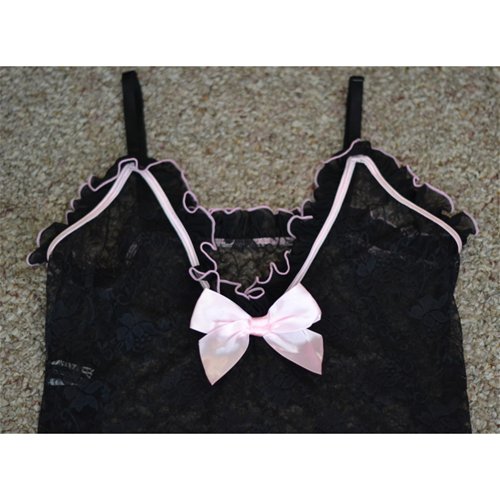 Each breast cup triangle is made to fit a D cup, maybe DD, definitely not for my 38 F's but with this being smaller in the cup area. I got amazing cleavage that my guy could not take his eyes off of.
My measurements are 38 F- bra size, 37 waist, 41-43 hips.
Here is Coquette's size chart for the XL:
Size Cup Bust Waist Hip
X Large 14 - 16 D 42 - 44 34 - 36 44 - 46
Experience
I was knocked over by how incredibly sexy that this is on me. I could not have asked for a sexier chemise.
Wow, just wow.... This fit me well, it hugged every curve and hit a little above the middle of my thigh. I am 5'2" and it fit short on me. This seems to be made more for a petite person. I'm not saying that it will only work for someone shorter but it will accommodate our petite sizing better. If you are 5'5" and above, it may be shorter on you.
I recommend this to anyone who wants to feel sexy and wants a lingerie piece that is well made and will last for a long time. I give this lace chemise 5 stars and my 2 thumbs up.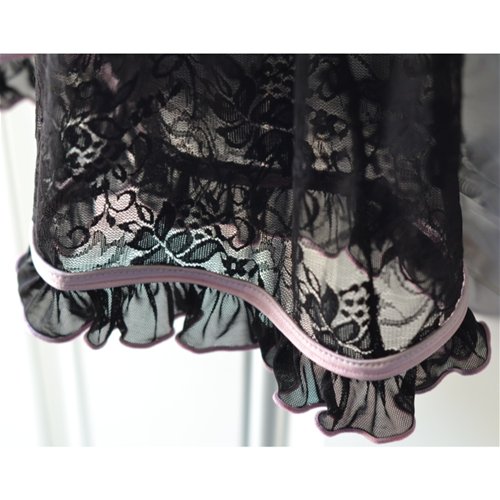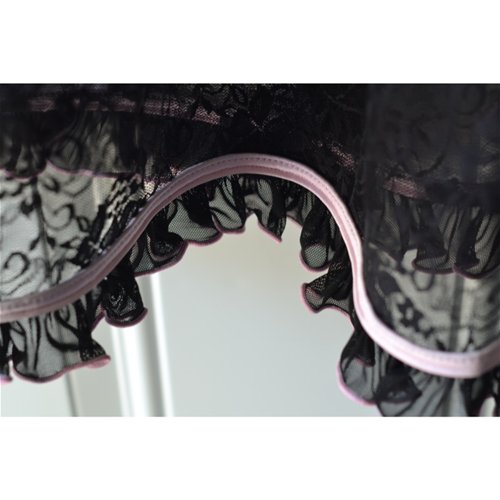 The appeal of this is a 10 on a scale of 1-10. it just made me look and feel so sexy. I flaunted around in it with my magnificent cleavage and didn't mind or try to cover it like I sometimes do. I really felt confident in this and it made my tummy look really flat. This is in the top 3 lingerie pieces that I own.
This piece is wonderful and I hope they make more of these similar styles available on Eden Fantasys.
The care if this chemise should be to hand wash in cold water and hang to dry. I like to use a delicate wash on my lingerie.
Follow-up commentary
27 days after original review
This is still a really pretty and seductive piece in my closet. It stands out on its own and my partner loves it! I'm so glad that I was able to buy it before it went out of stock!
This content is the opinion of the submitting contributor and is not endorsed by EdenFantasys.com

Thank you for viewing
Stretch lace chemise
review page!