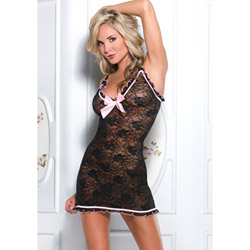 Stretch lace chemise
Chemise by Coquette
Soft, Comfortable, Sexy!
This is a one size piece that will fit a wide variety of shapes and sizes, and should definitely fit everybody it claims to. In addition you're also getting a piece of lingerie that you can sleep in, wear out over something else, or wear with nothing else in the bedroom. The lace is soft and comfortable once you remove the tag from the inside seam.
Published:
Pros:
Soft, Comfortable, Sexy, Removable bow, Fits sizing guidelines
Cons:
Itchy tag
The packaging for this was fairly minimal; plastic bag, plastic hanger, tag safety pinned to the chemise. The cardboard tag and the tag inside the chemise both list the size, but the tag inside the chemise also gives you materials and care. This piece is 100% Nylon exclusive of the trim and should be hand washed and hung to dry. I personally wouldn't have a problem running it through a washing machine on cold and gentle, but use mechanical aids at your own risk.
This is a one size piece, which according to Coquette's
new sizing chart
(on which I think the only thing that changed was the sizing for a one size item) means that I should be between 120-150 pounds, 36-38" bust, 28-30" waist, 38-40" hips, and be a size 6-12 with a B cup. Personally I'm about 5'2, I weigh about 120, around my bust measures 32" and underneath measures about 28 1/2". I've got about a 29" waist and measure about 34" around the top of my hips and 38" around my butt and wear a good solid B cup. This fit me comfortably, and I do believe that it would definitely fit everybody it claims it will.
The overall design is pretty simple; sheer lace nightie. I guess you could also look at it as sort of a really long cami, since there are no defined cups either. Along the top and bottom edges you have a light pink trim along with some black ruffles that are also edged with pink. If you wanted to remove the ruffles, you can do it very carefully with a pair of scissors. Right where the "cups" would meet is the signature 5" wide bow in light pink, but that's also intentionally removable if you don't like it. There are adjustable straps just like a regular bra would have too. From the armpit to the bottom hem is about 24", around the bust stretched up to about 43", and around the bottom stretches up to about 46" around. On me it fell about mid thigh or so, but that may vary with your height.
The lace features a floral pattern, similar to a lotus flower. It feels very soft and wonderful against the skin with the easily removable tag being the only obstacle to comfort. It offers a fair amount of stretch and doesn't feel like it's going to tear easily at all. Of course if you're really rough you'll probably tear it but most uses are going to fare just fine. The overall construction is pretty good, although I do have a complaint about finished edges along the light pink trim. Where the trim ends, it's not too difficult to get threads up and you could theoretically take off the whole piece of trim that way.
You can wear this on its own with nothing underneath, or with brightly colored undergarments, or some pasties, or over a solid color dress, or over another long shirt. There's really no wrong way to wear it.
Here I have a few pictures of me in it for you:
Experience
Aside from the tag, this was a really comfortable piece. It didn't do tons for my smaller breasts, but it didn't make them look super tiny either. It won't give any support to breasts that need it, but it also won't be a problem to wear a bra if you need it either. I'm going to keep the bow for now, but I'm probably going to remove the ruffly trim along the top at some point. I really don't have anything bad to say about this chemise other than personal issues and the tag.
This product was provided free of charge to the reviewer. This review is in compliance with the FTC guidelines.

Thank you for viewing
Stretch lace chemise
review page!